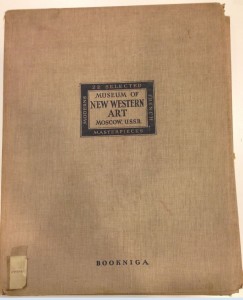 This was written by Hirshhorn Library volunteer, Elena Grant.
In the summer of 2013, while preparing donated books for cataloging at Hirshhorn Museum and Sculpture Garden library, we discovered an uncatalogued item—a 14 ½ by 11 ½-inch portfolio of reproductions titled 22 Selected Masterpieces: French Moderns, Museum of New Western Art, Moscow, USSR. The unfamiliar publisher name "Bookniga" and name of the long-extinct museum in the title attracted our attention. We decided to investigate the story behind this old publication.
Inside the distressed, once grey and now brownish, undated cloth-bound portfolio, were twenty-seven folio plates with reproductions of Impressionist and Post-Impressionist paintings whose titles and authors were not identified in any way. The twenty-two plates numbered from 1 to 22 were followed by four unnumbered plates and one plate with a number 6.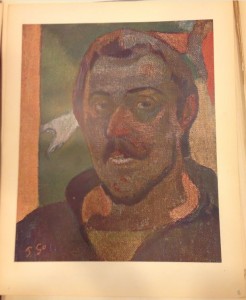 To identify what paintings were in front of us, we searched for copies of 22 Selected Masterpieces in other library collections. We discovered that Library of Congress and University of Rochester have copies of this portfolio. Lu Harper, Memorial Art Gallery Librarian at the University of Rochester, kindly consulted her library's copy of 22 Selected Masterpieces and found that it includes a brochure with an introduction dated 1935 and list of artworks' authors and titles. Thanks to her help we were able to identify the artworks in the main set of reproductions.
Established in 1919 in Moscow, Russia, the Museum of New Western Art was shut down in 1948. Most paintings from it were transferred to other Russian museums. The paintings on the plates #1, 7, 8, 13, and 19 are now at the State Hermitage Museum in St. Petersburg. The #2-6, 9-12, 14-18, 20, and 22 are at the Pushkin Museum of Fine Arts in Moscow.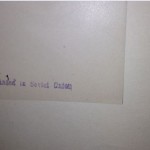 Search for the publisher, "Bookniga," revealed that it was the "sole distributor for North and South America of all publications printed in Soviet Russia"[1] in 1935-1939. A 1937 story in The Publishers' Weekly mentions a portfolio of reproductions from the Museum of New Western Art—possibly 22 Selected Masterpieces[2]—featured in a 1937 story in store: "there are many individual customers, who come [to Bookniga…] to buy illustrated books showing artistic trends of interest to American artists. An item which is attracting particular attention at the present time is a portfolio of reproductions of French modern artists at the Museum of New Western Art, in Moscow. The juvenile books are in constant demand from people who cannot read a word of Russian, but who, as artists, designers, students, or commercial artists, find the illustrations helpful and stimulating in their own work."[3]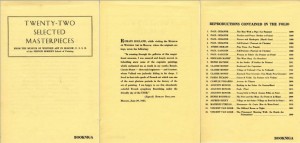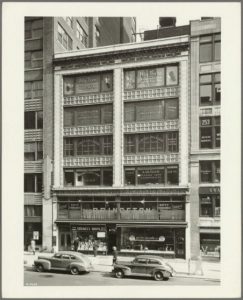 ---
[1] "Books and Authors," New York Times, November 17, 1935.
[2] Another publication, Boris Ternovetz, Thirty-five selected master pieces from the Museum of Western Art in Moscow, (New York : New York Graphic Society, 1935[?]) is also available in American libraries.
[3] The Publishers' Weekly, August 14, 1937, 489.