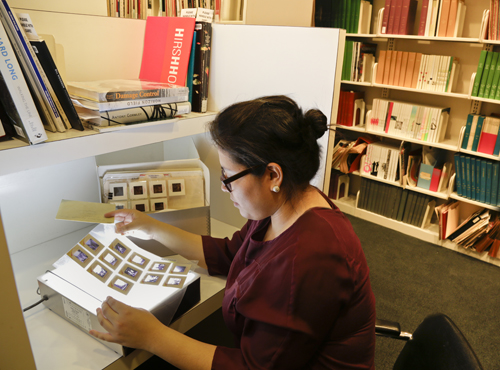 Hello! My name is Julia Murphy and I am currently a contractor at the Hirshhorn Museum and Sculpture Garden. My primary task is to ingest the Hirshhorn's collection photos onto the DAMS, Smithsonian's Digital Asset Management System, which acts as an online image database for long-term storage and access. In between contracts I found myself with a two-week break in January so I reached out to Anna Brooke, head librarian at the Hirshhorn Library, and asked if she needed any assistance. Although my volunteer time was short I tried to help in any way. As a volunteer in the library I re-shelved books, repaired torn covers, and answered reference questions. A major part of my volunteer time was devoted to scanning slides for a curator who needed them for a presentation about a future exhibit. These slides included images not found online and were from her personal collection so they were valuable and needed to be digitized. Of the 70 the curator asked for, I was able to scan, edit, and share 50 of them.
I am also a second year student working on my Master of Library Science degree, specifically Archives, at University of Maryland, College Park. As students, "volunteer, intern, apply, network, get involved," are all on our minds as rising librarians, archivists, or data managers. I thought I would share my rare and short opportunity, to volunteer at a museum library only three floors above my usual office, to encourage other students or those interested in this field to take every opportunity offered or to offer to help before being asked.
In my opinion, it's important to apply what I learn in a class to what I do at work, but also to think about the next step. What will you do next? Where will your internship, volunteer or work experience take you? What do you want to do with the experience you have and what can you improve on? From working with the curator and in the library I realized that the scope of a librarian's role is beyond the library doors. It is a librarian's responsibility to help visitors and outside researchers in addition to those who work across the hall. In my case, the information request wasn't for a book, file, or article, it was for digitized copies of photo slides, which in turn would help the curator's research and possibly future exhibits. As museums, libraries, and archives enter and embrace the digitized world, in my opinion, it's as beneficial to provide information in a digital format as it is in oral and written formats.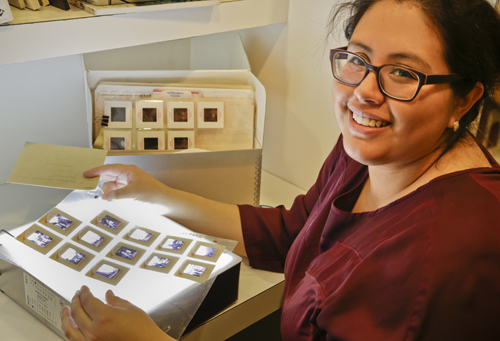 My path to working as a DAMS contractor and studying to become an archivist started during college. I was a White House summer intern working in the Photo Office where I was able to meet and work with the photo archivist. She shed light on the profession so I became interested and curious enough to apply for an archival internship for the following summer. I worked at the National Museum of African Art (NMAfA) where I was introduced to DAMS. My duties included syncing metadata from the museum's content management system (CMS) to the photo followed by uploading it to DAMS. I worked closely with a member of the DAMS team in the Smithsonian's Office of the Chief Information Officer during this process and helped write a step-by-step guide. I returned to NMAfA the following summer as a contractor to continue working on the museum's DAMS migration. That fall, 2012, I started graduate school and during the spring semester I became a CNN video library intern. My undergraduate degree is in Journalism so I wanted to combine two interests and work with videos. I learned how to work in a fast-paced environment, how to answer reference questions, and I exposed myself to the broadcast media world. Immediately following my internship I started working at the Hirshhorn.