The Smithsonian Libraries is a vibrant force in promoting new ideas through knowledge sharing. We play a unique role in advancing scientific and cultural understanding, and in preserving America's heritage. Our extensive collections and highly trained staff are a crucial and unmatched resource for research and education communities within the United States and around the world.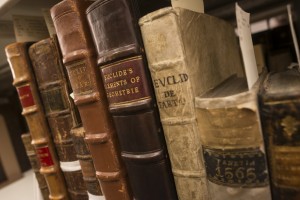 As we look ahead to expand our collections, programs, and scholarship opportunities, operating expenses also increase. Now more than ever, please consider contributing a gift that will help us connect people all over the world to information in a meaningful way. Last year, visitors to our website downloaded over 800,000 digitized books, exhibits, articles, and other items from our specialized materials.
The Libraries Futures Fund provides essential support for our daily operations – everything from staff training to serving our users. Thanks to consistent support, annual donors are the heart of what we are able to accomplish. Your generosity allows us to acquire, maintain, preserve, and share the treasures within our collection and create accessible channels for the public. With your help, scientists, historians, scholars, curators, and visitors of all backgrounds will find inspiration and knowledge from our holdings in person and online. To give to the Libraries Futures Fund or for more information, call us at 202.633.2241.