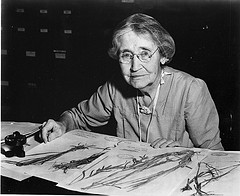 As part of my duties in wrangling data for Smithsonian Research Online, I worked on a project to collect and ingest the historic legacy of published scholarship produced by Smithsonian researchers since the Institution's inception in 1846. The main focus of my participation is cleaning and preparing the data, but I find it hard to resist not paying attention to its historic significance. I'll admit occasionally getting lost thinking about what it was like to be on the front lines of natural history research, identifying and describing new species.
It may sound like a herculean task to find and identify 180 years' worth of research publications. But the task is made less daunting thanks to the work of Smithsonian administrators of the past, who compiled and published annual accounts of the work done at the Smithsonian. These publications contained original research, as in the case of the Bulletin of the United States National Museum, as well as lists of the published work of the scientists and other researchers working at the Smithsonian or with Smithsonian collections, such as the Report of the Secretary of the Smithsonian Institution. You can see a list of the various publications at the Smithsonian Institution Archives (and certainly look for them in our catalog, too!)
In preparing the last batch of 18,000+ citations from the United States National Museum's Annual Reports (from 1863 to 1964) for ingesting into Research Online, I couldn't help noticing some of the names I came across were those of women. So I thought, for Women's History Month, it might be interesting to bring to light the scholarly contributions made by female researchers at the Smithsonian.
Mary J. Rathbun
Mary J. Rathbun was curator of crustaceans at the US National Museum (now the National Museum of Natural History), where she described 1147 new species, 63 genera, and 6 higher categories. She wrote at least 166 articles and books, many of which are in our digital repository.  There is even a 2100 volume collection in our Museum Support Center Library that bears her name. The Mary J. Rathbun Memorial Library covers shrimps, lobsters, crabs and ostracods. Born in Buffalo, NY in 1860, Rathbun never attended college, but was granted an honorary master's degree by the University of Pittsburgh and qualified for a Ph.D. at George Washington University.  A recent blog post on Rathbun from SI Archives is well worth the read.
Harriet Richardson-Searle
Less well-known is Harriet Richardson-Searle, whose contributions to isopod systematics are still cited today. She graduated from Vassar in 1896 and quickly started researching isopods, beginning a prolific, if short, career until her marriage to Washington lawyer William D. Searle in 1913, and the birth of a son with health problems. She did continue an association with the Smithsonian into the 1950s. I was not able to find much biographical information about her, although she is given some coverage in Ladies in the Laboratory, and Ladies in the Laboratory 2. Any Wikipedia editors out there willing to make her a page?
The Reports and Annals would occasionally include researchers who used Smithsonian collections in their research, despite not having a clear affiliation with the Smithsonian. Eloise Cram, for instance, was with the USDA and spent years working to rid America's poultry from parasites. Or botanist Mary Agnes Chase, working at the USDA while also maintaining the Collection of Grasses at the Smithsonian. She was an expert in grasses, but her passion for women's suffrage led her to be jailed several times, even going on a hunger-strike. Rosa Smith Eigenmann, the "first woman ichthyologist of any accomplishments" published many descriptions of new fish species in the Proceedings of the U.S. National Museum in the early 1880s, even though I was unable to find any information on her working at the Smithsonian in particular.
In this batch alone, I counted 136 women, contributing over 600 publications. One blog post can't begin to crack the surface of the contributions these women made in natural history research. Nor can it attest to the contributions that weren't made, given the limitations placed upon women throughout the history of science. I didn't want Women's History Month to go by without recognizing the commitment these women had to conducting scientific research despite the real obstacles they faced. The Smithsonian Archives is a great resource for learning more about Smithsonian history, especially their coverage of Women's History Month on their blog. The Smithsonian Flickr site has a great set on Women in Science.  And the Libraries will continue to compile the research output these women produced in our Research Bibliography and Digital Repository, Research Online.