On April 30th, in celebration of Preservation Week , the Smithsonian Libraries will host a question and answer session with our book conservator, Katie Wagner. Do you have a question about how to care for your own books or how we care for ours at the Smithsonian? Now is your chance to ask our expert!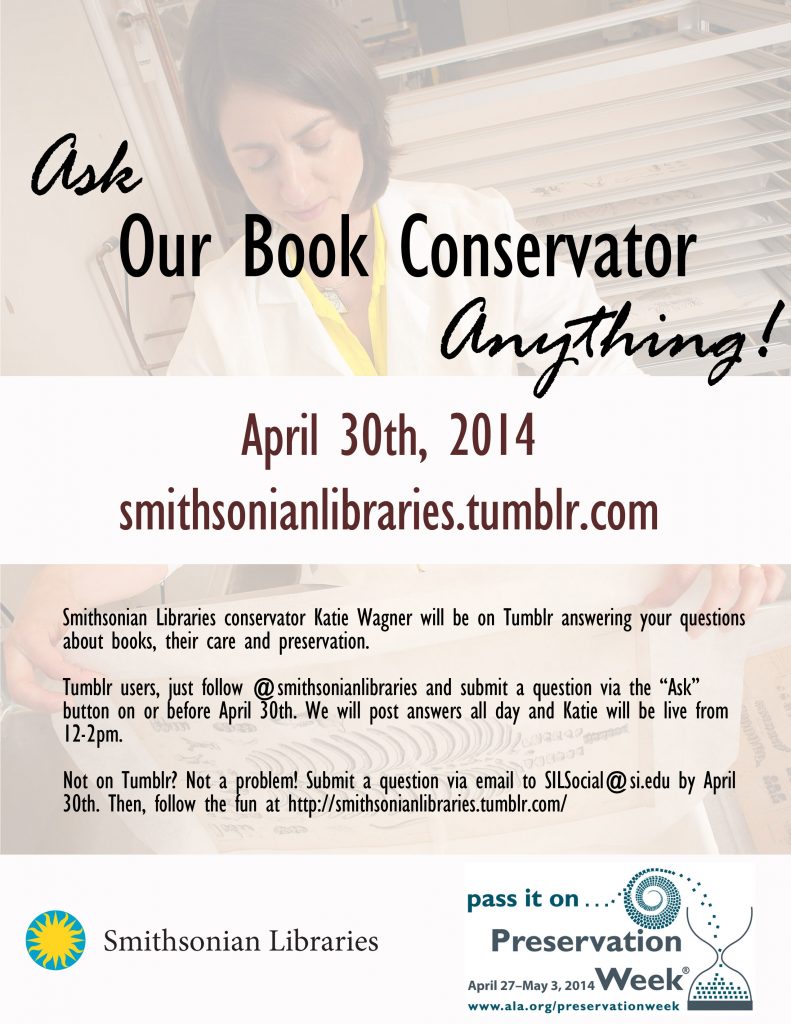 The conversation will take place on our Tumblr page (are you following us on Tumblr yet? You should! It's fun!). To submit questions, Tumblr users can simply follow us (@smithsonianlibraries) and click the "Ask" button. If you're not on Tumblr, no problem. You can also submit a question via email to SILsocial@si.edu. Or, send us a tweet @SILibraries using hashtags #presweek and #ama.  We'll collect questions between now and April 30th.
On April 30th, everyone can tune in to our Tumblr page for answers! Katie will be live from 12pm-2pm EST but we'll post selected responses throughout the day.
More about Katie:
Katie Wagner is a rare book conservator for the Smithsonian Libraries. She works primarily with the two special collections libraries: The Joseph F. Cullman 3rd Library and The Dibner Library of the History of Science and Technology as well as with the other branches of the Smithsonian Libraries with rare material. Katie writes a monthly blog post, The Fix, highlighting conservation treatments. She feels she has the best job in the Smithsonian but her colleagues may disagree. Katie holds an MLS from the University of Maryland and BA in History from Mount Holyoke College.

More about the Smithsonian Libraries Preservation Services:
The Smithsonian Libraries is committed to the preservation, safe exhibition, and long-term access to its collections, many of which are irreplaceable. Our comprehensive preservation program includes the coordination of all library-wide activities relating to the preservation of library collections; conservation treatment of special and general collections needed for research, exhibition or digitization; collection maintenance and shelf preparation activities; commercial binding of serials and monographs; reformatting to microfilm or photocopy; disaster planning and response; environmental control; staff and user education; and public outreach.
More about Preservation Week:
Preservation Week is a collaborative effort supported by the Association for Library Collections and Technical Services, a division of the American Library Association. It was created in 2010 as a way to bring awareness to issues in library preservation. See their website for  more information to and to find other events near you!