-This post was written by American Art/Portrait Gallery Library (AAPG) Spring 2014 intern Sara Cecilia Johnson.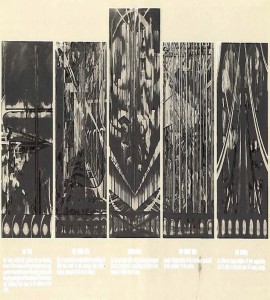 Joseph Stella's paintings sit quietly, unnoticed on the second floor of the Smithsonian American Art Museum. People often pass them by, maybe one or two stopping to admire the vibrant color or dynamic movement, but otherwise Stella remains an obscure, unfamiliar name to the average American. What they don't know about is his striking spectrum of work that evolved during the inter-war period in the 1920s and '30s or about his friendships with leading art figures of him time, such as Alfred Stieglitz, Walter Arensberg, Katherine Dreier, and Marcel Duchamp.
As a teenager, Stella emigrated from Italy to New York and studied under American Impressionist painter William Merritt Chase, whose works are also in the museum, but Stella clearly branched out from the style of his teacher. He returned to Europe for a few years, discovering Modernism and Futurism in Paris and France and later bringing those ideas back to New York where he played a major role in the establishment of the art group Société Anonyme. The painting Metropolitan Port, 1935 demonstrates his unique style of combining abstraction and Futurist sensibilities. His attention to line gives the work a strong sense of movement, while his use of color simultaneously emits a calming blue serenity. This painting is part of Stella's famous series New York Interpreted, including his well-known depiction of the Brooklyn Bridge. (Image taken from the exhibition catalogue "Stella 1943" from Stella's Art & Artist File at the AA/PG Library.)
Largely known for his precisionist works, scholars often focus on Stella's industrial cityscapes, but Stella's career was not limited to that style. The second painting currently on view in the museum is Neapolitan Song, 1929, an exotic, brilliantly colored landscape depicting a crane, plants, and mountains in the distance. Despite rubbing shoulders with Modernist leaders like Duchamp, Stella held on to his poetic realist preferences through his many drawings and paintings of delicate flowers and other naturalia. This painting in particular is reminiscent of his Italian homeland, referencing the Bay of Naples in title and scenery.
In these two samples of Stella's work, we can see how he manages to blend dichotomous visual languages, reflecting the melting pot of American culture in both style and nationality. His works have significantly contributed to the canon of American art and the growth of New York into the art capital in the early 20th century. On your next visit to the museum, be sure to stop by and pay homage to The Stella.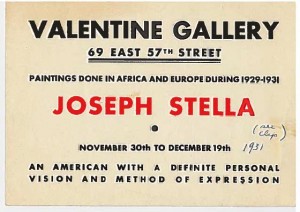 Works Cited:
Barbara Haskell. Joseph Stella. New York: Whitney Museum of American Art: H.N. Abrams, 1994.
Irma B. Jaffe. Joseph Stella. New York: Fordham University Press, 1988.
Irma B. Jaffe. Joseph Stella's Symbolism. San Francisco, California: Pomegranate Artbooks, 1994.
Joseph Stella: The Tropics exhibition, October 1-29, 1988. New York, N.Y.: Richard York Gallery, 1988.
Joann Moser. Visual Poetry: The Drawings of Joseph Stella. Washington: National Museum of American Art by Smithsonian Institution Press, 1990.
Joseph Stella. Drawings of Joseph Stella from the Collection of Rabin & Krueger. Newark, N.J., Rain & Krueger Gallery, 1962.
Judith Silczer. Joseph Stella, the Hirshhorn Museum and Sculpture Garden Collection. Washington, D.C. by Smithsonian Institution Press, 1983.
To learn more on the Stella across the Smithsonian, please see:
The Joseph Stella papers at the Archives of American Art
Smithsonian American Art Museum full collection of Stella's work
Smithsonian National Portrait Gallery collection by Stella
-This post was written by AA/PG Library Spring 2014 intern Sara Cecilia Johnson.