The Smithsonian Libraries announces Polly Khater as the Assistant Director for Discovery Services. Khater has served as Discovery Services Manager since 2011, and was the Serials Cataloging Coordinator from 2008 to 2011.
In her new position, Khater will direct and coordinate the efforts of the Discovery Services Division. She will provide oversight and support for resource acquisitions and work with her staff to provide access to the Libraries' rich and unique collections and resources. She will also continue leading the efforts to implement and develop the Libraries' discovery service, OneSearch.
"With extensive experience in museum and research libraries, Polly is already providing the leadership we need to become a world-class information and knowledge provider,  handling both print and digital collections and services with ease, " said Nancy Gwinn, director of the Smithsonian Libraries.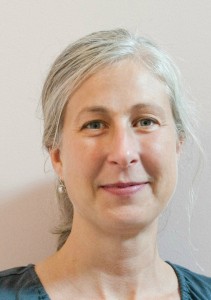 Khater has demonstrated exceptional management in distinctive library positions over the course of her career. Prior to coming to Smithsonian, Khater was the Director of Technical Services at George Mason University (Fairfax, Va.), where she won an Outstanding Achievement Award in 2003. Previously, she was the head of cataloging and bindery in the Himmelfarb Library at George Washington University Medical Center (Washington, D.C.), Distance Learning Librarian for Booz Allen Hamilton (Tysons Corner, Va.), and adjunct faculty at the School of Library and Information Science at The Catholic University of America (Washington, D.C.).
A Pennsylvania native, Khater received her bachelor of arts in English from La Salle University (Philadelphia, Pa.) and a master of library science from the University of Pittsburgh. She is a member of the American Library Association, the Association of College and Research Libraries, the Association for Library Collections and Technical Services and Beta Phi Mu, and has served on the ENDUSER Program Planning Committee, the North American Serials Interest Group and the Virginia Library Association.