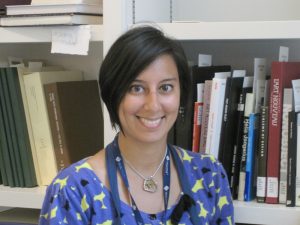 Earlier this year, the Cooper-Hewitt Library was awarded a Smithsonian CCPF 2014 (Collections Care and Preservation Fund) grant to continue the conservation work we started based on a CCPF funded condition survey of our Special Collections in 2010.
This summer, Library intern Alana Jiwa is focusing on custom enclosures for our rare folio sized materials. She is measuring books, using a new custom made folio sized book measurer made by Don Stankavage in the SIL Book Conservation Lab.  Stay tuned for progress reports from Alana…
Alana Jiwa began her career in design at Savannah College of Art and Design studying Fibers with a minor in Fashion and Accessory Design.  After graduating she immediately moved to New York where she designed legwear under a number of labels including Isaac Mizrahi, Steve Madden, and Rocawear.
Alana began her graduate career at Parsons in the History of Decorative Arts and Design program here in the Cooper-Hewitt Museum in the Fall of 2012. Alana has been working in the Library as for the past year and a half, volunteering with the Cooper-Hewitt Design Center, and working with the curatorial departments through a fellowship granted by the Smithsonian Institution.  She also studied abroad in Tokyo and was granted the Boisbuchet exhibition design fellowship in southern France where she helped curate an exhibition of rare Boro textiles from Japan.  She will finish her graduate career at BARD Graduate Center in fall where she plans to focus on the cultural intersection of Muslims, Christians, and Jews in the medieval era. Elizabeth Broman