Once an amazing diversity of birds-some in breathtaking abundance-inhabited the vast forests and plains of North America. But starting around 1600, some species began to disappear, as humans altered habitats, over-hunted, and introduced predators. A notable extinction occurred 100 years ago, with the death of Martha the Passenger Pigeon, the last member of a species that once filled America's skies. The story of the last passenger pigeon, and the disappearance of the great auk, Carolina parakeet, and heath hen reveal the fragile connections between species and their environment. The Smithsonian Libraries unveils Once There Were Billions: Vanished Birds of North America at the National Museum of Natural History June 24. This exhibition is a joint production of Smithsonian Libraries, Biodiversity Heritage Library, and the National Museum of Natural History.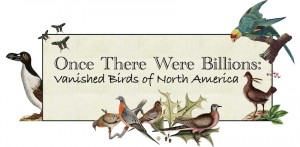 Once There Were Billions features specimens from the National Museum of Natural History's Division of Birds, such as Martha, the last passenger pigeon, a great auk collected in 1834, a heath hen collected around 1910, and two Carolina parakeets. The exhibition will display several books including  The Natural History of Carolina, Florida, and the Bahama Islands (Mark Catesby. London: 1731-43), The Birds of America: From Drawings Made in the United States and Their Territories, vol. 5 (John James Audubon. New York: J.B. Chevalier, 1840-44) and Mrs. Rorer's Philadelphia Cook Book (Sarah Tyson Heston Rorer. Philadelphia: Arnold and Co., 1886) and Mrs. Lincoln's Boston Cook Book (Mary J. Lincoln. Boston: Little, Brown and Co., 1904), which both contained pigeon recipes. Illustrations come from the Biodiversity Heritage Library, a global project that is changing the way research is done by digitizing and freely sharing biodiversity publications with scientists and other users around the world.
Join us for the unveiling of the exhibition on June 24, which is accompanied by a free public lecture and book signing at 6:00 p.m. in the National Museum of Natural History by Joel Greenberg, author of A Feathered River Across the Sky: The Passenger Pigeon's Flight to Extinction.To RSVP for this event, please send an email to SILRSVP@si.edu or call 202-633-2241. For a complete schedule of upcoming programs, view our exhibition webpage.