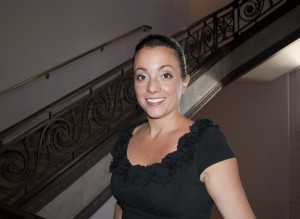 This "Mentorship Monday" post was written by Tina Muracco, Director of Advancement, Smithsonian Libraries Office of Advancement & Public Affairs. The Smithsonian Institution Mentorship Program is an annual 9-month program dedicated to "developing leaders throughout the Institution" through professional development in the areas of networking, interpersonal skills, coaching, and institutional engagement.
Throughout my career, I have gained valuable experience and insight, both professionally and personally. I attribute most of my progression to the brilliant individuals I have worked with and have had the pleasure of calling mentors. A mentor can help build confidence, impart thoughtful advice, and inspire new career goals and perspectives. A great mentor will not only provide specific guidance on certain tasks and duties, but also provide general advice on honing life skills and forming a solid work ethic.
When I saw the Smithsonian's call for mentors, I immediately responded with the hope that I could pass along some of the guidance and best practices that had been so generously shared with me. Christin Chism and I paired up for the program. Christin works in Public Affairs with the Smithsonian Institution Traveling Exhibition Service (SITES) and her self-motivation and ambition immediately impressed me. From the start, I could tell we would have a productive partnership.
Christin met the Libraries' Advancement team and we introduced her to the flurry of activities that makeup our daily schedules. Through her attendance at board meetings and events, participation in VIP tours and fundraising activities, and our day-to-day impromptu tasks, Christin acquired an understanding, appreciation, and a unique "behind-the-scenes" snapshot of fundraising for the world's largest museum library system. In turn, Christin gave me an equally valuable lens into her world at SITES, and she taught me how much planning and preparation is required to launch and promote a traveling exhibition.
I admire Christin's poise, patience, willingness to learn, and her determination. She has a solid core of competent and effective personal and professional traits, and I know she will have a bright future. The Smithsonian Mentorship program was a wonderful opportunity and a satisfying and rewarding experience. I am glad I pursued it.