This post was written by Vanessa Haight Smith, head of Preservation Services.
This year Kathryn Boodle has been awarded the Smithsonian Libraries Professional Development Internship in Preservation.  She arrived this week at the Smithsonian Libraries Preservation Department directly upon graduating from the MA program in the Conservation of Art on Paper and Books and Archival Material at the Camberwell College of Arts in London.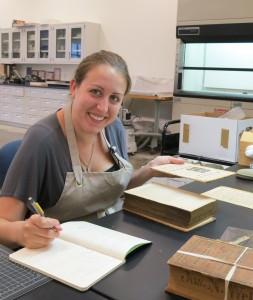 Originally from Greenville, South Carolina, Katie's interest in conservation grew from a desire to study medicine and science blended with an interest in the fine arts.  She holds an undergraduate degree from Columbia College with her focus of study in studio art, art history, and chemistry. In addition, she worked for two years assisting with private work by a fine arts conservator in Columbia, South Carolina before returning to graduate school in England.
Katie is interested in books as working objects, and the interaction of these objects with the people that use them. In particular, her interest in library conservation is associated with book history – specifically methods and materials used in binding versus the demand and the ever-changing dynamics of production throughout the centuries.
She is equally interested in the materials science aspect of conservation.  While completing her graduate studies, Katie's work placements at the Victoria and Albert Museum and the National Maritime Museum offered her the opportunity to research various methods on testing, with specific consideration to alternatives in standard testing regarding off-gassing materials.
Katie hopes to get her Ph.D. in materials science, but in the meantime enjoys the opportunity to perform conservation treatments at the bench and indulge in bad movie marathons.
To learn more about Smithsonian Libraries internships, see our webpage here.