The Hirshhorn Museum and Sculpture Garden was established in 1974 as a beacon of the art of our time. This year, the museum is celebrating its 40th anniversary with a series of exhibitions and projects drawn from and inspired by our expansive library collection including Salvatore Scarpitta: Traveler Days of Endless Time, and Speculative Forms, featuring installations that re-examine key moments and figures in modern and contemporary art. Since its inception, the museum's library has provided critical service to the staff and the public. Librarians ensure the availability of books and files on artists in the museum collection, exhibitions, and programs. Researchers, curators, conservators, and the public rely on the Library to supply the most current resources.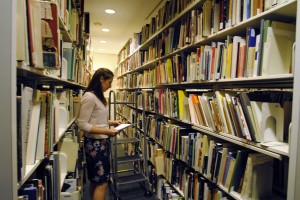 In order to maintain the vitality of our holdings and the highest level of commitment to the public, the Hirshhorn Museum and Sculpture Garden Library relies on friends and patrons for support. With help from users like you, we can reach new audiences and inspire life-long learning. Your donation will help the Library flourish:
$50 – purchases an exhibition catalogue for the collection
$100 – supports the acquisition of a new artist book
$250 – helps host interns who research access tools for the Hirshhorn Library's content and promote resources through social media
To donate to the Hirshhorn Library, visit our website or call 202.633.2241.