Pamela O. Long, an independent historian of late medieval and Renaissance history and the history of science and technology, was recently awarded the prestigious MacArthur "genius grant." The MacArthur Fellowship is an annual award to "talented individuals who have shown extraordinary originality and dedication in their creative pursuits and a marked capacity for self-direction."  Long performed research as a Dibner Library Resident Scholar from February-April 1993. Her research topic was Openness, Secrecy, Authorship, Intellectual Property, and Studies in the Technical, Practical, and Military Traditions of Pre-modern Europe, which led to the published Power, Patronage, and the Authorship of Ars: From Mechanical Know-how to Mechanical Knowledge in the Last Scribal Age (March 1997).
In an interview with the Washington City Paper on September 22nd, Long said, "The greatest under-appreciated library in Washington is the Dibner Library in the Museum of American History. You walk in the Constitution Avenue entrance and bear right and go back into an obscure corner and there it is, one of the great collections of rare technical, engineering, and scientific books in the world."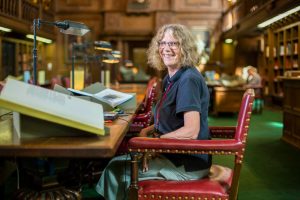 Long received a B.A. (1965), M.A. (1969), and Ph.D. (1979) from the University of Maryland, College Park, and an M.S.W. (1971) from Catholic University of America. She is currently writing a new book, a cultural history of engineering and knowledge in Rome between 1557 and 1590. Learn more about Long's scholarship in this video.