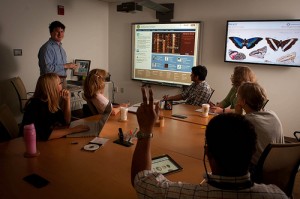 The Smithsonian Libraries is looking for a few great library school students (or recent grads!) to help us with some very interesting projects. These neat projects include:
Field Book Project Cataloging:
The Smithsonian Field Book Project is heavily involved in doing original cataloging on natural history archival collections, specifically field collecting documentation. The intern would work with the project's chief cataloger, who would select specific collections that would make ideal learning opportunities for the student. The student would learn basic concepts in original cataloging and then have the opportunity to catalog natural science collections. The student would gain practical, hands-on cataloging experience while learning some of the opportunities and challenges that arise in doing original cataloging of unprocessed special collections, such as best practices for handling archival materials and how to do preservation assessments on fragile items.
Interlibrary Loan:
This internship would be a general introduction to interlibrary loan functions at the Smithsonian Libraries. Interns would learn about the ILL process and its role in a museum library system. In addition, interns would gain valuable experience in using Illiad application software, a program used by many academic and public library systems to drive the interlibrary loan process. The incumbent will have the opportunity to learn about and visit most of the library's branch locations, conducting shelf checks and assessing material for loan.
Biodiversity Heritage Library Literature Review:
The incumbent will prepare a literature review to identify real world use cases of the Biodiversity Heritage Library (BHL) and to illustrate the impact of BHL on the scientific research community. The intern will learn how to find and use contemporary articles in peer-reviewed journals and other publications with a focus on scientific disciplines related to biodiversity. In addition, the intern will learn to evaluate and summarize the literature and to organize it in a meaningful way to illustrate connections and correlations across the literature and identify patterns. Finally, the intern will gain experience and knowledge on how to effectively communicate the impact of libraries on their target user populations.
History and Culture Collections Management:
A student assigned to this project would have the opportunity to explore issues in collections management in the libraries' history and culture department. Projects may include reviewing titles and assessing their relevance to the collection or planning and preparation for moving and reshelving materials. Intern will learn how library staff maintain collections based on the needs of their users as well as the importance of print and electronic resources to curators and researchers in a museum library.
Instructional Design:
Interns will work closely with the BHL Collections Coordinator and SIL Instruction/Reference Librarian to codify desired learning outcomes for staff and design instructional materials that meet a variety of learning styles. Interns will assist in developing written instructional documentation and video tutorials, as well as provide live and webinar-style training sessions for BHL and SIL staff. Interns will be encouraged to gather and assess feedback regarding their instructional projects and implement improvements. Interns will have the opportunity to improve documentation and instructional design skills, refine in-person and virtual presentation skills and experiment with new technologies to promote learning in efficient and creative ways.
All internships are part-time with flexible hours, though unpaid. Most are able to accommodate practicum students. Smithsonian Libraries is happy to work with a student's academic institution to help them obtain credit. All applications must be submitted via the Smithsonian's Online Academic Appointment System (http://solaa.si.edu/). Applications are open until December 12th, or until filled. Please note that all internships are based in Washington, DC. Interns are not eligible for transportation or housing benefits. For more information about our internship program, visit our website here. More information about these specific projects may be viewed here.