As the month of March winds down, the Smithsonian Libraries (SIL) honors Women's History Month by celebrating women pioneers in the field of air and space. While conducting research into this topic, using materials found in both the general stacks and special collections at the National Air & Space Museum (NASM) Library, evidence of the gender gap became apparent. Prior to the 1950s, records suggest that while women were indeed breaking barriers, more often than not, names went down in the record books as "the first woman to…"
Perhaps the most famous example would be in comparing Amelia Earhart to Charles Lindbergh. While Earhart became the first woman to fly across the Atlantic in 1928 (and solo in 1932), Lindbergh accomplished this feat in 1927. Indeed, the pattern found in record books of air and space often goes first person (man), first woman to fly (ride), first woman to pilot, and first woman to fly solo. Yet, as glass ceilings continued to shatter in the years following World War II, women pioneers would rise up to match (and in many cases, surpass) their brothers.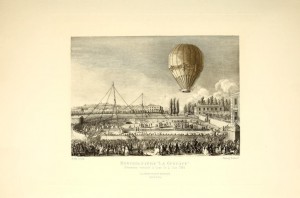 Women and Hot Air Balloons
Approximately eight months after Jean-Francois Pilatre de Rozier and Francois Laurent d'Arlandes piloted the first untethered hot air balloon, Elisabeth Thible became the first female aeronaut on June 4, 1784, when she accompanied Monsiuer Fleurant in a balloon flight just outside Lyon, France. Fourteen years later, on November 10, 1798, Jeanne Geneviève (Labrosse) Garnier became the first woman to pilot a hot air balloon by herself.[i]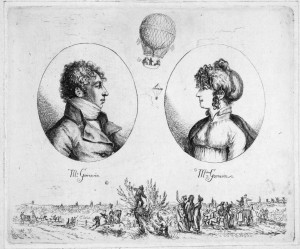 With the introduction of heavier-than-air aircraft, Mlle. P. Van Pottelsberghe de la Potterie became the first female passenger of an airplane in the Belgian city of Ghent on May 31, 1908. She would be followed in rapid succession by Madame Therese Peltier, who would become the first woman to pilot an airplane solo in September, and Baroness Raymonde de Laroche, who became the first woman to receive a pilot's license in 1910.[ii]
When the subject of women in aviation history arises, most Americans naturally think of Amelia Earhart. While Earhart's achievements are both impressive and historically significant, she often followed a path laid down by Charles Lindbergh. One of Earhart's closest friends (and biggest fans) would serve not only as pioneer among women, but a trailblazer for all aspiring pilots.
An orphan born into poverty, Jacqueline Cochran received her pilot's license after winning a bet with her future husband. Viewing flight as a creative means for selling and advertising cosmetics, Cochran would go on to set numerous flying records. However when compared to Earhart, Cochran stressed that her idol focused on distance records, while Cochran was interested in speed records. Much of Cochran's success at breaking speed records can be attributed to her rivalry with Jacqueline Auriol of France. Through the decades of their rivalry, the two women broke each other's speed records five times as they wrestled for the title of the fastest pilot in the world.[iii]
Beyond her accomplishments as a record setter, Cochran served as a spokeswoman who advocated a larger contributing role for women during World War II. In 1941, Cochran became the first woman to fly a bomber across the Atlantic, when she flew from Canada to England in an effort to promote the growing need for pilots. Her efforts inspired Britain's Air Transport Auxiliary (ATA), which began recruiting women to ferry military aircraft from factories to airfields. This endeavor was followed by U.S. military's formation of the Women's Auxiliary Ferrying Squad (WAFS), which later combined with the Women's Flying Training Detachment (WFTD) to form the Women's Airforce Service Pilots (WASPS). Active as a pilot for almost forty years, Cochran was ultimately grounded when she suffered a heart attack at 65, while piloting the Lockheed  F-104 Starfighter at Mach 2.[iv]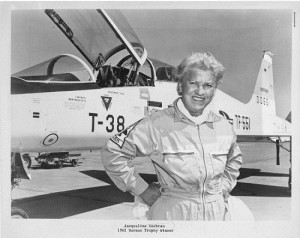 Space and Beyond
Moving into the space age and space race, Jackie Cochran and her husband, Floyd Odlum, formed a partnership Dr. William Randolph Lovelace—creating the Women in Space Earliest (Project WISE). Along with similar projects developed by NASA and the U.S. Air Force, the United States was developing plans for sending a woman into space as early as 1959. However, Russia struck first, when it made Valentina Tereshkova the first woman into space on June 16, 1963. Conversely, the United States would not send a female astronaut into space for another twenty years. Ironically, one reason for the delay of U.S. women in space can be attributed to Jackie Cochran.[v]
While a group of women led by Geraldine "Jerry" Cobb were undergoing a rigorous testing process similar to that experienced by the Mercury Seven, Cochran, who provided financial support for Project WISE, testified before Congress and conveyed her reservations about women in space. Cochran, who would later be enshrined in the National Air & Space Museum, believed that the best path for women in the space program would have been similar to the WASP program and could only proceed after man had succeeded in space. Ultimately, Sally Ride would become the first American woman in space on August 19, 1983.[vi]
For further reading on this subject: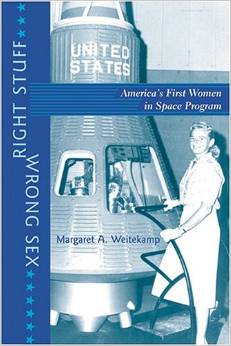 ---