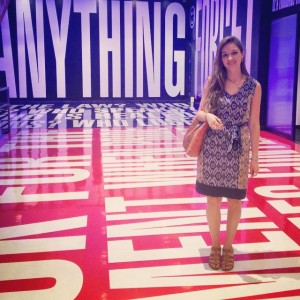 The inescapable question for any college senior is always some variation of "So, graduation is coming up soon, what you plan on doing with your future?" It seems that all other conversation topics must make way to this frightening yet incredibly relevant question. Now if you couple my fast approaching graduation with the majors I have chosen to pursue, that same question moves from being one of general interest to one of genuine concern. "What on earth is she gonna do with a degree in that?!?" seems to be the look I get as soon as I say with absolute confidence and sense of purpose that I am double majoring in Art History and Comparative Literature. Luckily, I have had the good fortune of being selected as a Katzenberger intern this summer, and I'm hoping that this opportunity will bring me one step closer towards resolving the question of how I plan on applying my studies to the real world.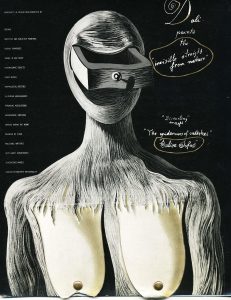 The Katzenberger Foundation Art History Internship is a program that provides undergraduate students with the opportunity to collaborate with different Smithsonian museums, research centers and affiliates in research and collections projects. It provides financial support to its recipients in the form of a stipend, which is incredibly difficult to find for any humanities internship, particularly in the arts (trust me I have gone through my fair share of great yet unpaid art internships). I actually came across this program when I was a freshman, and was waiting for my senior year to take advantage of this rare and exciting opportunity.
Now that I'm here, I'm working on one of the six projects offered this year to Katzenberger interns. This involves Institutional Art and Artist Files Research at the Hirshhorn Museum and American Art Portrait Gallery Libraries in Washington, DC. For the next ten weeks, I will be going through these museums' library collections in Art and Artist Files on artists or exhibitions from galleries, auction houses and museums which include ephemera in the form of posters or postcards, press releases, catalogues, invitations, brochures, and much more, in hope of curating my own collection of "hidden treasures" from the material within these files. I will be writing a series of blog posts on all the interesting and rare material I uncover.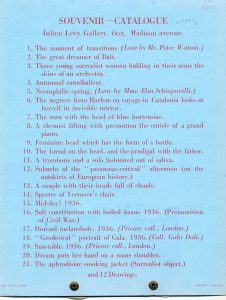 So stay tuned to discover alongside me some of the incredible pieces that are housed in the artist files collection here at the Hirshhorn and the AAPG libraries. I have already begun to find intriguing pieces of information, cool posters and news clippings, including a rare souvenir catalog from an exhibition of Salvador Dalí's work at the Julien Levy Gallery in 1936. And who knows, maybe by the end of this 10 week program I will be at least one step closer to answering the inevitable questions about my future the next time that my "senior status" comes up in conversation.