This entry was written by Linda Blancato, book lover and Adopt-a-Book supporter.
I've always been a librarian at heart. My father was a master bookbinder who owned a bindery in Baltimore, Maryland. He instilled in his family a love and respect for all things related to books: the cover, the bindings, the pages, and of course the content. From a young age, I've always appreciated that the real value of books includes the way they are created, stored, preserved, conserved, and shared. When my son-in-law [Smithsonian employee] David Opkins shared the Libraries' Adopt-a-Book Program with me, I thought, "What a perfect match."
I have adopted three books over the past three years. The first book adopted was Euclid's Elements. I thought it would be a perfect book to adopt in honor of my father. This selection represented a rare book with sophisticated binding and significant content. It was a book that needed to be saved and one that my father would have chosen. My second adoption was the Telephone Directory for the Territory of Hawaii from the year 1930. Its significance to me was that my mother lived in Hawaii during this time. The unique binding and composite was of interest to me, and it was important to save. My third book is An Essay on Crimes and Punishments (Edinburgh, 1764), to honor my father-in-law and his three sons (including my husband) who all served as law-enforcement officers.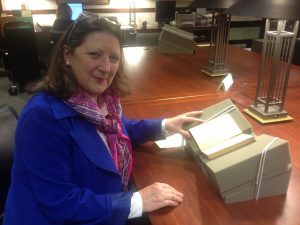 I can't thank Smithsonian Libraries enough for the opportunity through their Adopt-a-Book Program to honor people, events, and areas of interest. To give back in any way possible is important, but to have such a unique vehicle is priceless. I am grateful for this opportunity that the Libraries has provided. My family takes great pride in knowing that there are books saved by Smithsonian and that they were saved by our own passion.
If I could talk to someone thinking about adopting a book, I'd say: "Do it!" The process for becoming involved is so simple, and it provides a one-of-a-kind opportunity to honor a loved one or express a personal belief, all while making a commitment to saving history for the future. The staff at Smithsonian Libraries is the very finest in the area of rare books and conservation. It's simply one of the best things one can do. A book saved is a better world.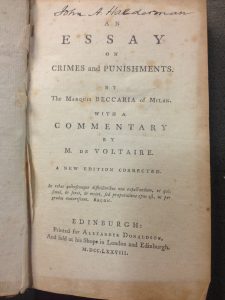 Giving to the Smithsonian Libraries is very important. Pure and simple, the Smithsonian is the quintessential owner of the art of preservation, so to trust their ability to do the very best is paramount. To be associated with anything they do is priceless for anyone, from big donors to the everyman. One thing that impresses me about the Adopt-A-Book Program is the range of book adoption opportunities, in both scope and price point. I was surprised to see how smooth and easy it is to support and contribute to the Libraries' cause.
The Smithsonian's librarians are by far the best care takers of books on earth, the ultimate librarians and care givers of the printed word. I am so proud of the fine work that the Smithsonian does; to be a very small part of that makes me feel like I have contributed to its overall mission.
To view current books up for adoption, visit library.si.edu/donate or contact the Libraries' Advancement Office at 202.633.2241.