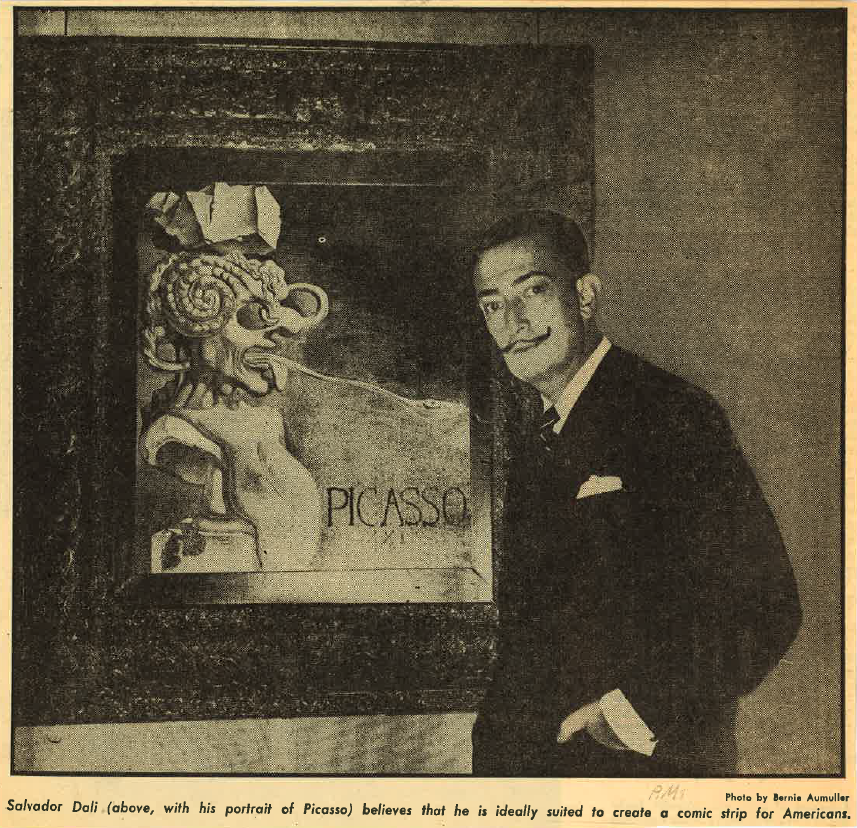 The world of modern art is at times criticized for a certain reputation of exclusivity and mystery in which the more inaccessible a certain artist or artwork may be, the more valuable and reputable the art becomes. Salvador Dali, the most famed member of the twentieth century avant-garde movement, Surrealism, on the other hand, challenges this perception that artistic creation is a closed-off affair for an elite few. Sure, Dali was no humble man of the people, and in fact is famous for his eccentric, narcissistic personality as he continually declared himself the most talented and significant artist of his generation (let's not forget his autobiography graciously titled Diary of a Genius). However, Dali walks the line between artist and popular culture sensation as he created artwork that was meant to be seen and consumed by everyone. Many examples of Dali's remarkable work may be found in the Art and Artists Files of the Hirshhorn Museum and Sculpture Garden Library and the American Art & Portrait Gallery Library at the Smithsonian, as well as the nearby National Gallery of Art Library.
Beginning in the 1930s, Dali started to create work for popular media outlets in the form of advertisements, product logos, magazine cover designs and comic strips which in turn gave his art direct, unlimited access to the masses. Imagine flipping through a magazine and seeing a surrealist Dali work promoting the stockings you wear or walking past a newsstand that features magazine covers designed with his dreamlike worlds.
This foray into the popularly accessible, commercialized graphic arts is partially what transformed Dali into such household name in the United States during in the mid-1900s. The collection of art and artist files at the National Gallery of Art,  and at the Smithsonian Libraries' American Art & Portrait Gallery Library and Hirshhorn Museum and Sculpture Gallery Library, give us a much clearer view of the endless possibilities that print media offered to Dali. While I was leafing through these files I discovered several examples of Dali's advertising partnership with Bryans Hosiery from the 1940s. Translucent stocking are transported into entrancing, magical worlds that seem fit to illustrate the pages of a children's book of fairy tales.
The February 1948 issue of the magazine, Town and Country, features a mythical Herculean scene with the magazine's title written in the artist's signature scratchy handwriting.
A 1968 edition of TV Guide features a vast unidentifiable landscape with thumbs that display TV screens in place of nails. Also found in these files were a collection of cartoon clippings from the comic "Crazy Movie Scenario by M. Dali the Super-Realist." This cartoon forms part of a series of different comics created by Dali that ran in the mass-circulation newspaper American Weekly from December 16th 1934 to July 7th, 1935.
Finally, the work that Dali does for This Week Magazine in the Sunday Star for the April 7th, 1949 and April 5th, 1953 editions takes on a more serious tone. These covers feature original artwork, Rebirth of Hope and Cross of Peace, created by the artist specifically for the magazine, which are meant to evoke a spirit of hopefulness and faith in the future following the aftermath of WWII.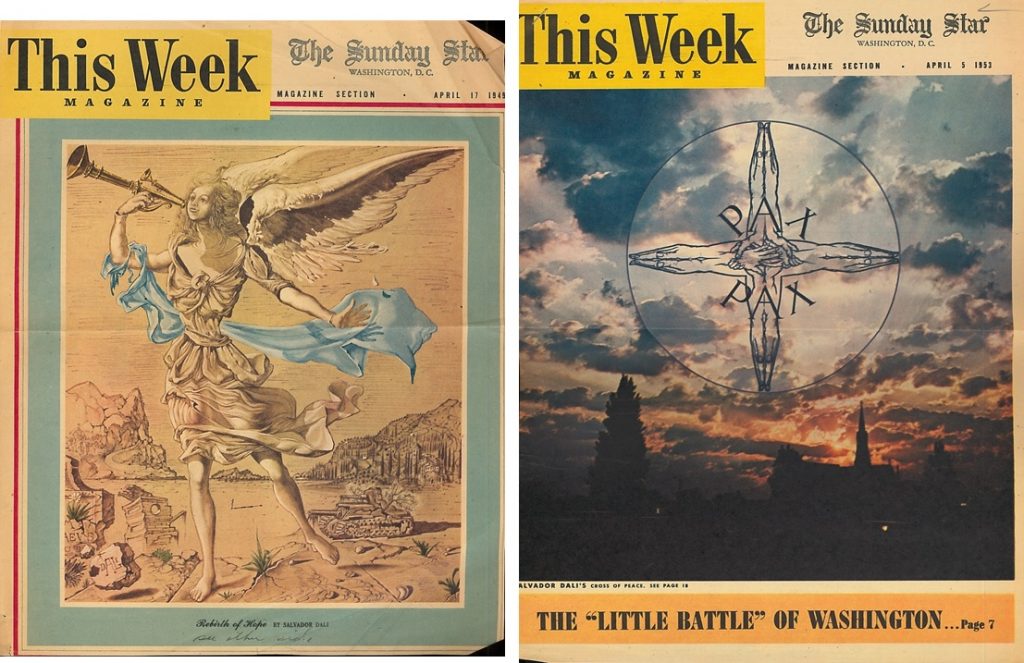 It becomes clear that Dali is not only significant as an artist of the surreal, but that he also represents the communion between what is deemed to be high and low art. His work transforms the pages of a publication into a canvases that are accessible to all. The artist files show that art according to Dali should not and would not be limited to a set standard of practice and that his vision could be applied to a a variety of media no matter how ordinary.
Salvador Dalí's sculptures will be featured as part of  the upcoming exhibition Surrealist Sculptures: Arp vs. Duchamp at the Hirshhorn Museum from October, 2015- January, 2016.
For Further Reading:
Jaap Guldemond, ed. It's all Dali: film, fashion, photography, design, advertising, painting. Rotterdam : Museum Boijmans Van Beuningen, 2005.