This post was written by Meredith Farmer, 2014 Resident Scholar, Dibner Library of the History of Science and Technology. The Dibner Resident Scholar Program is supported by the Dibner family.
I'm originally from Galveston, TX, a place I frequently describe as home of a less-than-stellar beach and lots of hurricanes. However, growing up on the water made an impression on me, as I now spend quite a bit of time reading and writing about sea narratives and storms.
My current research delves into American novelist Herman Melville's unexamined relationship to science—or, more aptly, the way biology, chemistry, meteorology, and electromagnetism enabled Melville to think differently about the idea of the "person." I argue that Melville (most famous for Moby-Dick) consistently represents humans as collections of "invisible agencies," like atoms, which are constantly and chemically reassembled—unified only in terms of skins, jackets, names, and legal mandates. My research at the Smithsonian was linked to a preliminary chapter that places this idea in a broader biographical context. For example, after going to the Galapagos aboard a whaling ship, Melville read relevant travel journals, including Charles Darwin's Journal of Researches. (In fact, Melville and Darwin shared an editor, John Murray III, who published their work together as part of his Home and Colonial Library. So Darwin's work and Melville's work were sold and advertised as the same genre!)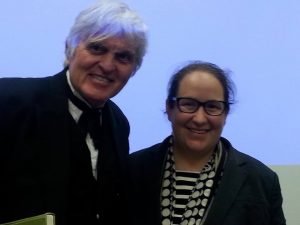 My search for the Dibner fellowship was linked to Joseph Henry, the first Secretary of the Smithsonian Institution. I discovered that Henry was Melville's professor at the Albany Academy in New York. In fact, Melville won a book award for finishing at the top of Henry's class in 1831. The very same year, Henry invented the strongest magnet ever constructed and what was arguably the first prototype of a telegraph machine! Fifteen years later Melville published his first book—and Henry became the Smithsonian's Secretary. This story helps me introduce my project on Melville and science. But it also helps me draw out a much broader topic: discussions of "literature" have been separated from "science" in ways that really don't capture the dynamics of this antebellum moment. My scholarship converges at the intersection of literature, philosophy, and science in the 19th century U.S.
The Dibner Fellowship gave me the opportunity to work in a number of the Smithsonian's museums and research centers. I focused on Henry's fascinating uncatalogued library at the Dibner Library of the History of Science and Technology, along with unpublished materials from the Joseph Henry Papers Project at the Smithsonian Institution Archives. But my research also led me to a number of other spaces, from the exhibit where Henry's famous Yale Magnet is displayed in the National Museum of American History to the Marine Mammals division of the National Museum of Natural History, where curator emeritus Jim Mead helped me think differently about Melville's work on the classification of whales. Here materials in the Joseph F. Cullman 3rd Library of Natural History were especially helpful.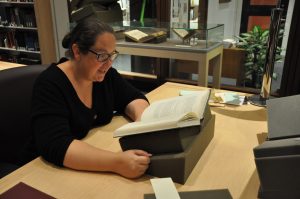 My fellowship at the Smithsonian Libraries was extraordinary. I found incredible texts, stunning artifacts, and an institution with unparalleled breadth: an ideal space for interdisciplinary research. But working at the Smithsonian is about far more than the institution's remarkable holdings. I was able to find an expert on almost any topic. And Smithsonian librarians and curators have wide-ranging interests and a kind of intellectual generosity that is really rare and special. I can't say enough about the spirit of curiosity and hospitality that I experienced.
In her free time, Meredith enjoys baseball, skiing, writing outside, making Melville pilgrimages, and searching for the perfect cup of coffee. Her goal is a position on the tenure-track—though after spending time at the Smithsonian, she's fantasized about working here! Meredith moved to D.C. from Winston-Salem, NC, where she has been working as a Visiting Assistant Professor in the Department of English at Wake Forest University. She holds a bachelor's degree from Kenyon College, and a master's and Ph.D.  from the University of North Carolina at Chapel Hill.