This piece was written by Nancy E. Gwinn, Director, Smithsonian Libraries, for our summer 2015 printed newsletter magazine. To obtain a copy of our printed newsletter, email obriene@si.edu. 
The Smithsonian Libraries has an updated look, as you may have noticed.  Recently, we simplified our name, dropping the word "Institution" for simplicity's sake and because people always say "institute" instead.  So we are now Smithsonian Libraries. And we've rolled out our new brand, the colored dots that will grace all of our products, fondly known as "chromazones," a play on "chromosome," with "chroma" meaning color in Greek and "zones" describing areas of our collections; green is Natural & Physical Sciences, purple is Special Collections (rare books & manuscripts), orange is Art & Design, and blue is History & Culture. You'll find these on our website, our mobile apps, our brochures, our name badges, and anywhere else we can think to put them.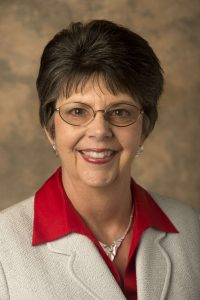 According to the Internet definition, a "'chromosome' is a packaged and organized structure containing most of the DNA of a living organism. It is not usually found on its own, but rather is complex, with many structural proteins called histones…." We like that "living" part, because it describes dynamism and creativity. Libraries have always been excellent adaptors to changing environments.
The Smithsonian likes our new products and services. One is our Smithsonian Research Online database, where we capture citations, and full text where possible, of all research publications produced by Smithsonian scientists, curators, and other researchers. We just celebrated the Smithsonian staff — Eleanor Harvey of the Smithsonian American Art Museum and W. John Kress, currently Interim Undersecretary for Science and a botanist — who contributed the 75,000th and 75,001th articles research publications to be included. At the rate of about 2,200 items/year, it won't be too long before we reach six-figure numbers!
We're also working on a system called Smithsonian Profiles, which will provide professional information about each member of the Smithsonian staff. Each profile will tell colleagues who is doing what, what their backgrounds are, what they've published and what they're working on, leading to possible improved communication and potential collaborations. Another is the large-scale Biodiversity Heritage Library, a digital library of biology literature which we are building with an international consortium of like-minded institutions and which now contains nearly 160,000 volumes containing nearly 46 million pages that anyone, anywhere can see and use.  Next year will be the 10th anniversary of this project, which is becoming the "go-to" place for information about species.
The Smithsonian Libraries also took the lead in persuading the Smithsonian's archives and museums to allow their public collections records for digitized objects, archives, and publications to be placed in other repositories, such as the Digital Public Library of America, for broader discovery. The Smithsonian has committed itself to transparency and open access to its research products and collections.
What lies ahead? We keep a watch on the trends, especially in academic and research libraries, to prepare ourselves to serve the Smithsonian staff of tomorrow. For example:
We know that being and becoming a nationally and internationally known Center for Scholarship in the areas of Smithsonian research is a fundamental goal that continues to drive our mission;
We know that finding a role in data management, helping researchers not only to manage their publications, but also the underlying digital data, will be crucial;
We know that inspiring staff innovation and creativity through continual training and opportunities for growth is mandatory;
We know that the trend toward open access to published research and changes in relationships between publishers, authors, and libraries will continue to be significant pressures affecting the environment within which we work;
We know that we need to raise the bar of digital service to our humanities colleagues and users; to that end we launched the Cultural Heritage Library to mirror our biodiversity one;
We know that finding opportunities to serve the K-12 educational community will support the Smithsonian's educational offerings and enrich our programs;
We know that our library spaces need to be welcoming and support community use for meetings, training, and other services;
We know that our exhibitions – physical, online, traveling—and other public programs, as well as our Internet offerings, are essential ways of making ourselves visible and attracting interest in our collections and services;
We know that continual infusions of funding and other support from donors of all kinds is required and finding those funds an essential part of our activity;
And we know that effective leadership, collaboration, and partnerships will be essential.
In all, we need to keep looking forward while maintaining many traditional functions; our new strategic plan provides a guide.
The acronym for the Libraries is SIL – SI for Smithsonian Institution and L for Libraries.  But I have always believed that our future health depends on another name:  Smithsonian Indispensable Libraries.  We are working hard to make it so.