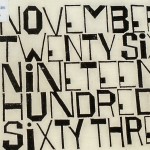 The assassination of President John F. Kennedy Jr. on November 22, 1963, ultimately ushered in a decade of turmoil and distress in the United States. The Vietnam War and the Civil Rights movement for African Americans were two of many struggles facing the American people in the 1960s.
But in the days just after the president's untimely death, the country was in shock. Poet and writer Wendell Berry (1932-) wrote of his own sadness and that of the grieving nation, affected by the images of Kennedy's family in mourning on the day of his funeral. Berry's poem, titled for the day after the president was laid to rest, was published shortly thereafter in the magazine "The Nation." American artist Ben Shahn (1898-1969) was so moved by Berry's words, he sought to preserve the feeling and memories it evoked. To prevent it being "lost in the pages of last week's magazine," Shahn sought to publish the poem as an illustrated book.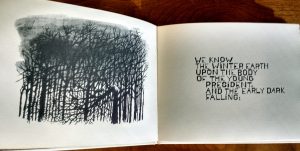 Shahn transcribed the poem in his distinct, blocky script, and illustrated it with heavy-lined, ink-washed images. The illustrations show scared children huddled in bed, a dark horse evoking death, lilies being picked by disembodied hands. But the final image is a bright, tipped-in color plate of a man in a field, a quiet sentiment on the healing that will come. The book was published with G. Braziller in both a trade edition and in a fine press, limited edition that was signed by Berry and Shahn and presented in a black linen slipcase.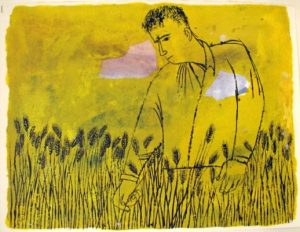 The Smithsonian American Art/Portrait Gallery Library (AA/PG) has copies of "November twenty-six, nineteen hundred sixty-three," including the signed limited edition imprint. AA/PG's copy of the limited edition book was one of the many beautiful books selected for the 2015 Smithsonian Libraries Adopt-a-Book event. The Smithsonian Libraries hosts an annual evening reception to display remarkable books, inviting guests to learn more about the Libraries' special collections and why they must be preserved. Each book at the event is available for "adoption," which benefits the Libraries' rare books and preservation programs.
We are so pleased that Shahn and Berry's remarkable collaboration was adopted by an enthusiastic book lover during the event, further allowing the Smithsonian Libraries to acquire and preserve books and manuscripts.