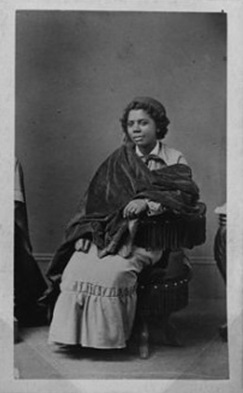 Native Americans have had a tremendous impact in numerous arenas of American life. This is particularly true in the visual arts. In celebration of Native American Heritage Month we're highlighting artists of American Indian descent who have had a significant presence in the American Art and Portrait Gallery (AA/PG) Library's collections.
Edmonia Lewis
A fascinating artist with a remarkable life, Edmonia Lewis was born in 1844, the daughter of a free African-American father and a Chippewa mother. As a child, Lewis lived with her mother's tribe. She was known by her Chippewa name, Wildfire, until she began her studies at Oberlin. After a tumultuous time at the college, Lewis studied sculpture in Boston before moving to Europe and finally settling in Rome for most of her career.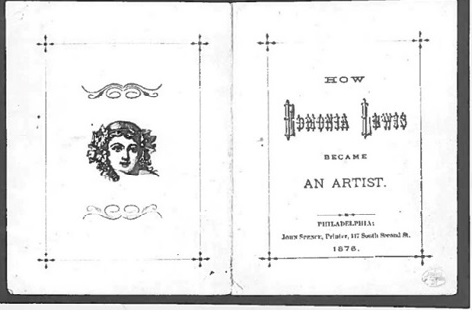 The AA/PG library is proud to offer several resources for research on Lewis. Her substantial Art and Artist File contains several interesting pieces of ephemera including a copy of biographical brochure about Lewis that was originally published in 1876. It's worth noting that Lewis had returned to America in 1876 for an exhibition of her work at the Centennial World's Fair in Philadelphia.
Another intriguing document in Lewis's Art and Artist File is a copy of a letter from John Sartain, a printmaker and major figure in American art history. In the letter Sartain notes that he convinced Edmonia Lewis to allow her sculpture "The Death of Cleopatra" to be photographed for publicity. Today this sculpture is in the collection of the Smithsonian American Art Museum.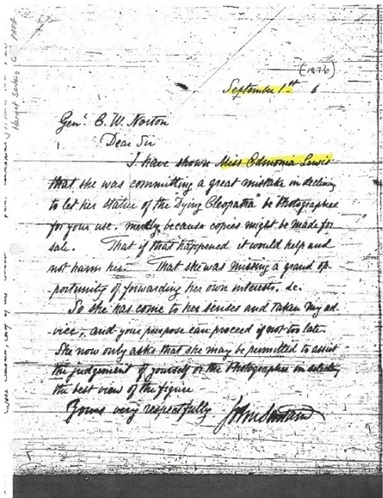 Beyond the files, the AA/PG Library has several books on the artist, such as Marla Novo's The Indian Maiden Visits San Jose: Rediscovering Edmonia Lewis. Kristen Pai Buick's Child of the Fire: Mary Edmonia Lewis and the Problem of Art History's Black and Indian Subject is the first book devoted to covering Lewis's career. To learn more about Lewis's time in Europe check out Melissa Dabakis' A Sisterhood of Sculptors: American Artists in Nineteenth-Century Rome.
Want to learn more about the artist, right now? You can see a previous Smithsonian Libraries post on Lewis here. Also Smithsonian Magazine published a great article about her life and work in 1996.
David P. Bradley
David Bradley is a contemporary artist and activist who puts Native American identity at the center of his work. He is best known for his parodies of famous works Western artworks that incorporate Native American themes such as his "American Indian Gothic" and "Pow-Wow Princess in the Process of Acculturation" which is based on the Mona Lisa.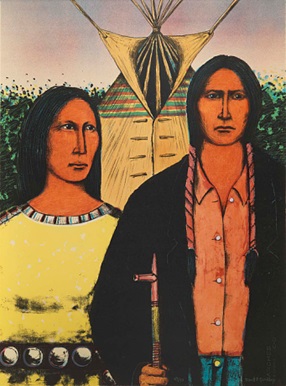 According to his artist bio from the Plains Art Museum, Bradley was born in northern California but spent his childhood on an Ojibwe reservation in Minnesota. It was his experience as a Peace Corps volunteer that made Bradley truly embrace his heritage. During his service in Guatemala, Bradley lived for two years living with a Maya Indian community. Upon returning the America, Bradley earned a Bachelor's of Fine Arts from the Institute of American Indian Arts in Santa Fe. His work in in the permanent collection of several museums across the country including the Peabody Essex Museum and the Smithsonian Museum of American Art.
The American Art and Portrait Gallery library is a great resource for information about the artist. In books the library has Restless Native an exhibition catalogue from his show at the Plains Art Museum on Minnesota. Additionally we have Creation of an Identity: American Indian Protest Art by Laurel Jeanne Kaufmann which has a strong focus on Bradley's work. Additionally, Bradley has a presence in the AA/PG library's Art and Artist Files. His file is particularly interesting because of its exhibition brochures which offer multiple examples of the artist's work.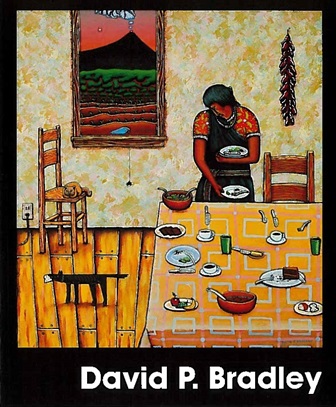 Interested in learning more? You can research David P. Bradley, Edmonia Lewis  and thousands of other artists with a visit to the AA/PG Library. We're open to the public, Monday- Friday from 10 am-5pm. If you've got a question about American Art, we're a great place to start.