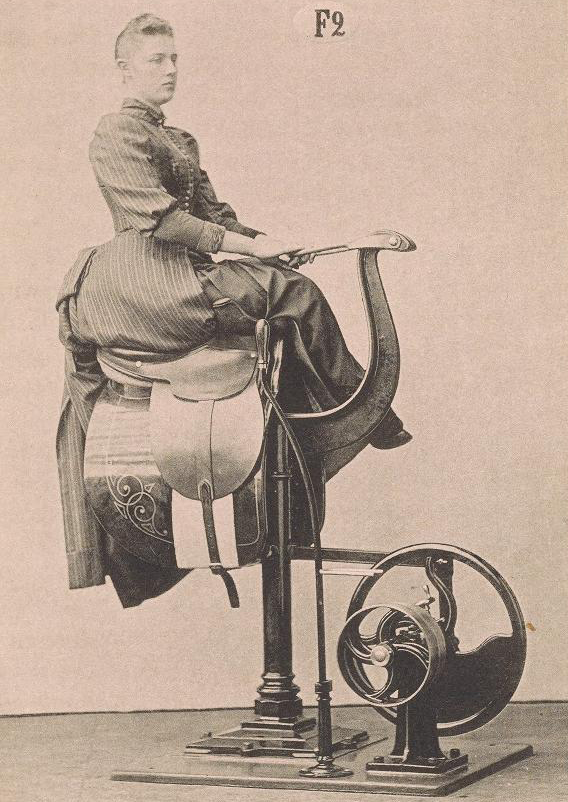 No doubt some of you are among the many hardened souls intent upon making this year the year you finally get in shape. And as you resolve to hit the gym, I'd like to shift your attention momentarily to something most of us don't ponder—the history of the humble exercise machine.
Perhaps you'd be forgiven for never wondering about the history of gym machines. If you are anything like me, drowning out the brutal task of half an hour on the recumbent bike with distracting upbeat music and trashy magazines is the most I can muster. But the most mundane and rote habits of our daily life can belie a fascinating and not regularly considered history.
Such is the case of Dr. Gustav Zander, the Swedish physician who helped pioneer mechanotherapy, or the promotion of health and healing through exercise apparatus. Sure, he may not have been the first to see positivity in using machines to aid in health, but his connection of regular exertion through machines to our health and well-being was certainly a novel idea in an age when blood-letting and noxious humors were still pretty standard. Movement as a therapeutic agent did already have its proponents—Zander was a follower of Per Henrik Ling's movement cure. Incorporating machinery allowed for less exertion, opening up therapeutic movement to those with injuries, deformities, and those just not in good enough shape for calisthenics.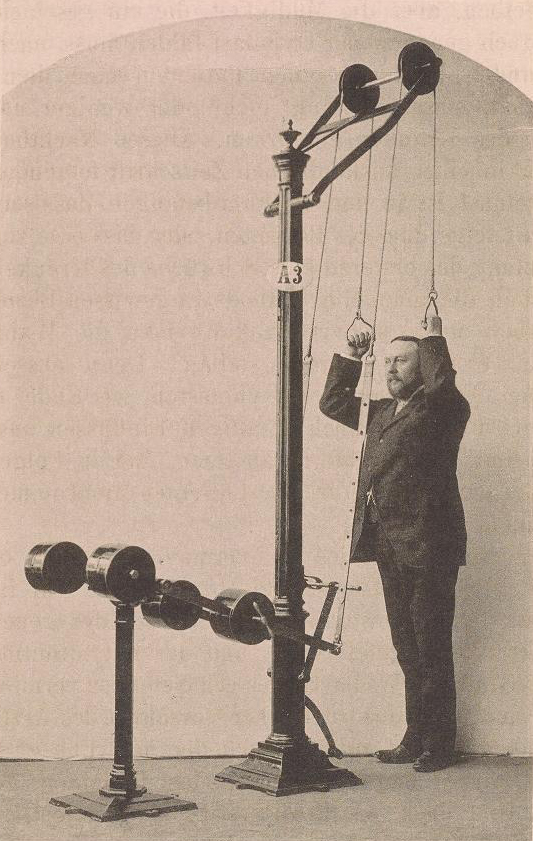 Born in Stockholm in 1835, Dr. Zander would explore the connection between mechanics of the body and muscle building while in medical school in Sweden in the early 1860s. He quickly established the Zander Therapuetical Institute in Stockholm, a state-supported institute using his machines to help workers correct physical impairments. He would further develop these devices, going on to win a gold medal at the 1876 Centennial Exhibition in Philadelphia for his exercise machines. By the time the edition featured here of Dr. G. Zander's medico-mechanische Gymnastik was published in 1892, and he was well on his way to establishing Zander Institutes across the globe.
Dr. Zander's contributions to this perennial gym craze began in the midst of heavy industrialization in the latter part of the 19th century. For the first time, a sizable chunk of society was now working in offices and "laboring" without physical exertion. At the same time, industrialization brought with it rapid mechanization. It's no wonder that his show at the Centennial Exhibition would help ignite a craze in the United States for his machines. By the turn of the century, his machines were in health spas across the country, emblematic of an upscale clientele looking for status symbols to reflect their leisurely lifestyles and exemption from physical labor.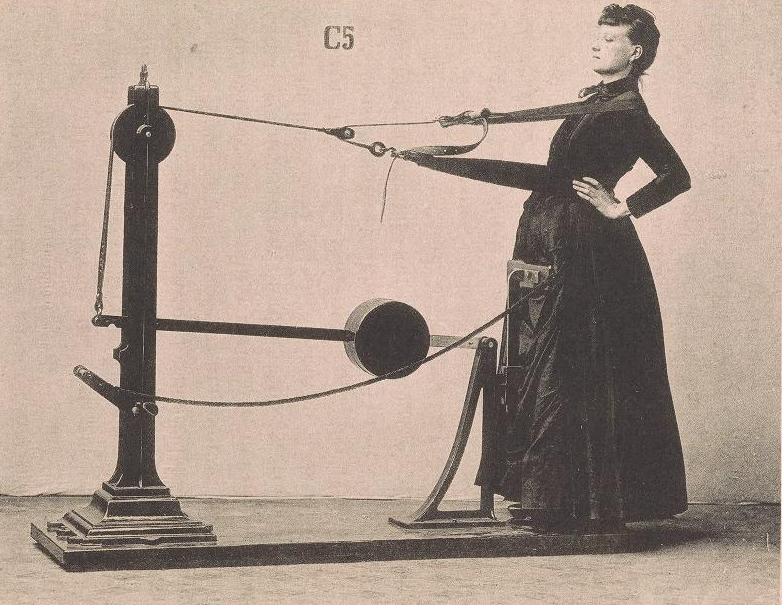 While our copy's German language might be a barrier, you can take a look at Dr. G. Zander's medico-mechanische Gymnastik (1892), where at least you can peruse the curious sartorial choices for exercise on display in the tome. This New Years, if you do happen to head to the gym in your Victorian finest, please tag us! And remember to give an extra rep for Dr. Gustav Zander, who perhaps more than anyone helped establish gym culture as we know it today. Want to read more? The Body Electric: How Strange Machines Built the Modern American by Carolyn de la Peña is a great place to start, or read her article The Origins of Cybex Space in Cabinet Magazine.