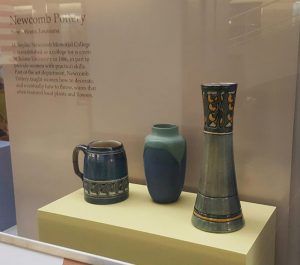 I've been a fan of Newcomb pottery since I first saw an example on the Antiques Roadshow more than a decade ago. Currently I have the opportunity to see Newcomb pottery every day — three pieces are featured in an art pottery and glass exhibit at the National Museum of American History, the building where I work. Simple forms, lovely colors and nature motifs make Newcomb pottery very appealing and highly collectible. But there's also a compelling story behind the pottery. For March, which is both Women's History Month and National Craft Month, I want to share information about Newcomb College in New Orleans where the pottery was made. This college offered education and employment for women artists at a time when such opportunities were scarce, especially in the South.
H. Sophie Newcomb Memorial College was founded by Josephine Louise LeMonnier Newcomb in 1886 in memory of her daughter, who died of diphtheria at age 15. Mrs. Newcomb's initial gift of $100,000 to Tulane University established the first degree-granting coordinate college for women in America. Newcomb College opened its doors to students on October 13, 1887. In addition to traditional liberal arts courses, it offered classes on drawing, design and ornamentation. This art curriculum proved popular and led to the establishment of the Newcomb Art School under the direction of Ellsworth Woodward.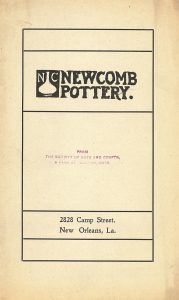 The Newcomb art program was progressive for its time, drawing on the principles of the Arts and Crafts movement, which was a reaction to "soulless" industrialization. The program emphasized individual craftsmanship, with an artist participating in the production of a work from beginning to end. The program also was progressive in its support for women's economic rights, providing opportunities for young women to learn skills that would allow them to find dignified employment in art related fields.
While the Newcomb Art School offered courses in a variety of arts – metalwork, jewelry making, embroidery, wood carving, even bookbinding – it was best known for its pottery. Around 1896 the school embarked on an interesting experiment, founding the Newcomb Pottery as a "model industry" where students could learn pottery decoration skills and create wares for sale. It also employed paid potters and pottery designers, many of whom were Newcomb alumnae. In the Trade Literature Collection at the National Museum of American History Library, I found a brochure on the Newcomb Pottery. The brochure is undated, but we estimate that it was published around 1905. It features photographs of some pieces made at the Pottery and explains a bit about the philosophy behind the enterprise:
"The College, therefore, undertook to furnish to its students of design, the opportunity for employment which industrial conditions did not afford… A manufactory of pottery was established under the direct management of its art department. After a brief experimental period a large number of women have been educated for this work for whom an artistic vocation would otherwise have been impracticable. These are now employed in an industry which affords them both profit and reputation."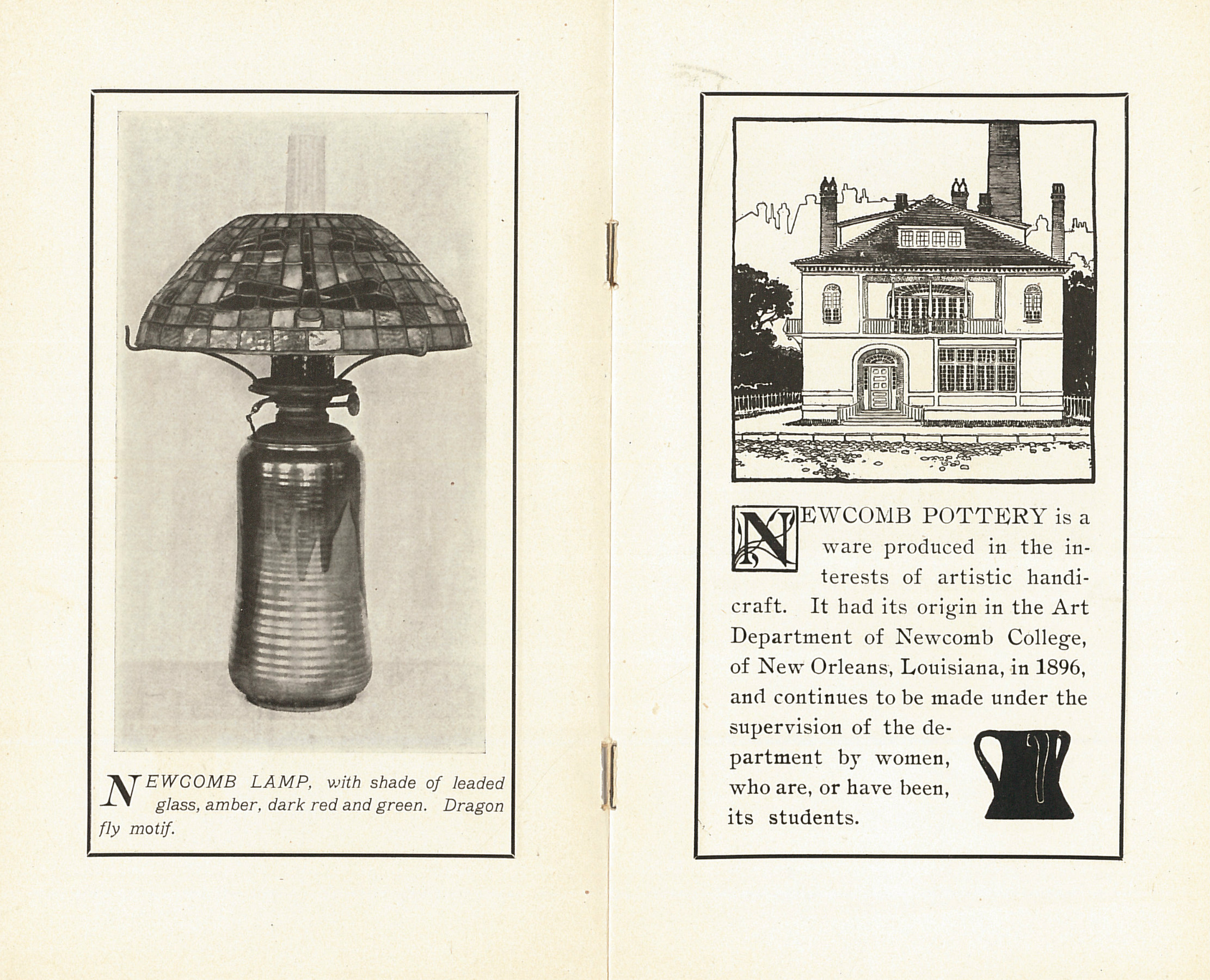 Mary Given Sheerer was hired in 1894 to teach pottery art and decoration at the school. She, along with Woodward, set specific guidelines for the Newcomb Pottery – designs would be based on local flora and fauna, no designs would be duplicated, and pieces must be approved by a faculty jury before being sold. During its active years from about 1896-1940, around 90,000 pieces of pottery were created by students and graduates who stayed on as employees. Typically, a piece of pottery was shaped from local clay by a potter (Joseph Meyer served as Newcomb's main potter from 1896-1927), then the design was applied by a student or female employee. The brochure explains a bit more about the creative process:
"The designers have exercised the greatest possible liberty in working out their ideas. Modeling, incising and painting are used together or singly as the design seems to require. The same freedom in the choice of color has been allowed, but the quality of the paste and the conditions of production have favored a distinctive color, a greenish blue, which unites with the character of the design in giving Newcomb Pottery its individual quality… Each piece of ware is original in design and is never duplicated. It is signed by the artist and the potter, and bear the register number."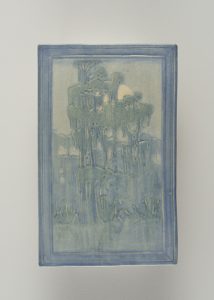 The Smithsonian holds a number of Newcomb pottery pieces. In addition to those currently on display at the National Museum of American History, several pieces are in the permanent collection of the Cooper Hewitt, Smithsonian Design Museum, including a tile designed by Sadie Irvine, a talented Newcomb student who later became a paid employee at the Pottery. This tile shows the characteristic muted blue-green color and depicts a classic Southern landscape of Spanish moss draped trees.
The Newcomb Pottery was awarded prizes at eight international expositions between 1900 and 1915. It earned a well deserved reputation for its charm and elegance and was sold in shops and exhibitions across the country. It continues to be highly prized by art pottery collectors today. The experiment had proved successful. In addition to producing beautiful works of art, the Newcomb Pottery provided a livelihood for approximately 90 women artists at a time when their employment options were limited.
Bibliography
Bragg, Jean Moore, and Susan Saward. The Newcomb Style: Newcomb College Arts & Crafts and Art Pottery Collector's Guide. New Orleans, La: Jean Bragg Gallery, 2002.
Conradsen, David H., Ellen Denker, Martin P. Eidelberg, Sally Main, Adrienne Spinozzi, and Kevin W. Tucker. The Arts & Crafts of Newcomb Pottery. New York, NY : New Orleans, Louisiana: Skira Rizzoli Publications ; Tulane University, Newcomb Art Gallery, 2013.
Louisiana Endowment for the Humanities. Know LA: Encyclopedia of Louisiana.
Newcomb Art Museum of Tulane University. Newcomb Pottery Timeline.
Newcomb College Center for Research on Women. Newcomb Pottery.
Poesch, Jessie J. Newcomb Pottery & Crafts: An Educational Enterprise for Women, 1895-1940. Rev. and expanded ed. Atglen, PA: Schiffer Pub., 2003.
Tucker, Susan, Mary Allen Johnson, and Beth Willinger. History of Newcomb College. Newcomb College Institute of Tulane University.
Trina Brown is a reference/instruction librarian at the National Museum of American History Library.