Pehr Kalm (1716-1779), a Swedish-Finnish explorer and botanist, was a student of the great naturalist Carl Linnaeus. In fact, Kalm was one of the many "apostles" of Linnaeus sent out to explore the world, and one of the few who didn't die in the process. To begin the research that later culminated in Travels into North America, Kalm arrived on the continent in 1748.  Based in Philadelphia, he worked and traveled with Benjamin Franklin and John Bartram, among others. In his explorations of Pennsylvania and New Jersey and two journeys north through New York to Montreal and Quebec, Kalm formed impressive specimen collections, which Linnaeus subsequently used in naming 90 species of plants, 60 of them new to science, in his Species plantarum (1753). Among those new species, Linnaeus named the mountain laurel genus Kalmia for his disciple.
Travels into North America, Kalm's narrative of his travels, is considered one of the most reliable 18th-century accounts of American natural history and includes descriptions of American Indian tribes whom he encountered. Kalm was also one of the first scientists to visit and study Niagara Falls. The Smithsonian Libraries holds the original Swedish edition Resa til Norra America, (Stockholm, 1753-1761), as well as translations into German (Göttingen, 1754-1764) and Dutch (Te Utrecht, 1772).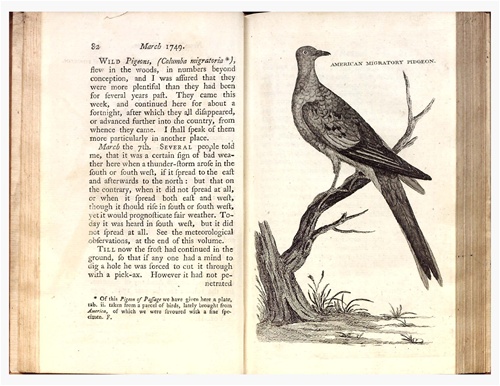 This three-volume English edition was translated by John Reinhold Forster, the noted naturalist who subsequently accompanied Captain Cook's second voyage; it is enriched with a map, several illustrations, and additional notes. The map, appearing for the first time in this edition, shows the northeastern section of North America, as far south as Virginia and west to Ohio.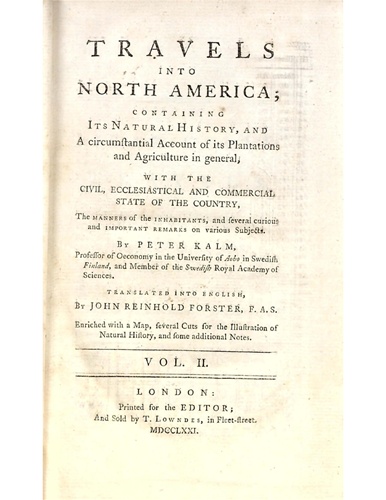 Travels into North America is currently available for adoption through the Smithsonian Libraries' Adopt-a-Book Program. The Adopt-a-Book Program was established to acquire and preserve rare books and manuscripts for the world's largest museum complex and research organization. When you adopt a book, a bookplate will be added in your name to the book and a virtual bookplate will be created for you in our online catalog. All donations to the Adopt-a-Book program are tax-deductible. Donors will receive a gift acknowledgment from the Smithsonian Libraries Development Office and a tax receipt from the Smithsonian Institution. We hope you consider adopting Travels into North America and help generations of scholars continue their intellectual journey for many years to come.