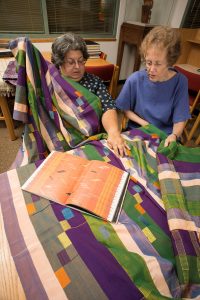 The Warren M. Robbins Library at the Smithsonian National Museum of African Art celebrates its 45th anniversary this year. From a collection of a few hundred books in Mr. Robbins' personal collection in 1971, the Library has grown to a remarkable 50,000 volumes. It enjoys the reputation of being the premier library in the United States for the research and study of the visual arts of Africa. Our collection of 5,000 African artist archives is unique. We invite you to help us celebrate!
The field of African art studies has grown exponentially in the last four decades, and the Warren M. Robbins Library has risen to the challenge of increased demand. Your gift to the Warren M. Robbins Library today helps ensure the next 45 years will witness the same groundbreaking successes.
A gift of $500 or more will allow opportunity for your participation in the Smithsonian Libraries Society, our brand new annual giving program. You will be among dedicated, like-minded individuals passionate about promoting new ideas through knowledge sharing and discovery. Your participation in the Society offers exclusive access to opportunities, including invitations to events with noted luminaries, behind-the-scenes tours, and early access to exhibitions, such as "Artists' Books and Africa."
Please make your 45th anniversary gift today to help support the Warren M. Robbins Library of African Art for the next generations of artists, scholars, and curious minds. You can also support the library by adopting a book.
If you have any questions, please contact Allie Swislocki. Thank you so much for your generous support.
P.S. The Library's unique collection of African artists' books is currently featured in an exhibition on view in the National Museum of African Art. "Artists' Books and Africa" is garnering high praise from book arts aficionados, bibliophiles, African art enthusiasts, and curious museum goers alike.  If you have not had a chance to visit the exhibition, there is still time to do so before it closes on September 11, 2016.
Save
Save