The post was written by Mark Coulbourne, Towson University student and fall intern in the Smithsonian Libraries Research Annex.
For the Fall Semester I was an intern at the Smithsonian Libraries Research Annex (SLRA), and was tasked with evaluating 19th and early 20th century monographs for digitization. My work with librarian Daria Wingreen-Mason centered on the areas of photography, exploration, Alaska, and zoology.
I am currently a senior at Towson University where I am minoring in Museum Studies, and since I plan on pursuing a degree in library science the Smithsonian Libraries was the ideal place to fulfill my internship requirements.
The first part of the project was to evaluate the monographs for digitization by first determining if the works required conservation. So as a result I was introduced to the world of book conservation, and I received training from conservator Katie Wagner in the Preservation Department on what to look for when assessing whether or not a book can be digitized. Learning what to look for when evaluating a book and exactly how much work goes into each item that requires conservation was fascinating. This was something I thought about over and over as I assessed each work. Additionally, I received training from the Libraries' Imaging Center on how monographs and serials are digitized across the Libraries.
One of the highlights of the project was finding a signed first edition book by noted explorer and inventor Angelo Heilprin. The book The Arctic Problem was published in 1893, and details the Peary Relief Expedition to Greenland that Heilprin led.  The book was a gift from Heilprin to Wendell Phillips Garrison who was the Literary Editor of The Nation.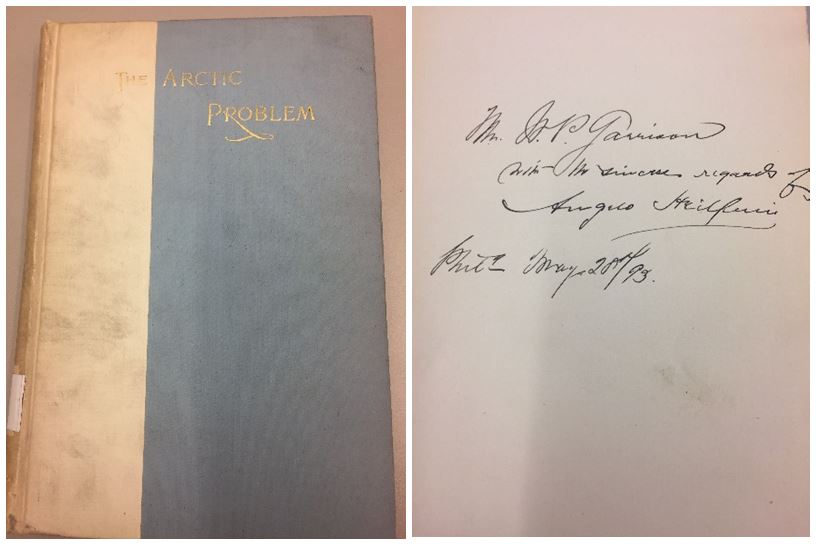 The second part of the project was to evaluate whether or not the books had already been digitized.  This was accomplished by searching websites like WorldCat, Internet Archive, HathiTrust, and the Biodiversity Heritage Library (BHL) for high quality digital copies.
Through this research I was able to develop proposals for three distinct lists of monographs for digitization in the Digital Library and one list of monographs for the BHL. I was able to identify a total of 178 monographs that were ready to be digitized, and that had not been digitized elsewhere.
I thoroughly enjoyed my experience at the Smithsonian Libraries, and it has sparked my interest in the digital library, and making a greater number of works accessible to all.
Save
Save
Save
Save
Save
Save