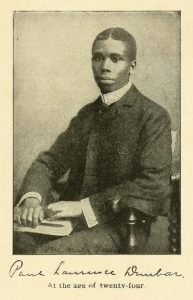 This post was written by Brittney Falter, a graduate student at George Mason University and social media intern at the Smithsonian Libraries.
Paul Laurence Dunbar was born in Dayton, Ohio on June 27, 1872 to two former slaves. His father was enslaved in Kentucky but escaped and served in the Massachusetts 55th Regiment during the Civil War. Dunbar attended public school and was taught to read by his mother. He was the only African American student at Dayton Central High and was exceptionally bright and talented. He served as editor-in-chief of the school paper, president of the literary society, and class poet. As talented as he was, he did not have the funds for college and was forced to take a job as an elevator operator after he graduated in 1891 due to lack of jobs that accepted African Americans. His passion for writing still remained and he wrote whenever he could, even during his breaks at work. In 1892, James Newton Mathews, a former teacher of Dunbar's, invited Dunbar to read his poetry at the annual meeting of the Western Association of Writers held in Dayton. Soon after, Dunbar became well-known as the "elevator boy poet".
In 1893 Dunbar published his first volume of poetry, Oak and Ivy, and attended the World's Columbian Exposition, where he sold copies of his book and gained the patronage of Frederick Douglass and other influential African Americans. A few years later, Dunbar met Alice Ruth Moore, a fair-skinned black Creole teacher and writer originally from New Orleans. He later married Alice in secret and over the objections of her friends and family. During the years of their marriage, Dunbar began to suffer from tuberculosis and the alcohol prescribed for it. They separated permanently in 1902 and never had any children together.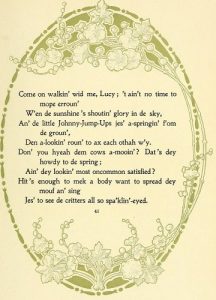 Dunbar published fiction in addition to his eleven volumes of poetry. The Smithsonian Libraries has Folks from Dixie (1898), Poems of Cabin and Field (1899) and Candle-Lightin' Time (1901) digitized on our digital library site. His works also make it into some mainstream journals of the time such as Century, Lipincott's Monthly, the Atlantic Monthly, and the Saturday Evening Post and was read by both Black and white audiences.
What made Dunbar unique was his exposure to African American oral traditions as a child. He became an interpreter of the African American folk experience in literature and song. His writings varied between standard English prose and an authentic African American dialect to incorporate the traditions he was surrounded by as a child. The page images to the right and below demonstrate his abilities to balance the two styles of writing. The image to the left is from his book of poetry Candle-Lightin' Time (1901) and is mostly written in the African American traditional dialect and was an attempt to portray a more authentic African American experience. Similarly, the image below, which comes from a book of fiction that Dunbar published, Folks from Dixie, bounces between traditional African American dialect and conventional English prose. Folks from Dixie also focused on African American experiences and memories, targeted to both white and African American audiences, and brought up themes such as slavery, wartime, and life in the south.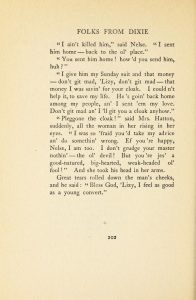 Many of his poems and essays demonstrated support for civil rights and higher education for African Americans. He enjoyed praise from Frederick Douglass, Booker T. Washington, and W. E. B. Du Bois, among others.  However, his portrayal of African Americans sometimes created controversy; his work faced harsh criticism in the 1920's from the New Negro movement. Despite this, he is celebrated today as one of the first African Americans to try and make a living from and to be recognized nationally for his works.
Further reading:
https://www.poets.org/poetsorg/poet/paul-laurence-dunbar
http://www.english.illinois.edu/maps/poets/a_f/dunbar/life.htm
Save
Save
Save
Save
Save
Save
Save