Imagine yourself in the late 19th Century. Maybe you just sat down to watch a game of croquet on your lawn while chatting with some friends. This trade catalog from 1875 includes an item that might have been useful for that very thing.
The catalog is titled Ornamental House-Furnishing Goods and is dated May 1875. It is by Racine Hardware Mfg. Co.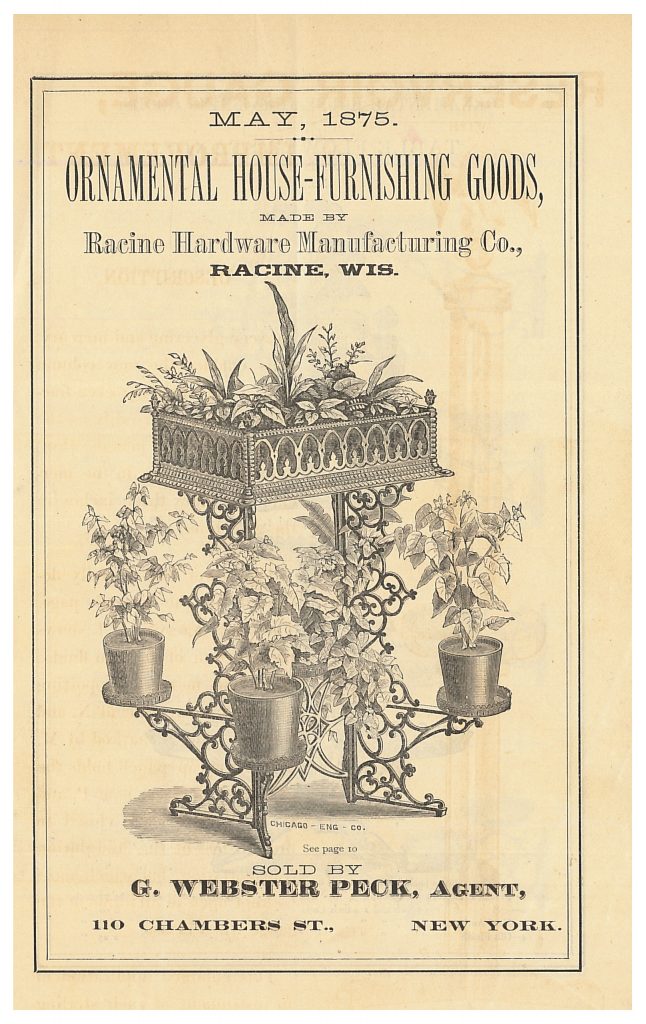 It illustrates the Croquet or Lawn Settee with folding tent. With its tent or awning, the settee appears to be rather comfortable for those who might relax on it, shading its occupants from the sun. It had a removable canopy which could be moved backward or forward, as desired. The settee, measuring four feet three inches, was long enough for a couple people to sit and perhaps sip a refreshing drink. Its canopy was four feet wide with a height of six feet six inches.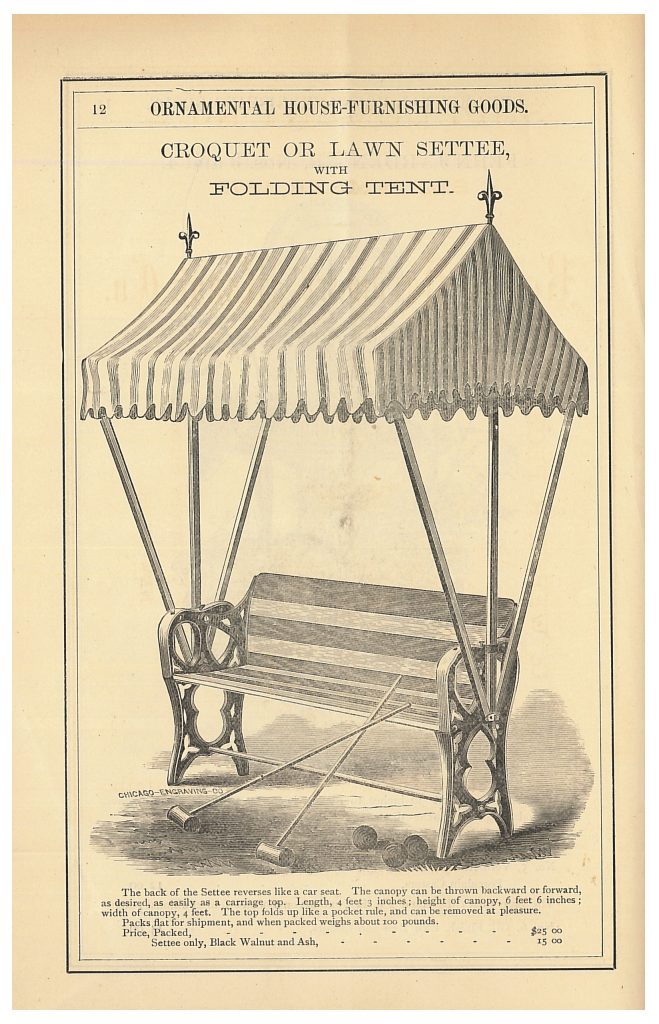 This catalog also includes decorative items to help display plants, flowers, and even fish bowls around the home. The hanging basket hook illustrated below with its decorative flowers and bird might have encouraged thoughts of springtime. It could hold a flower basket and was described as "very strong" with a 10 inch projection.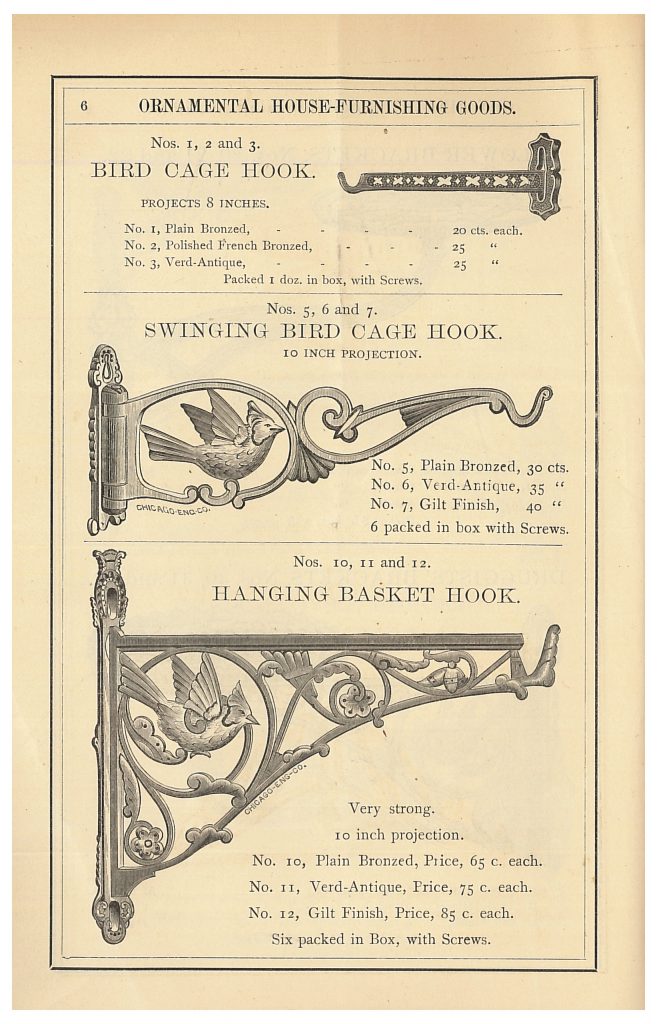 The Jardenier Stand, shown below, might have sat in a parlor or drawing room of the late 19th Century. It was described as using up a small amount of space and was especially suited for displaying "blooming or showy plants." It held a nine inch pot for flowers or plants. Alternatively, the top cup could be used to hold a one gallon fish bowl.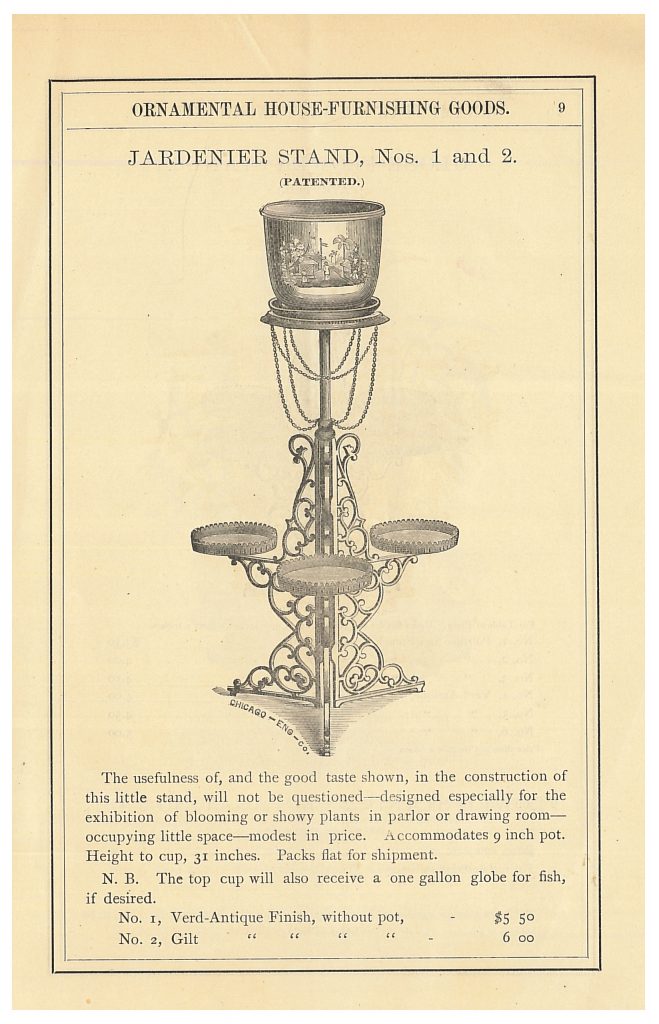 Other items shown in this catalog include table flower stands, ivy stands, flower brackets, and bird cage hooks. Ornamental House-Furnishing Goods by Racine Hardware Mfg. Co. is located in the Trade Literature Collection at the National Museum of American History Library.
Interested in taking a look at other furniture or house furnishings from the past? There are many furniture catalogs located in the Trade Literature Collection and searchable on the Collections Search Center by narrowing the search to trade catalogs.
Save