Endsheets at the front and back of most hardcover books serve as a protection and an attachment device. The outermost sheet, or pastedown, is typically glued to the interior of the cover board, while the pastedown's other half, known as the flyleaf, serves as a shield between the board and the first and last leaves of the textblock.
Pastedowns may be blank; marbled with a colorful design; or illustrated. If an illustration is present, it may show an aspect of the text's subject matter or provide supplemental information. Pastedowns and flyleaves also frequently exhibit a book's provenance through ink stamps; signatures; inscriptions; and bookplates.
Recently, the Cooper Hewitt Smithsonian Design Museum Library in New York, sent a book in need of repair entitled A Trip to the San Francisco Exposition with Bobby and Betty (1939), by Joseph Henry Jackson. This book, published in 1939, was written for children and describes the Golden Gate International Exposition which was held in 1939 and 1940 at San Francisco's Treasure Island.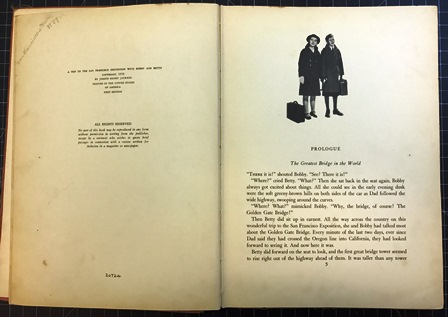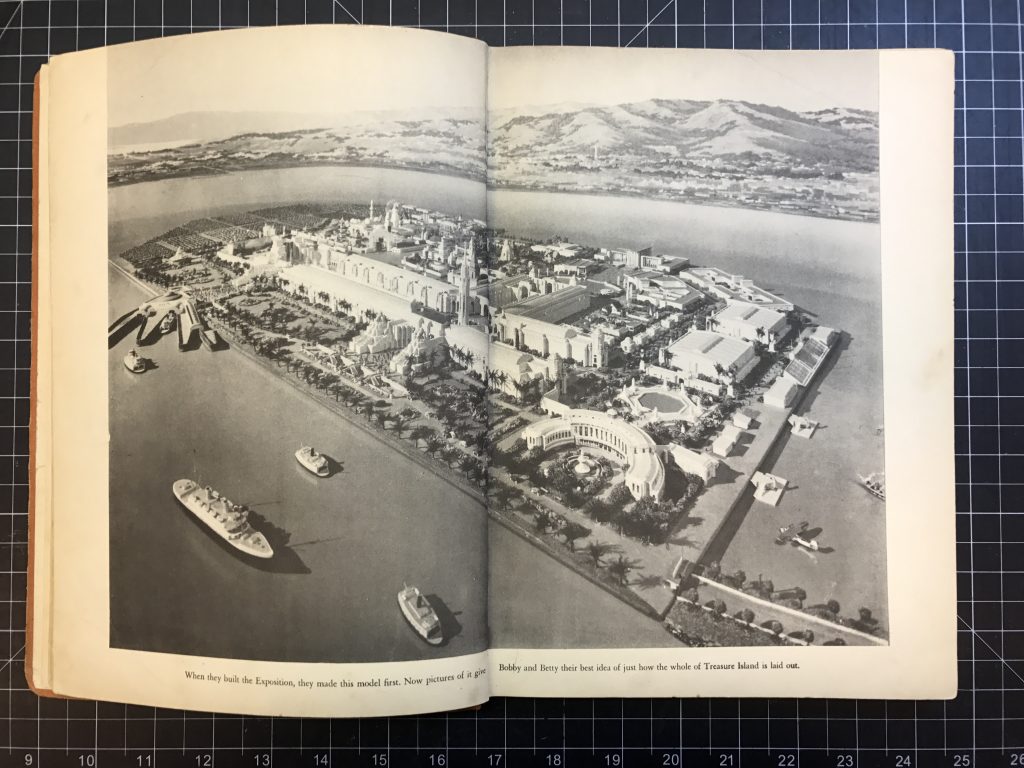 The pastedowns and flyleaves contained illustrative and provenance related matter.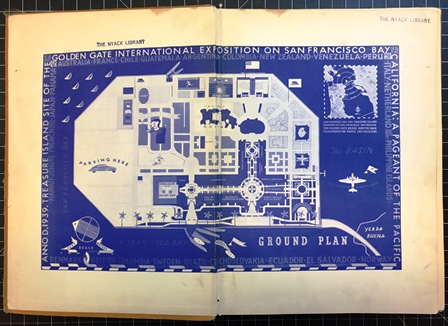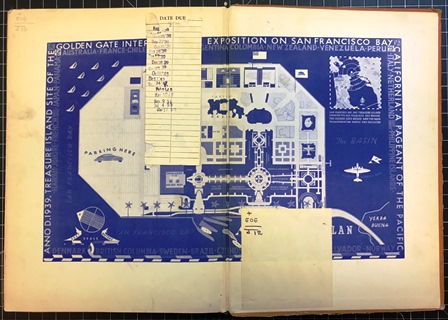 The spine covering was torn and nearly detached.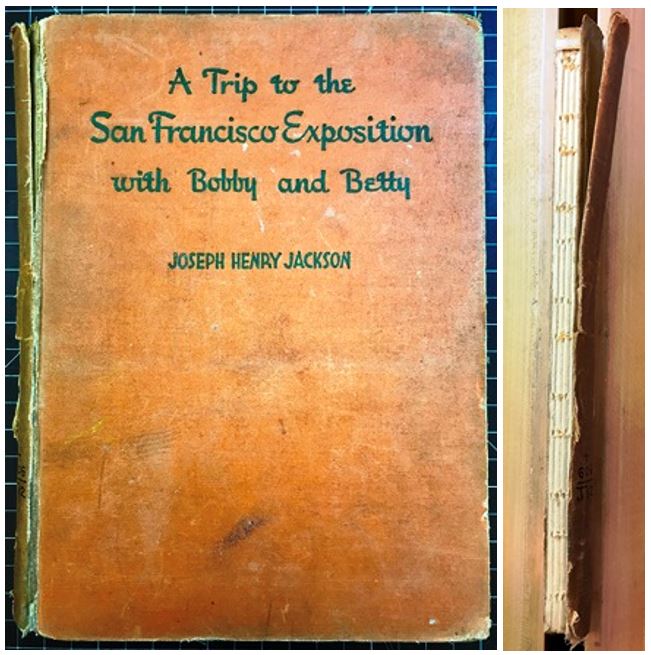 In order to preserve the information contained on the pastedowns and flyleaves while retaining the still attached original boards, a replacement for the spine covering needed to be created.
The torn spine was removed and lifted from its original, now failing, paper lining and then the ragged material near the spine edge on the front and back boards was trimmed and lifted.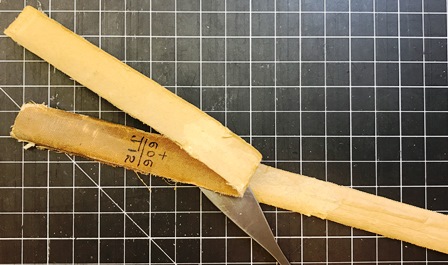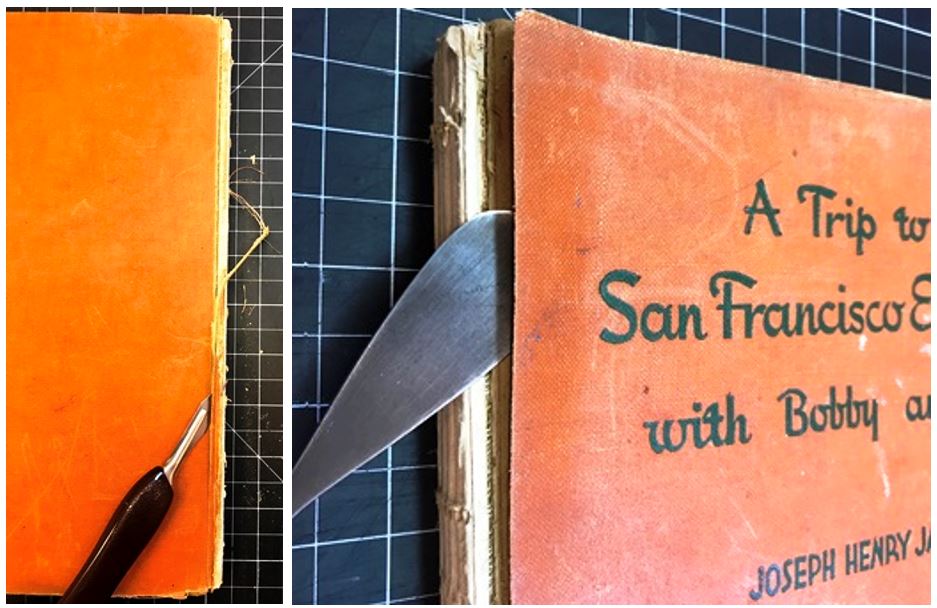 Next, the spine was rebacked with an initial layer of Korean paper adhered with wheat starch paste; then, using Polyvinyl Acetate (PVA), a layer of Cambric (a closely woven white, starch-filled linen cloth) was adhered followed by a layer of plain white acid-free paper.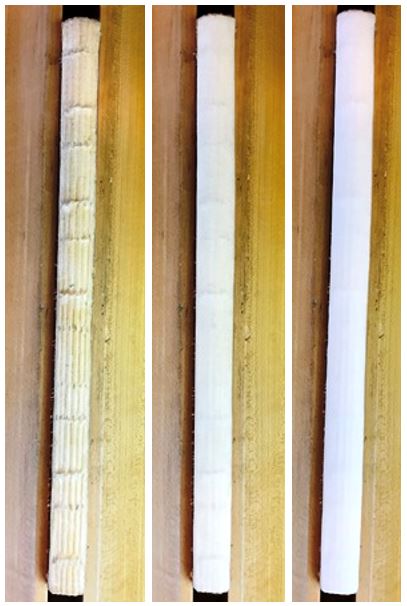 Aero Linen (a strong, finely woven unbleached linen cloth) was toned with acrylic paints to try to match the discoloring of the orange/brown book cloth on the original spine and boards.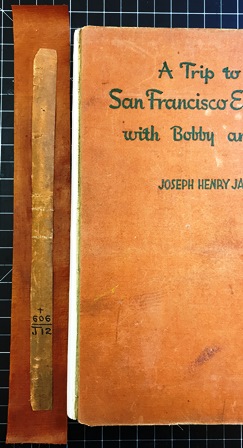 Using PVA, the toned Aero Linen was lined with cover weight acid free paper; the new spine covering was adhered beneath the lifted board cloth; and the original, now trimmed, spine piece was adhered on the new covering.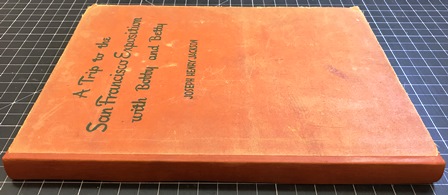 With the new spine covering folded over and attached to the boards at the head and tail, the book's covers are secure; the spine covering is recreated and blends with the original appearance; and the information on the pastedowns and flyleaves remains available for future study and enjoyment.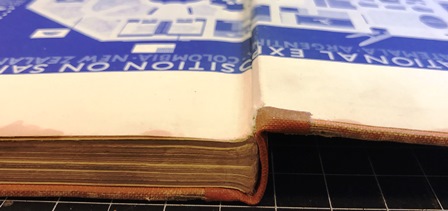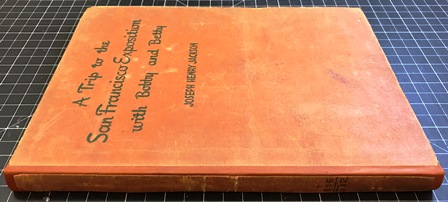 Save
Save
Save
Save
Save
Save