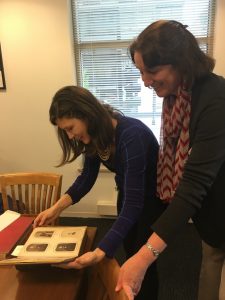 On a rainy April morning, Smithsonian Libraries Advisory Board member Amy Threefoot Valeiras and her family visited the American Art and Portrait Gallery Library (AA/PG). What they found surprised everyone!
Anne Evenhaugen and Alexandra Reigle, staff at the AA/PG Library, selected a variety of books and artists' books to show our visitors. One of these was a carte de visite book, featuring photographic trading cards for nineteenth-century American painters. (What is a carte de visite, you ask? Click here to learn more!) After a few turns of the page, Amy's sister-in-law, Cristina Price, stumbled upon a familiar face and name: her own distant relative W.T. Richards!
William Trost Richards was an American landscape artist in the nineteenth century, associated with both the Hudson River School and the American Pre-Raphaelite movement. Born in 1833 in Philadelphia, Richards studied part-time with German artist Paul Weber. His first public exhibition was part of a show organized by Albert Bierstadt in 1858. From then until his death in 1907, he painted critically acclaimed landscape watercolors, many of the White Mountains in New Hampshire and Maine. His paintings were meticulously realistic renderings of the scenes he saw, looking almost photographic.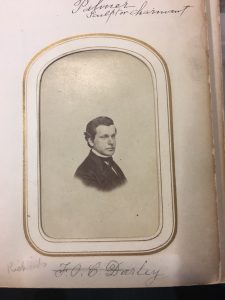 When Cristina shared that Richards is her husband's great-great grandfather, Alex quietly snuck away to pull his Art & Artist vertical file from the collection. Cristina also learned that Richards has works in many major museums, including the Metropolitan Museum of Art, the National Portrait Gallery, Smithsonian American Art Museum, the Cooper Hewitt, National Design Museum, the Museum of Fine Arts in Boston, and the Brooklyn Museum.
If you want to learn more about W.T. Richards, you can view his digitized papers at the Smithsonian's Archives of American Art or read one of our many books about him. You are also always welcome to visit the American Art and Portrait Gallery Library to view some of these pieces in person—you never know what you might find!
Save
Save
Save