The Neville-Pribram Mid-Career Educators Awards grants funding for teachers and educators to come to Washington, DC and explore the collections of the Smithsonian Libraries.  The awards are open to middle & high school teachers, college teachers, and museum educators who are developing educational materials.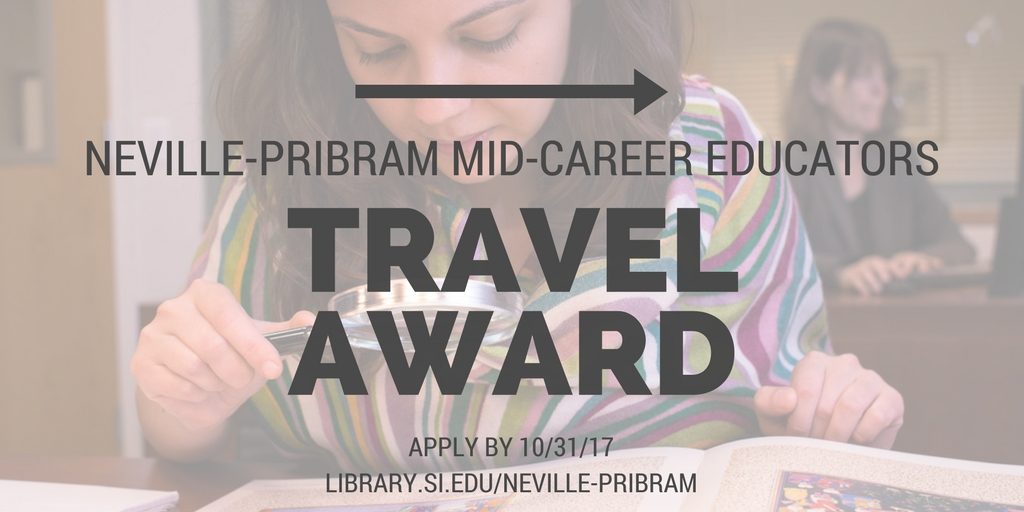 The Dibner Library of the History of Science and Technology will be the host library for the selected 2018 Educator. The Dibner Library's 35,000 rare books and manuscripts are particularly strong in the fields of mathematics, astronomy, classical natural philosophy, physics and engineering.  The Dibner's collections offer a treasure trove of material for an educator in a STEM field.
The 2018 Neville-Pribram Mid-Career Educator awardee will have ample opportunity to:
Explore, create, and share a project related to the history of science & technology
Engage with staff and researchers at the Dibner Library and Smithsonian educators
Attend Smithsonian-sponsored lectures, symposia, programs and events to enhance the resident experience.
Applicants must be teachers or educators working on curriculum development or educational publications. They may not reside within commuting distance of the Dibner Library of the History of Science and Technology in Washington DC, where they will conduct their research. One award is offered each year. Applications close October 31st, 2017.
For additional information and application instructions, visit: library.si.edu/Neville-Pribram
Save
Save
Save