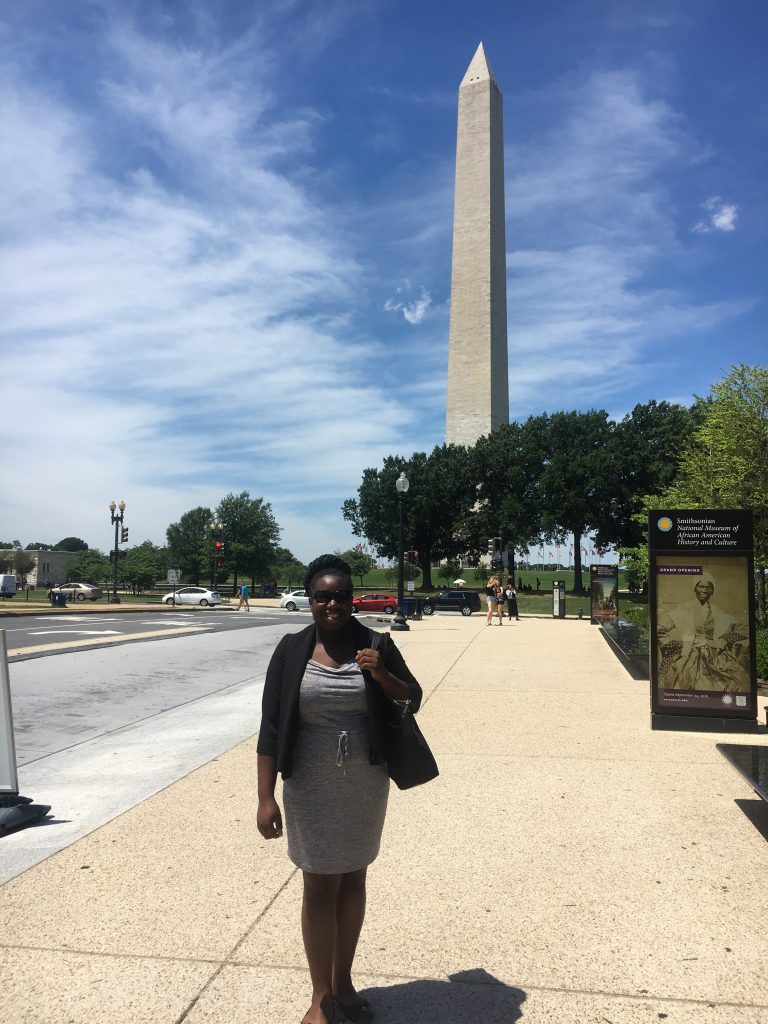 Patrice Green is a Smithsonian Minority Awards Intern with Smithsonian  Libraries at the National Museum of African American History and Culture. She is currently pursuing a dual master's in Public History and Library and Information Science at the University of South Carolina, where her focus is Archives and Preservation Management.
As a public history and library/information science student at the University of South Carolina, I often find myself confronting living memory. In the archives profession, it becomes even more apparent, especially when cultivating relationships with donors, friends, and other supporters of an information or cultural institution. This summer, I had the wonderful opportunity to intern as a Minority Awards Scholar with Smithsonian Libraries (SIL) at the National Museum of African American History and Culture (NMAAHC), funded generously by the Office of Fellowships and Internships (OFI) and supervised by archivist Ja-Zette Marshburn. In these ten weeks, I have learned a tremendous amount about the profession of archives, libraries, and museums. I gained experience in everything from data entry and object handling to consulting and appraisal. I discovered the depth of the collections at the Smithsonian, as well as how far the subject matter spreads. I learned exactly how important it was to separate archival collections from curatorial ones. Perhaps most importantly, I was reminded that the profession is all about stories and those who work to preserve them.
I started the summer learning the basics of workplace safety, object handling, and equipment use and selection – after all, the newest technology is not always the best technology for the company or the environment. My first project out at one of our storage facilities was to help locate photos for the museum's rotating Everyday Beauty collection, a series of photos of mostly 19th and 20th century African Americans. I enjoyed this collection because it portrayed African Americans dressed in their best clothes, attending church, enjoying the beach and other various vacations, and engaging in general positive fellowship. This portrayal adds an important layer to African American identity and the history of leisure in the United States, and I think it is just as important as photos of the Civil Rights Movement or the Civil War. People do not often see this type of living memory outside of the profession or scholarship, and representation in archives – especially when giving people the chance to tell their own stories – is always an integral part of how we perceive others.
At another point, I searched through the Carlotta Walls Lanier Papers in search of material for their upcoming 60th anniversary in September. Carlotta Walls Lanier was the youngest of the Little Rock 9, and her collection serves as a reminder of the sheer persistence of their collective stand for equal education (read more about Carlotta Walls Lanier here). Going through the collection was a great opportunity to see a good example of a well-processed donation. The organization was immaculate, and the accompanying finding aid was well written and extremely helpful. On another hand, seeing the hundreds of letters of support she received from people around the world was altogether humbling and overwhelming.
A third project I did was my first attempt at a small inventory. Step one of every archival adventure is to "see what you have," and surveys or inventories are a good way to take that step. This experience was the beginning step to researching Cab Calloway, the famous 20th century big band leader, singer, and all around entertainer.  A native of Baltimore, Calloway was an essential part of the entertainment sector, influencing media outlets, dabbling in horseracing, and maintaining a constant media presence throughout his entire career.  It turns out that curatorial research assistance can be everyone's job, but it is also important to know the difference between curatorial and archival collections for the sake of the research process.
Another major part of the archival profession is consulting. I tagged along on two assessment trips as sort of an ambassador from the Smithsonian to help other institutions make plans for their archives. The first trip was to the Baltimore Afro American Newspaper, where I met Jake Oliver, current president of the periodical, and saw how important it is to outline the process of creating and distributing information. Stewardship over information and the means to obtaining it is the highest responsibility in the archival or library science profession, and it is imperative that people are allowed access to the many ways others perceive them. The second trip was to the Louis B. Stokes Health Sciences Library at Howard University, where I learned that it is imperative to always properly define and assert the authority and relevance of the archivist, especially if they are the only one on staff for an institution. Archival work shares similar traits with curatorial and librarian work, but it is different in that it delves deeper into who the owner or collector of a collection was as a person, even if it just highlights what they thought was important. Letters, papers, and ephemera are often cast aside, but they truly are integral parts of a collection and its creator.
Perhaps the most important thing I learned in the last ten weeks is that I have chosen the right profession. Going through collections, pouring over correspondence, and finding out what really makes people tick – what makes them love, what makes them hate, what makes them human – has been truly humbling. In the end, our stories will always outlive us, and it is my job to be a responsible steward over these stories and their accompanying materials. It is the duty of every archivist, librarian, and historian to be a vessel in which those stories continue to dwell.
Save
Save
Save
Save
Save
Save
Save
Save