This post was contributed by Hirshhorn Museum and Sculpture Garden Library intern Marisa Herandez.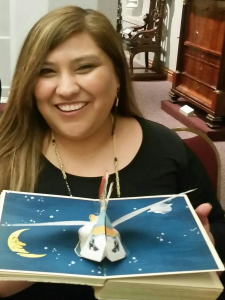 The Smithsonian Libraries celebrates its 50th Anniversary with a year-long series of festivities and I remain bubbly and in awe from the recent March 6th Adopt-a-Book Evening soirée, where the Smithsonian Libraries branches showcased gems from their diverse holdings under the anniversary theme All that Glitters: Smithsonian Libraries' 50th Anniversary. The Adopt-a-Book Program provides preservation, acquisition, and digitization funding for books and manuscripts in the world's largest museum library system. Attendees to the party had an opportunity to convene with fellow book-lovers over food and drink, and view and support the collected treasures of Smithsonian Libraries. This year's Adopt-a-Book Evening may be over, but the Libraries' riches remain illuminated and available for adoption online.
As a Spring 2018 Minority Awards Program Intern focusing on management and collection development at the Hirshhorn Museum and Sculpture Garden Library, I had the pleasure of participating in the Adopt-a-Book Evening. My favorite object from the Hirshhorn table was a book inscribed to museum namesake, philanthropist, and modern art collector Joseph Hirshhorn by the iconic, multi-talented 20th century artist Pablo Picasso. Throughout the semester, I have been working on a Collection Development Project to highlight the array of formats the Hirshhorn Library has collected over the years, while looking into potential directions for future special collections acquisitions. This project has given me the opportunity to delve into some of the historical collections of the Hirshhorn Library. Since anniversaries always conjure reflection, please allow me to tap my champagne flute and call your attention to a delightful collection of materials in the Hirshhorn Library which illustrates the friendship between two men and their love for art. The relationship that developed between Joseph, his wife Olga, and Picasso is documented through multiple items in the Hirshhorn Library collection, which include books, photographs, and other ephemeral objects.
For this year's Adopt-a-Book Program, the Hirshhorn Library selected five books on Pablo Picasso, published between 1939 and 1977. Three of these books are personally inscribed to Hirshhorn with a close variation of, "Pour Joe Hirshhorn, son ami Picasso, le 25-7-69", and are accompanied by original Picasso doodles. Picasso's handwritten inscriptions and sketches to his friend Joe truly are legacy pieces of the Hirshhorn Library's collection. One of these inscribed books, Picasso: Forty Years of his Art , is the 1939 catalog from the New York Museum of Modern Art's exhibition by the same name, which documented the most comprehensive presentation of works by Picasso up until that time. The catalog, edited by Alfred H. Barr, Jr., the first director of the Museum of Modern Art, included two statements by Picasso and chronicled several aspects of the artist's multi-faceted career, such as his work in ballet and his production of illustrated books. In addition to its inscription, the Hirshhorn Library's copy boasts Joseph Hirshhorn's personal library bookplate, and handwritten acquisition note indicating the book was gifted to the Library by Olga in 1995.  If that isn't enough swag–the publisher's red cloth and gold gilt binding literally makes this book bling!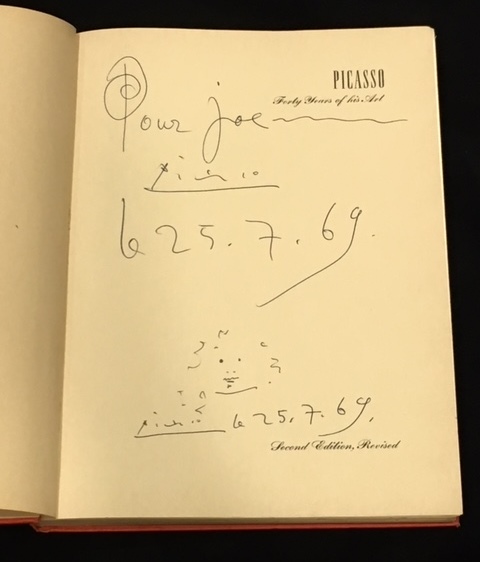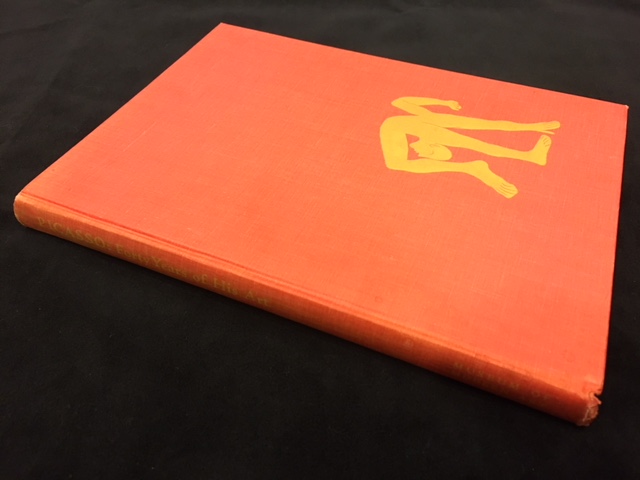 In addition to its collection of books, the Hirshhorn Library houses an extensive ephemeral collection of original documents of modern and contemporary art. The Hirshhorn Library's art and artist files contain materials often difficult to obtain in traditional library collections, such as gallery announcements, press releases, and exhibition checklists. Picasso's artist file at the Hirshhorn Library includes a gallery announcement presenting the photographs of Roberto Otero: La Mayor Collección de Picassos del Mundo (1996). According to this announcement, the initial encounter between Picasso and Hirshhorn was almost a disaster. Otero, who was photographing and translating Picasso and Hirshhorn's first introduction arranged by fellow photographer Edward Steichen, describes Hirshhorn as nearly having a heart attack, overcome by an original bronze female head Picasso made in 1951.
"My God! My God!" was all Hirshhorn could mutter. Anxiously, Hirshhorn said, "Tell Pablo I'll buy it from him!" But Pablo was less than captivated by the offer, remarking to Otero, "These collectors only think of one thing: buy, buy, buy." Quick to catch onto Picasso's indifference, Hirshhorn began taking off his jacket and bow tie, and started dressing Picasso with the very clothes off his back. As Picasso is being dressed by Hirshhorn, Picasso asks Otero with a suppressed smile, "Ask him if he will give me his wife as well?!" With a lightning bolt response Hirshhorn replied, "Of course. Everything I have." "It's a deal", Picasso concludes, laughter erupts,and Picasso poses like a victorious torero (bullfighter) with his index finger raised.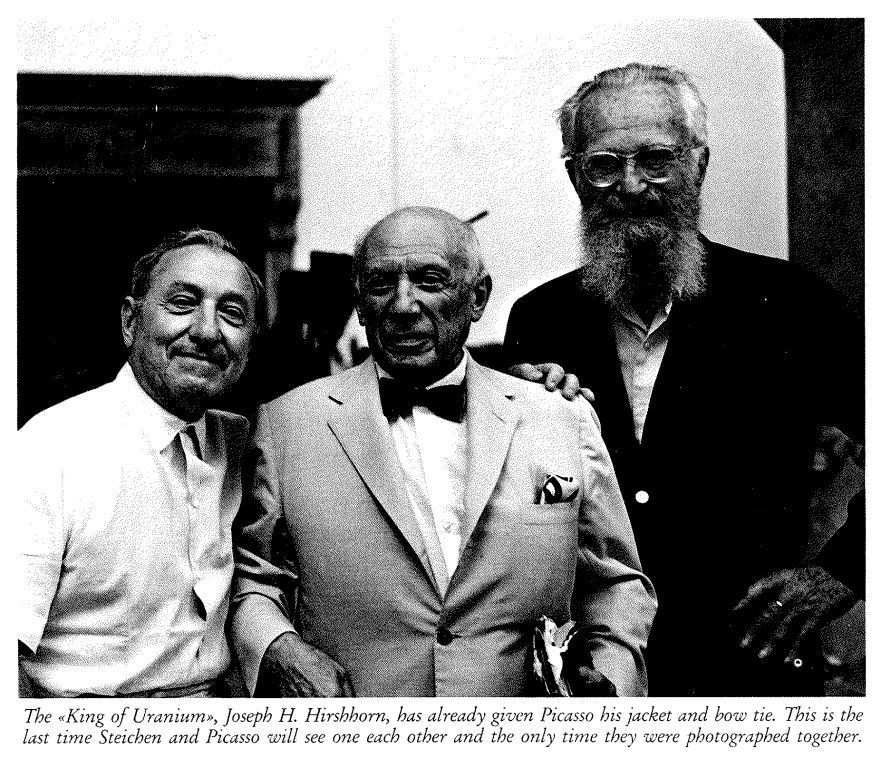 In the end Hirshhorn did not acquire the sculpture he took the clothes off his back for, but he did gain Picasso's friendship. And speaking of Hirshhorn's bow tie, Olga Hirshhorn personally gifted the Museum staff a few of her husband's trademark bow ties and leather briefcase in April 1987.  These artifacts now reside in the Library.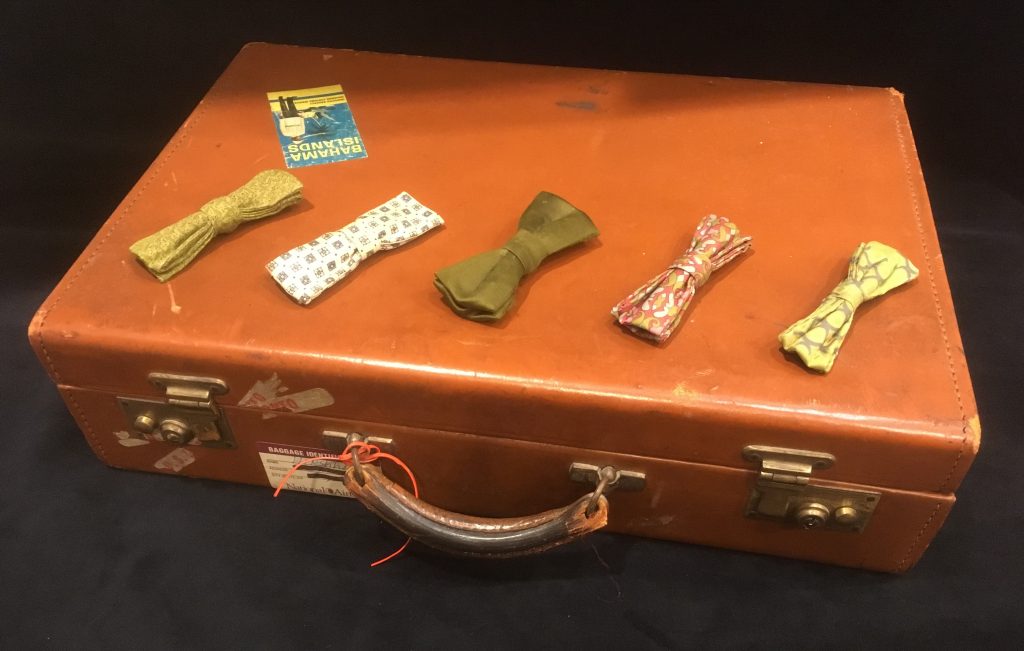 Over time, some of the Hirshhorn Library's collection has been transferred to other locations. Photographs donated by Olga Hirshhorn, Joe's wife, now predominantly reside at the Smithsonian Institution Archives, although a selection remain at the Hirshhorn Library. These photos create a vivid picture of Hirshhorn and Picasso's friendship. In many interviews, the Hirshhorns affectionately recall the tap dance shenanigans of Joe teaching Picasso the buck-and-wing. Other photos capture these two art-world party legends just hanging out at Hirshhorn's Greenwich, Connecticut estate or Picasso's Villa Notre-Dame-de-Vie at Mougins in France.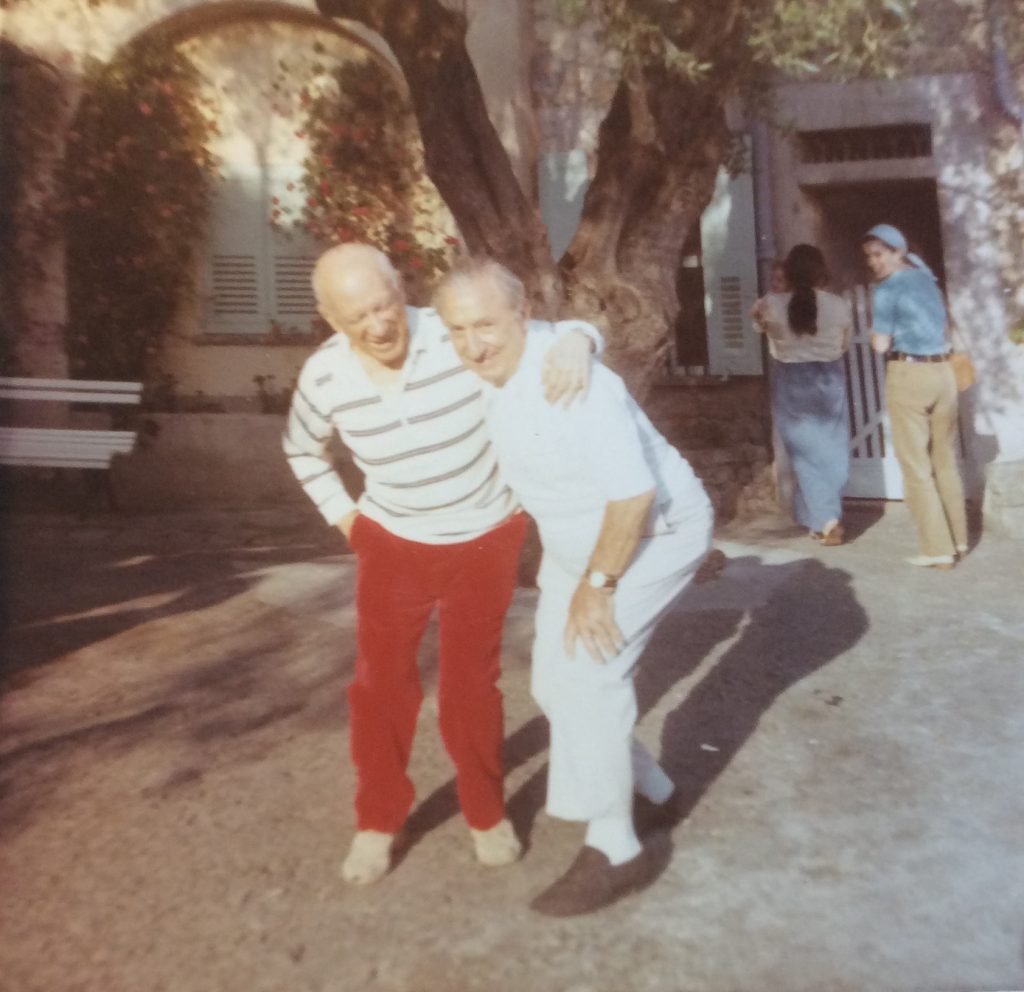 The materials described above remind us that the Hirshhorn Library has developed a collection filled with personal stories that unveil both little-known tidbits of information and essential stories of 20th and 21st century art. But as all toasts come full circle, I also wanted to uncover the Hirshhorn Library's humble beginnings, so I went sifting through the Smithsonian Institution Archives where I found a presentation by Anna Brooke, the first Hirshhorn Librarian, honoring the Hirshhorn Library's 25th Anniversary. Ms. Brooke fondly recalled her first Hirshhorn Library office in 1971, as the kitchen of a New York City brownstone at East 65th Street- her desk directly next to their first card catalog and the refrigerator. In 1973, the book collection was packed up and temporarily moved to the Smithsonian's Arts and Industries Building, where the first United States National Museum opened in 1881. Finally, on October 1, 1974, as memorialized in the Library's original, silver metallic opening night program, the Hirshhorn Museum and Sculpture Garden took its place as the United States' National Museum of Modern and Contemporary Art. With the grand opening of the Hirshhorn Museum and Sculpture Garden, the Library moved into the fourth floor where it continues to live and grow, in part thanks to generous donations and now through the support of the Adopt-a-Book Program.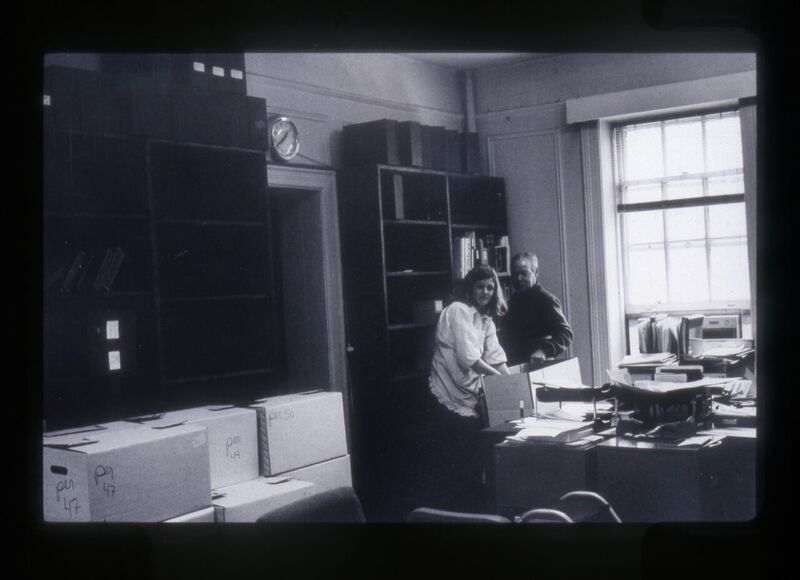 Sources:
The Founding Donor. (n.d). Hirshhorn Museum and Sculpture Garden. Smithsonian [website]. Retrieved from https://hirshhorn.si.edu/bio/the-founding-donor/
Kernan, M. (1998 April). Olga Hirshhorn and the art of living: A look into the life of the museum's leading lady. Smithsonian Magazine. Retrieved from https://www.smithsonianmag.com/arts-culture/olga-hirshhorn-and-the-art-of-living-151712834/
Lewis, J.A. (1979 May 6). Joe and Olga. The Washington Post. Retrieved from https://www.washingtonpost.com/archive/lifestyle/1979/05/06/joe-and-olga/d852cc33-eaab-42af-bf54-b0a0c188ab3f/?utm_term=.13053a2fb071
Otero, R. (1996 April 26). Roberto Otero: La mayor collección de Picassos del mundo. Galerie Gmurzynska, Zürich, Switzerland. Retrieved from Pablo Picasso's Artist File at the Hirshhorn Museum and Sculpture Garden Library.
Smithsonian Institution Archives.  Accession 17-127, Box 1, Folder: Library Presentations.
Smithsonian Institution Archives.  Accession 17-126, Box 1, Folder: Photographs of JHH with Picasso (1969).
Marisa Hernandez loves digging into archives, curating, and providing a sensory learning experience with primary sources. She is one class presentation away from earning her Master in Management in Library and Information Science degree from the University of Southern California, Marshall School of Business.