Come visit the Cultivating America's Gardens exhibition in the National Museum of American History before it closes this August!
The exhibition officially opened in May 2017 and will be saying goodbye at the end of this summer. The exhibition highlights the establishment of botanical gardens and the history of gardening in America. On show are a collection of books and other objects from the Smithsonian Libraries and Smithsonian Gardens collections. Here you will be able to see a variety of beautiful, vintage illustrations, rare books and artifacts related to the history of American gardening. Many of the books on display have been digitized and are available online. They will stay available through the Smithsonian Libraries Digital Library collection even after the exhibition's closing.
Although only opening last year, the exhibition started to develop in October of 2013 with the idea of highlighting the collections of the Smithsonian Gardens' Archives of American Gardens. One of the lead curators, Kelly Crawford, says that she hopes that visitors will be inspired by the long tradition of gardening in America and get to visit the beautiful gardens outside each of the Smithsonian museums.
The exhibit offers a look into the different purposes of gardening in American history, such as gardening as a link to the past, gardening for the common good, gardening to impress, etc. On display are unique pieces that reflect gardening culture throughout our history, such as a stereoscope circa 1900 (depicted here) from the Smithsonian Gardens, Horticulture Artifacts Collection. People who were not able to attend the early World's fairs would use these along with a card called a stereograph to view a three dimensional scene of the gardens.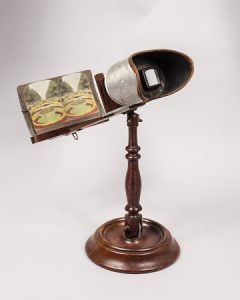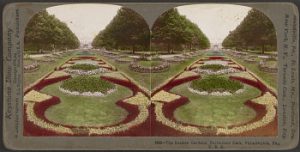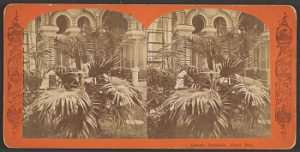 Below are some more of the pieces currently on display. You don't want to miss this amazing exhibition, and be sure to check out its books online!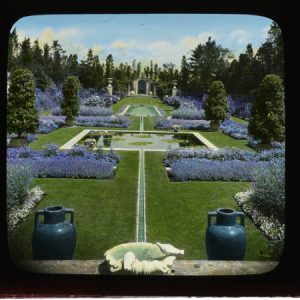 Blue Garden at Beacon Hill, Newport, Rhode Island, 1920s
Hand-colored glass lantern slide
Archives of American Gardens, Garden Club of America Collection
Save
Save
Save
Save
Save
Save