Explore the worlds' largest museum library system while learning valuable skills in information science! Apply for the Smithsonian Libraries Spring 2019 General Internship program. Applications due November 16th, 2018.  Brief project description can be found below. See our General Internships page for full information.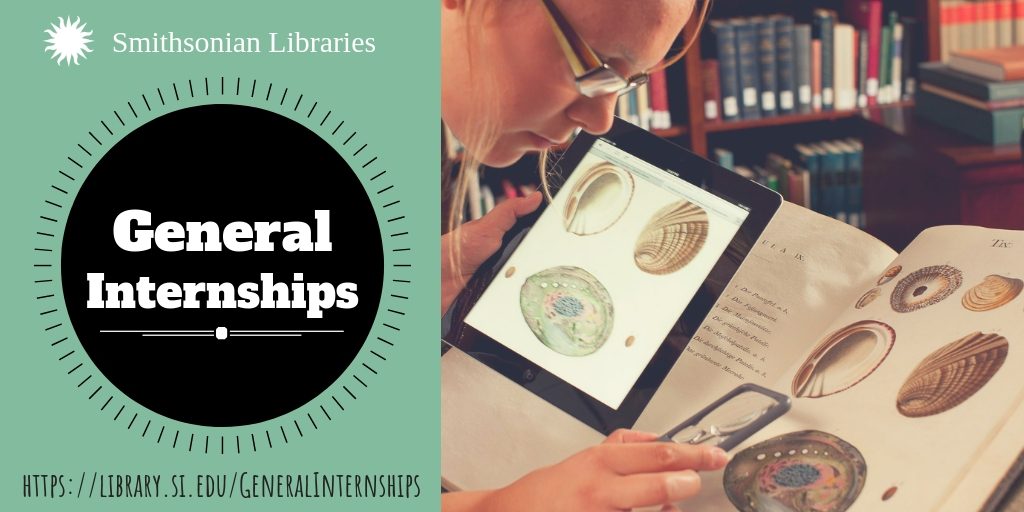 Art & Artists' Files 
The Smithsonian Institution Libraries artists' files are an exceptional resource for art historical research. Researchers rely on artist files to establish chronologies, flesh out exhibition histories, review stylistic developments, and assess the critical reception of artists over time. Through this project, an intern will learn how to evaluate items for retention and deaccession; update the physical housing of the collection to current archival standards; reorganize and relabel folder content according to best practices; and reconcile collection holdings in the Smithsonian Libraries' Art & Artist Files Database. The intern will also have the opportunity to select material and highlight it through blog posts, social media content and small exhibits. 
Collection Maintenance & Weeding 
Just as weeding is necessary to grow a garden, weeding a collection is one of the most essential practices a library can do. A responsive collection enables patrons to easily find what they need, creates room for new voices and perspectives, and presents the library as a more credible source for information. The Hirshhorn Museum and Sculpture Garden Library's spring intern will participate in cultivating a world-class collection of research materials on modern and contemporary art responsive to the current needs of today's museum staff. 
Serials Collection Maintenance 
The intern will learn more about serials collection processing at the Smithsonian Libraries Research Annex. He/she will learn how to survey and consolidate the serial holdings of a widely held title across multiple locations in the Smithsonian Libraries network. The intern will analyze holdings records in the Smithsonian Libraries' online catalog, SIRIS, locate and verify holdings on branch shelves, and document findings.