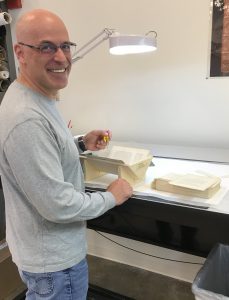 In April 2018, Bruce Weissgold began volunteering with Preservation Services in the Libraries' Book Conservation Lab (BCL).
Originally from Queens, New York, and a current resident of Virginia, Bruce recently retired after twenty-five years with the U.S. Fish & Wildlife Service (FWS) where his specialty was International Wildlife Trade Policy.
Previous to his career at FWS, Bruce attended The University of Virginia (UVA) as a graduate student where he found part time employment in UVA's Alderman Library and was put to work assisting with the repair of books from the circulating collections.
A lifelong reader with a preference for paper books, Bruce discovered that he enjoyed learning and practicing book repair methods at UVA. "I've always liked working on projects with my hands," Bruce explained, "and I found that books were a great medium for that."
Finding himself with more free time and interested in reconnecting with his previous book repair work experience, Bruce inquired about volunteer opportunities with Preservation Services and was gladly accepted.
Bruce's efforts in the BCL involve helping with repairs on circulating collection items from various branches throughout the Smithsonian Libraries. Recently, he completed stabilization work (involving paper mending; staple removal; and resewing) on a large variety of pamphlets scheduled to be digitized for inclusion in the Biodiversity Heritage Library. 
In between work on the pamphlets, he has also fixed a number of adhesive bound paperbacks and devoted patient attention to preparing sections of disbound monographs for resewing.
Bruce's time, energy, and dedication are greatly appreciated!