This post was contributed by Evelyn Meynard, graduate student in the History of Design and Curatorial Studies program offered jointly by the Parsons School of Design and the Cooper Hewitt Smithsonian Design Museum, and Elizabeth Broman, Reference Librarian, Cooper Hewitt Smithsonian Design Library. 
All incoming students in The New School Parsons History of Design and Curatorial Studies (MA) Masters' Degree Program at the Cooper Hewitt, Smithsonian Design Museum take an object and research based class called Pro-Seminar. This course trains students in conducting formal analyses, writing catalog entries, and making visual presentations that require students to conduct and integrate primary and secondary source research. The Cooper Hewitt Library regularly collaborates with faculty and students, providing research resources, curriculum consultation and Special Collections presentations for classes.  Selecting  one work from the Cooper-Hewitt collection to study during the semester, that "work" can be a book from the Cooper Hewitt Design Library presented by staff during curatorial orientations.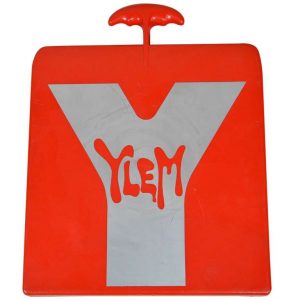 Published in 1971, Ylem is a manifesto that contains a collection of designs and texts by the German industrial designer Luigi Colani. The title of the book refers to a quantum physics term coined during the 1940s meaning the substance from which all matter originated after the Big Bang. The manifesto is an exceptional hybrid artifact composed of 120 loose plates contained in a red box with an ergonomic handle. The Pop art inspired plastic case is characteristic of contemporary design with its bright color, material construction, inventive design, and psychedelic typeface.
Divided into sections, the print plates include illustrations of drafts, plans, and sketches, as well as photographs. The designs cover a wide spectrum of topics and speak of future city life, housing, and urban planning, travel speed and efficiency, nature-inspired and ergonomically conceived designs, and extremely original possibilities for human dwellings in space or underwater.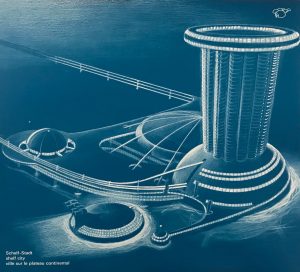 Colani conceived of the portfolio during an eight-week stay in bed after a back injury when he set himself to explain his philosophy and vision of the future. Born in Berlin in 1928, Colani had an unusual training as a designer. He first studied sculpture and painting at the Berlin Kunstakademie, and then in 1947, philosophy and aerodynamics in Paris. In a career that spans over 60 years, he has created more than 5,000 designs that include a wide array of industrial objects. However, he has been most distinguished in automobile, aircraft and aeronautic design.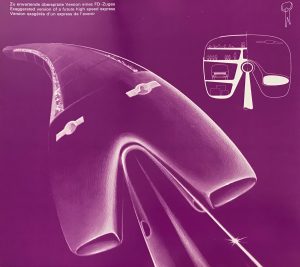 Colani has been extraordinarily prolific and always innovative, exercising his practice with unrestrained passion. The portfolio came to being in 1971, by the end of the rebellious and tumultuous 1960s, a historical era where vital questions about humanity's place on Earth arose. The manifesto is a compilation of the vision and philosophy of a designer determined to explain his critical views of society as well as to offer solutions for the future of humankind. The designer's four fundamental axes converge in this remarkable book: his strong vision, his designs inspired by nature, his scientific and technological knowledge, and his futuristic foresight.