Cheryl Braunstein, curator of Game Change: Elephants from Prey to Preservation, is the former manager of exhibit planning and development at the Smithsonian's National Zoo. In this role, Braunstein oversaw interpretive exhibition development for new projects, conducted content research, and wrote exhibition text. She is currently the director of interpretation at the Adirondack Experience (Blue Mountain Lake, NY).
Game Change is on view in the Evans Gallery on the Ground Floor of the National Museum of Natural History through February 1st, 2020.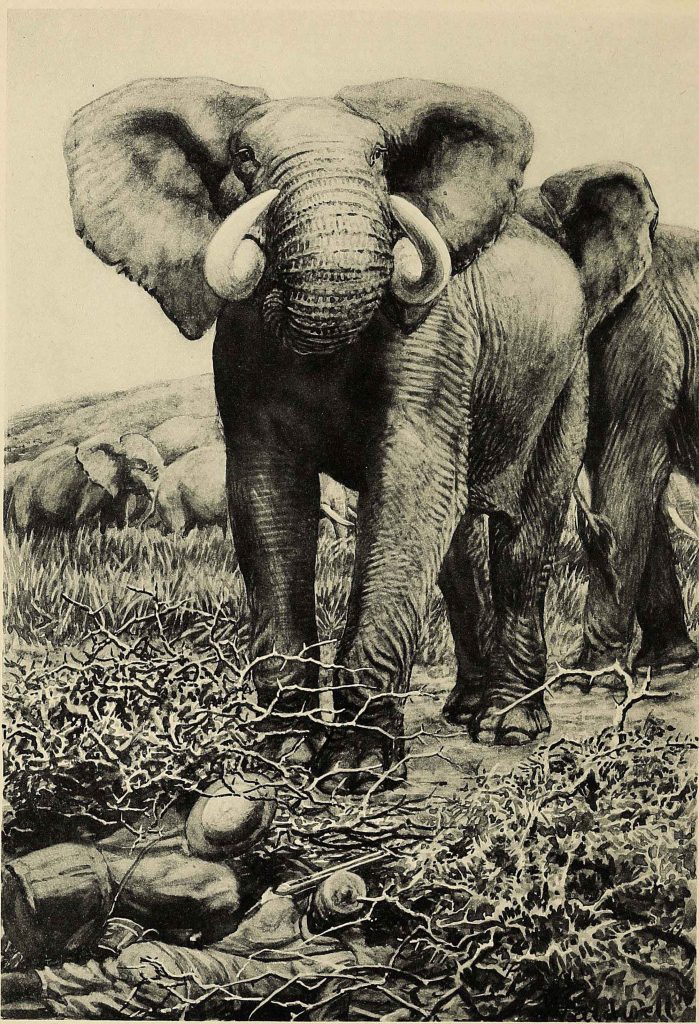 Tell me about Game Change. How did you first get involved with the exhibition? What was your role as lead curator?
Game Change came into being by accident. About four years ago, the Zoo was working with the Association of Zoos & Aquariums to consider ways to raise awareness about elephant poaching and to figure out something to do with a sampling of the six tons of crushed confiscated ivory that the U.S. Fish and Wildlife Service had as a deterrent to the illegal ivory trade. I thought many of the Smithsonian museums might be interested in collaborating on an educational campaign and reached out to exhibits staff at other units. The Libraries' former exhibition and program coordinator, Susan Frampton, offered that the Libraries might be open to doing an exhibition, and she introduced me to the Joseph F. Cullman 3rd Library's Russell E. Train Collection and to Train himself. In talking through ideas with Susan, we realized that Train proved to be an unexpected muse—someone who had once pursued elephants as game, but then became an ardent conservationist working to protect big game species. The idea took off from there, and I found myself in the unanticipated role of exhibition curator.

What topics, themes, and historical figures are covered in Game Change? What material was particularly challenging?
Theodore Roosevelt quickly emerged as someone who had to be featured in Game Change. His larger than life persona and enduring influence on how Americans see the natural world was a driver for how we looked at a lot of the potential content in the exhibition. There was some very difficult material that we did not include—many of the memoirs include attitudes about Africa and its people that are very difficult to stomach today. The explorers opened lands and animals to a riveted outside world. But those same people perpetuated attitudes that, while pervasive in their time, are cause for great pain today.
It was also hard to read the accounts of men and women who a hundred years ago were already seeing species loss. Mind you, this isn't all that long after Darwin's Origin of Species was published and only a hundred years since Georges Cuvier first explained that species could go extinct. From the perspective of biodiversity and conservation, we are talking about massive change to species populations within the relatively same timeframe that we, as humans, have even begun to understand how so many species have come into being.

What are some of your favorite books and objects in the exhibition and why? How did you select the materials?
I definitely have my favorites! Paul Bosman and Anthony Hall-Martin's Elephants of Africa (1986) proved to be one of the most intriguing finds. Here is a gorgeous book—it's dedicated to the people that protect elephants and has stunning illustrations—yet it's covered in elephant hide. Finding out where that hide came from (legally culled elephants from managed populations) took an unexpected amount of sleuthing. I came upon the Teddy Roosevelt "action figure" set by complete chance. My son was just growing past his own sets of Playmobil action sets, and I couldn't imagine what kids 100 years ago must have thought of as they played with the Roosevelt figures. The juxtaposition of two sets of toy figures seemed like a perfect metaphor for what this exhibit was all about. And finding children's books in the collection compared to children's books now…as much as the memoirs and journals show personal insights from a particular moment in time, being able to include items from popular culture, to me, helps reveal the changing attitudes most dramatically.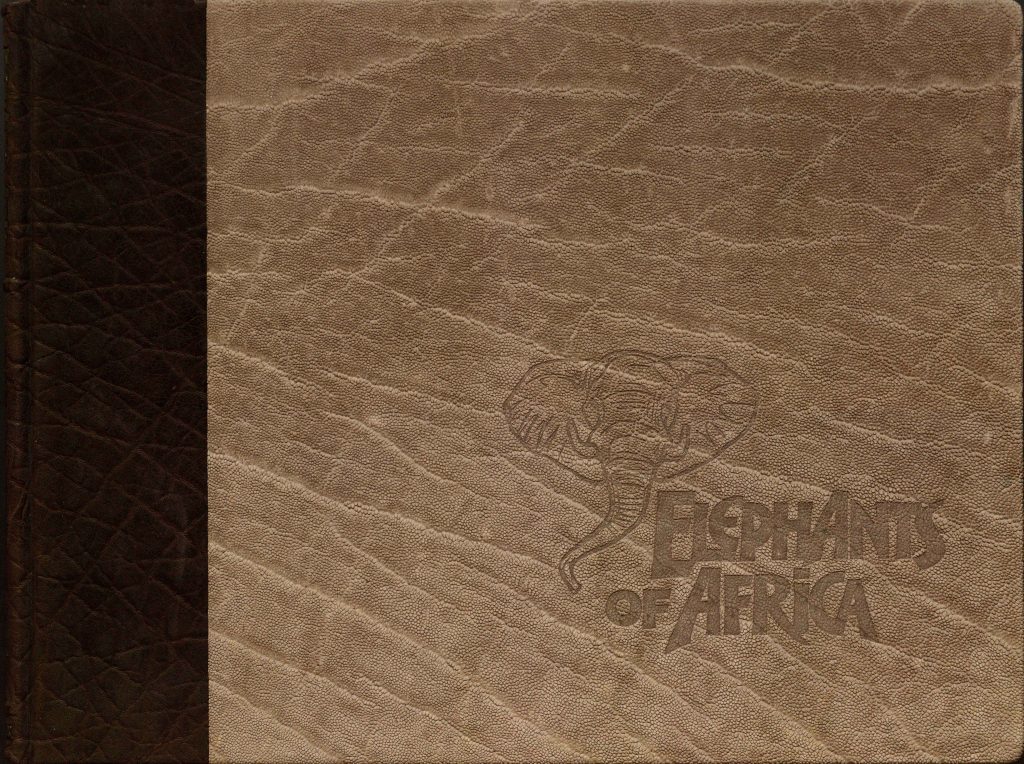 Why is the story of elephants so important?
Elephants have long been revered and beloved. What I find intriguing about them as a conservation story is that, unlike a lot of other animals that humans have overexploited, they do not (nor did they ever) provide a resource that we actually need. Whales were pursued for oil—to light up the world before widespread electrical lights—and fish are a food source that countless people still depend upon. Bison, beaver, seals, and so many other types of animals have been hunted to fulfill basic requirements—food, warmth, etc. While we clearly have hunted animals to extinction for a number of reasons, the materials collected from elephants are used purely for the decorative arts and for popular amusements. Human-elephant conflict related to land use is a serious issue, and something that the conservation biologists from the Smithsonian Conservation Biology Institute have devoted tremendous research to address, but the exploitation of elephant parts for human use is completely based upon the demand for luxury. If people would simply stop buying ivory—something no one needs—at least in Africa, elephant populations would potentially be able to recover. We are killing these animals because there are people who want something to put on a mantlepiece. That just doesn't make any sense at all to me.

What role did Teddy Roosevelt play in hunting vs. conservation?
Roosevelt's legacy is one of the most complicated issues that we had to consider during this exhibition's development, and I'm not sure what I think. There is a lot of science that supports the need to take (to kill) animals—either for study or to control populations, especially when we factor in human-derived habitat loss and system disruptions. One thing that I learned during the course of this project is that, in his time, what Roosevelt was doing was for conservation. The field of conservation biology did not exist in his day. While people knew about extinction, the impact of overconsumption and the loss of biodiversity weren't well understood. Many of our protected lands today are thanks to Theodore Roosevelt. We cannot deny that. And many of the collections here and in New York's American Museum of Natural History were built through the efforts of Roosevelt and his peers. He has made an undeniable contribution to conservation that has lasted to this day. Did he kill more animals than he needed to for the sake of science? I think it's hard to deny that he did. He was a voracious hunter. And a voracious conservationist. But I'm not sure that he could've been the conservationist he was without also being the relentless hunter.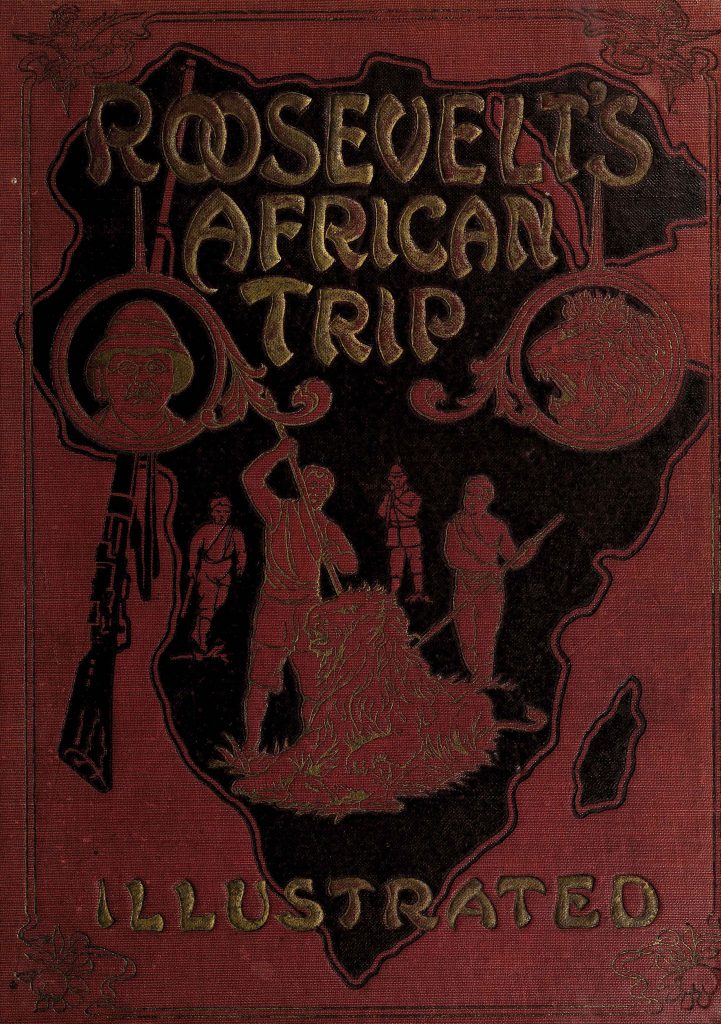 What did you glean about how people's perceptions of elephants changed in the last 100 (or more) years?
There is no doubt that people are as enthralled by elephants today as they were 100-plus years ago. What is exciting today is to see an overwhelming sense of caring about these animals. You hear about kids campaigning in their schools to raise awareness about the threat of poaching. Many of the early twentieth century memories captured an awe toward these animals and many of the writings recorded a true commitment to wanting to see these animals endure. But, so many of the books that we reviewed talked about the need—the "need"—to satisfy human demand and about the fluctuating prices of ivory. We don't talk about these animals anymore as a commodity. Perhaps because they are not a resource, and because of people's ability to see them in zoos and museums, to be able to learn about them from conservationists and to have our misunderstandings be dispelled, in the U.S. today, we support protecting elephants. Elephants have certainly benefited from the rise of the environmental movement, but even though that movement is challenged today, the popularity of wanting to protect large animals seems to be enduring.
The threat of extinction to elephants is dire—especially Asian elephants. The remaining habitat is so small, and human populations in the region are continuing to grow. It's hard to feel optimistic. For African elephants, there have been a lot of victories in the fight against poaching. Countries with major ivory trade centers are shutting down the markets and there is popular attention to stop the demand of ivory. I think, I hope, that people will give it up. Fashion is changeable. Women are no longer demanding whalebone corsets and so it seems completely doable that carved ivory will become a thing of the past. But, that's one threat to elephants. Even in Africa, conflict with humans is still a risk, as is ever-diminishing healthy habitats.

Why is it important for Smithsonian units (Smithsonian Libraries, National Zoo, and the National Museum of Natural History) to collaborate to tell stories through exhibitions?
Each Smithsonian unit has its own stories to tell—but it's hard to imagine any story that is Smithsonian-based that doesn't touch upon the research and collections in other units. That is one of the absolute best things about the Smithsonian. Our collections allow us to tell stories from a variety of perspectives by sharing our objects and our narratives. I am inspired by what I see happening at other units, and what I know about the work that is going on behind-the-scenes. The National Museum of African Art has collections that show countless animals across cultures, and many of those animals are found in our collections or at the Natural History Museum. To be able to see how people have looked at these animals, and then to be able to see the animals themselves is what is so amazing. You can take almost any single item in any unit, and find threads that directly connect it with other collections.
The Libraries' holdings are particularly unique because they are built upon the work at each and every Smithsonian unit. The Libraries' books are directly tied to the National Zoo—our conversation research, our significant animals, our people. I am hopeful that with the One Smithsonian strategic plan, opportunities to collaborate in ways that are now seemingly unexpected will become the norm.

What do you hope viewers will take away from the exhibition?
I hope that people will come away from this exhibition with a sense of pride—that they will see that people are capable of change in a positive direction. I am proud to work for an institution that is committed to species conservation; one thing that resonated with me as I worked on this exhibition was realizing that my own contributions to conservation are part of a continuum that is more enduring and more widespread than I had ever realized. Conservation is not something that has become popular just in my lifetime. Even 100 years ago, many were seeing what was happening to the world around them and demanding change. A lot had to happen to transform mainstream attitudes—but those calls were heard. People today do want to protect species.