The Smithsonian Libraries' 50th Anniversary Internship program provides students in library and information science and other disciplines a once-in-a-lifetime opportunity to work side-by-side with expert Smithsonian Libraries and Smithsonian staff. Through these internships, students acquire the latest skills, knowledge, and hands-on experience needed for today's information and cultural heritage marketplace.  
For Summer 2020, two projects will be available through the 50th Anniversary Internship program. Both are targeted towards graduate level students and involve hands-on work with ephemera collections.  Internships will be full time for eight weeks during the summer of 2020, with stipend levels dependent on academic level ($550/week for graduate students). 
Below are detailed project descriptions for Summer 2020. For additional information, see the 50th Anniversary Internship program page. Applications will close January 17th, 2020.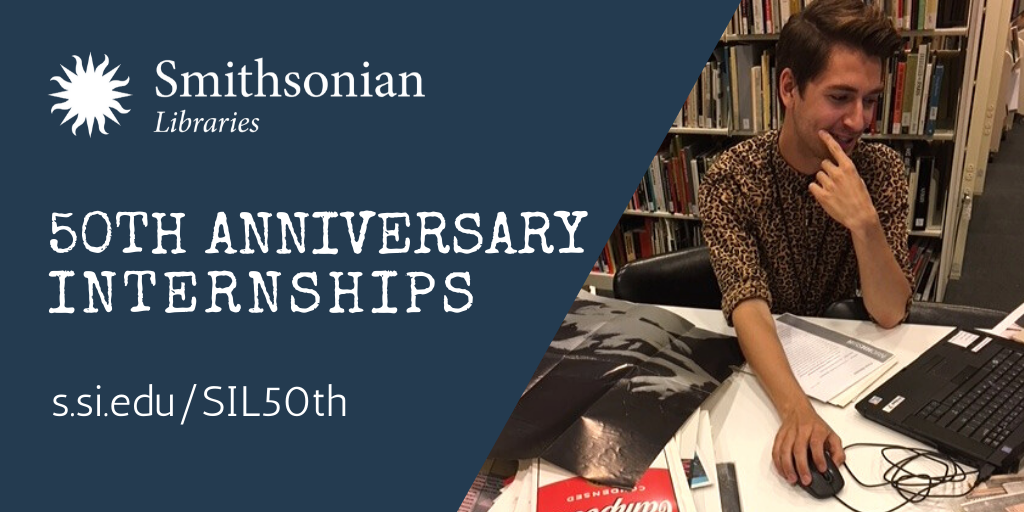 Researching Craft Ephemera 
Location: American Art/Portrait Gallery Library, Washington DC 
The internship is available for graduate students enrolled or recently graduated from a degree program in library science, archives track, or art history. Intern should have good organizational skills and attention to detail and accuracy. Interns should have knowledge of library research methods.  
From its inception, the American Art & Portrait Gallery (AAPG) Library has collected ephemera from donors, curators, and other departments from within the Smithsonian to support American Art research. The intern will help process a particular donation of materials that is focused on craft art ephemera into the AAPG Art and Artist File Collections. Processing will include intensive art historical research to determine whether the materials are appropriate for our collection and keep detailed statistics. Additionally, the intern will consider archival and library best practices when adding new materials including removal of corrosive materials and housing. This will allow important hidden materials to be organized and accessible. 
Through this opportunity, the student will learn collection analysis techniques for a fine arts museum library and will have the opportunity to expand knowledge of the core research materials related to artists, movements, history, and theory. The intern will learn more about higher degrees of art historical research through researching the materials. 
Museum Studies Reference Library Ephemera Processing and Collections 
Location: National Museum of Natural History Library, Washington, DC 
This project would be ideal for a graduate level student who is considering an archives track. Some experience in archives is preferred but no required. Candidates with attention to detail and experience using Microsoft preferred. 
An intern in this project will assist in processing an ephemera collection, including analyzing the scope of the collection and creating an inventory of items which will later inform a finding aid. The intern will also assist in evaluating items and determining the appropriate method for rehousing in archival folders and archival boxes. If there is time after rehousing this collection, intern will work with acting librarian to assess other zoology items located near the ephemera collection for weeding. Intern may also assist with discreet collections work to assist the acting librarian to locate missing, lost, or misplaced titles when time allows. 
Through this project, an intern will learn how to rehouse and label archival folders and boxes, as well as learn the process for creating a finding aid for material. The intern will gain hands on experience in working with library and archival collections. In addition, a student will learn basic collections management principles that are valuable in any library or archival setting. 
See our webpage for additional details and application instructions: https://library.si.edu/50thAnniversaryInternships 
Funding for the 50th Anniversary intern class was provided by the Secretary of the Smithsonian and the Smithsonian National Board.