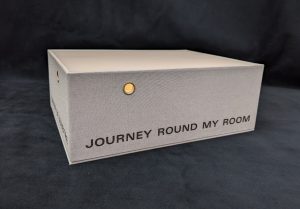 In a love letter to his apartment, Xavier de Maistre writes of his walls, windows, and furniture in Journey Round My Room, as if he would rather be there than anywhere else in the world. Joyful descriptions of the objects and activities in his room, such as the "quiet pleasure conveyed to his soul" during the act of dusting a painting, or the ruminations on his bed and its "agreeable colors" (rose and white) that add "not a little to the pleasure" of lying in it. As he alights his focus on particular objects, he recounts stories and memories they evoke, such as an entire chapter dedicated to just his traveling coat, "made of the warmest and softest stuff I could meet with. It envelops me entirely from head to foot, and when I am in my arm-chair, with my hands in my pockets, I am very like the statue of Vishnu one sees in the pagodas of India."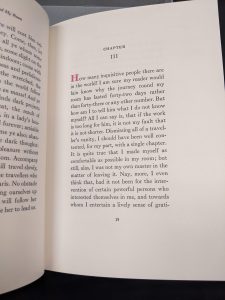 De Maistre's work is nearly 200 pages of such contented observations of his small space. As the world has spent more than two years enmeshed in the COVID-19 pandemic in periods of isolation in our homes, Journey Round My Room may feel like a familiar experience in 2022. However, this work was written in 1790, during the time of the French Revolution, by a soldier sentenced to house arrest for 42 days, a literal quarantine.  
A young soldier, de Maistre engaged in an illegal duel, and as punishment, was placed under house arrest in Turin, seeing only the servant who brought his meals (and dressed him and made his bed—quite decadent.) It was during this confinement to just his own room that de Maistre wrote this love letter to his surroundings. Likely an attempt to thwart boredom and unhappiness at his situation, his writings were a whimsical travel diary of his close quarters, published by his brother in 1794 as Voyage Autour de ma Chambre.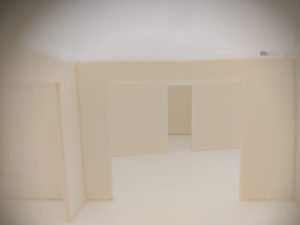 The Smithsonian Libraries and Archives has a beautiful copy of the 2007 Arion Press edition of Journey Round My Room, as a part of the recent gift to the American Art and Portrait Gallery Library from collector Dr. Ronnyjane Goldsmith. The book is bound in pink and white cloth, a nod to the "agreeable" rose-colored surroundings of de Maistre himself. Ross Anderson contributed more than a dozen ghostly photographs of a generic room, using a low-resolution cell phone, and printed in gray tones on translucent paper.
Of particular note for the Smithsonian's copy is the limited special edition's housing—a 3-dimensional apartment for the viewer to "journey" through, via portholes along the sides. Similar to a shadowbox, inside is a small white model, and each peephole allows a restricted viewing of the tiniest doors, windows, and walls of de Maistre's imagined rooms. The cover forms the "ceiling", made of translucent plexiglass that allows diffused light to make interesting shadows on the halls and doorways. Only 30 of the edition with this special box were created, designed by Anderson, himself an architect. The work adds to the Smithsonian's collection of American fine press publications and is an amazing example of creativity in bookbinding.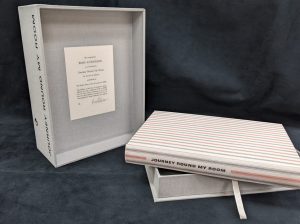 De Maistre's reflections during a period of solitude provide a timely addition to our own, a strangely prescient reminder to take joy in simple observations, and that there are many ways to travel, not the least of which is through one's imagination.