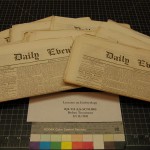 April 22nd – 28th is Preservation Week! In honor of the event, we will be hosting our first ever Tweet Up at the Book Conservation Lab on Thursday, April 26th. Follow along on Twitter with #SILTweetup. In the meantime, enjoy this post by Katie Wagner, our book conservator.
The Book Conservation Lab receives items in all shapes in sizes from miniature books to elephant folios.  Recently, a set of 12 mid-19th century newspapers arrived from the Joseph F. Cullman 3rd Library of Natural History.  The set of newspapers contains a series of lectures,  Lectures on  Embryology," given by the Swiss paleontologist and glaciologist, Louis Agassiz. The lectures were both delivered and printed serially as a prominent Harvard lecture series in the winter of 1848/1849, and then published as a monograph ("Twelve Lectures on Comparative Embryology.")  After the presentation and publication of the lectures Agassiz was offered a professorship at Harvard University.   He became a well known scientist and friend to poet Henry Wadsworth Longfellow. "The Fiftieth Birthday of Agassiz" was written by Longfellow in 1857.  The Smithsonian Libraries has over 90 works by Agassiz in the collection, including his classic works on glaciersin which he was the first scientist to propose the ice age theory.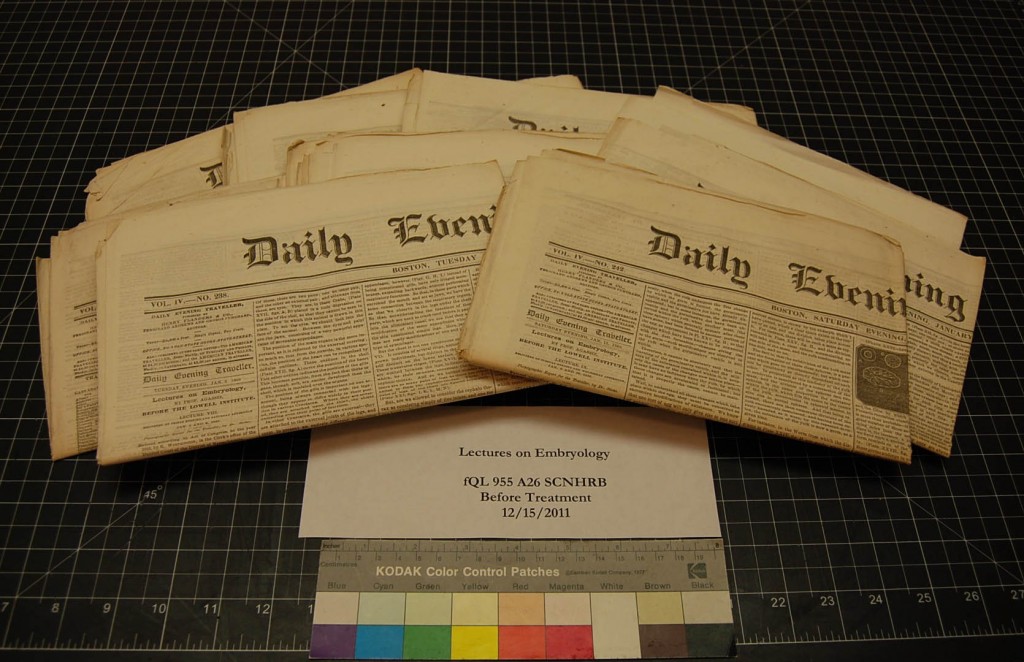 The newspapers had been stored, folded in four, in a cardboard box. As a result, there were multiple tears and discoloration along the crease lines.  In an effort to reduce the discoloration, reduce acidity and flatten the paper, the newspapers were washed in de-ionized water and then buffered in a calcium carbonate solution.
After washing and drying the tears were repaired using Japanese paper and wheat starch paste.  Each newspaper issue was placed in a Mylar L-sleeve thus allowing the researcher to access the information and handle newspapers without the need to touch the original paper. Finally, a custom made double tray box was created to further protect the issues.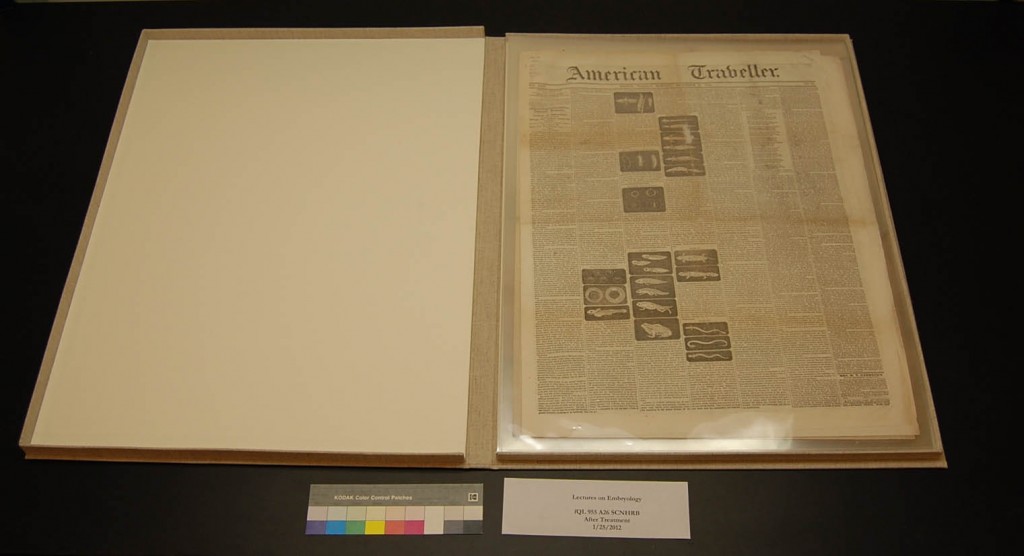 -Katie Wagner, Book Conservation Lab