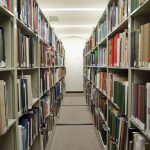 The Washington Art Library Resources Committee (WALRC) has awarded $5000 in funding to Freer | Sackler Library for a 2012 travel grant program. The purpose of the program is to provide short-term travel and lodging support for graduate students and scholars of East Asian art who need to use the library's collection.
Five grants of $1000 each will be awarded on a competitive basis. These grants are meant for students and scholars residing outside the Washington metropolitan area.
The Library of the Freer Gallery of Art and Arthur M. Sackler Gallery began as a collection of about four thousand monographs, periodical issues, off prints, and sales catalogs that Charles Lang Freer donated to the Smithsonian Institution as part of his gift to the nation. With more than eighty-six thousand volumes, the library now is considered one of the finest repositories of Asian art resources in the United States.
Over the years many new and aspiring Asian art scholars have visited the library in the course of their research. A familiar refrain, as they headed back to their university or on to their first academic position was that they would certainly like to use the collection again but that it was so expensive to travel and to stay in Washington DC. It is those voices that provided the first spark for this program.
Applicants will be notified of a decision within 6 weeks after the deadline date.  See the application form for specific requirements.  Please send applications by e-mail to: Reiko Yoshimura, Head Librarian (yoshire@si.edu). The application deadline is June 1, 2012