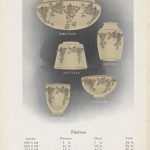 Besides being functional, lighting can also be decorative. The Libraries' Trade Literature Collection includes many catalogs by companies which manufactured and sold lighting and related products.  One of these companies is Macbeth-Evans Glass Co., a manufacturer of illuminating glassware.
Macbeth-Evans Glass Co. was formed by the merging of two companies, Thomas Evans Company and George A. Macbeth Company.  Both companies had been manufacturing lamp chimneys and other types of glass products.  In 1899, Thomas Evans and George A. Macbeth merged their companies to form Macbeth-Evans Glass Co.
Several types of illuminating glassware were manufactured by Macbeth-Evans Glass Co.  One of these was called Thebian and is illustrated in this trade catalog entitled Thebian Number 82.  Thebian lighting glassware was designed for those who wanted to light their home with an artistic look.  As described in the catalog, "Thebian subdues the intense brilliancy of the Tungsten and Type "C" lamps, transforming it into soft, mellow illumination…"  Illustrated in this catalog are Thebian style globes, bowls, and shades.  The designs are delicate and came in several different colors, depending on the particular design.
Macbeth-Evans Glass Co. also manufactured other types of lighting glassware including Alba, Decora, and Monax.  Alba and Monax tended to be used for commercial and business lighting while Decora, used for residential as well as some commercial lighting, had an artistic look to it.
Thebian Number 82 and other catalogs by Macbeth-Evans Glass Co. are located in the Trade Literature Collection at the National Museum of American History Library.  Take a look at Galaxy of Images to see more pages of decorative lighting from this catalog.