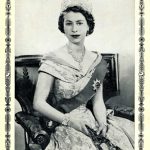 Her Majesty Queen Elizabeth II of the United Kingdom of Great Britain and Northern Ireland celebrates the 60th (Diamond Jubilee) anniversary of her Coronation on June 2, 1953. She celebrated her Silver Jubilee (25 years) in 1977 and her Golden Jubilee (50 years) in 2002.

The only previous Diamond Jubilee celebrated by a British monarch took place in 1897, when Queen Victoria marked 60 years of her reign. She was 78 when she celebrated her Diamond Jubilee, and although elderly in appearance with limited mobility, she attended and presided over large and varied national events. The current Queen Elizabeth II will be celebrating by attending many special events in much the same way – it promises to be dramatic and spectacular, with great pomp and ceremony, receiving international attention.
Queen Elizabeth II, who will be celebrating her 86thbirthday, was crowned in Westminster Abbey in London on June 2, 1953 when she was 27 years old. The Cooper-Hewitt Museum Library owns an original Queen Elizabeth II Coronation Souvenir program booklet.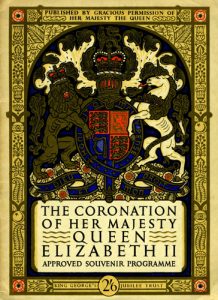 The Coronation of Her Majesty Queen Elizabeth II, 2 June 1953. [London : King George's Jubilee Trust, 1953. DA590 .C82 1953 CHMRB
The program contains articles on the role and history of the Her Majesty the Queen in English history, and a brief biography of Her Royal Highness Princess Elizabeth. It outlines the events of the day; the coronation procession and the route it takes, lists all the participants from the Royal Family, representatives from foreign states, and representatives and officers from all Armed Forces branches of the Commonwealth and Colonies. The programme also explains the history of the Coronation ceremony, and finally the form and order of the Coronation service in Westminster Abbey.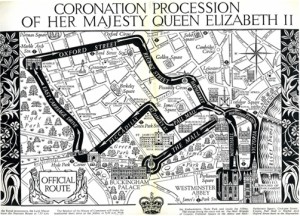 To celebrate the Diamond Jubilee, The Queen and her husband, The Duke of Edinburgh, supported by other members of the Royal Family, will be travelling as widely as possible across the United Kingdom and the Commonwealth in 2012. The Central Weekend of The Queen's Diamond Jubilee takes place from Saturday 2 June to Tuesday 5 June 2012.  On Sunday 3 June, 2012, one of the main events will be the Thames Diamond Jubilee Pageant. This will take place on the river Thames and consist of up to 1,500 boats assembled from across the UK, the Commonwealth and around the world. The Queen and The Duke of Edinburgh will travel in the Royal Barge which will form the centerpiece of the flotilla. This is supposed to be the biggest water event ever in history- an absolute spectacle!  To learn more about the Jubilee that will be celebrated around the world, go to the official Diamond Jubilee website.
Elizabeth Broman