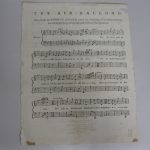 Intrigued by the "Song of the Wright Brothers" sheet music cover seen in last week's National Aviation Day post? Read on for more information about the collection in this post by summer intern, Karen Anton.
I am Karen Anton, the National Air and Space Museum (NASM) Sheet Music Cataloging intern for the Smithsonian Institution Libraries.  I travelled from Bloomington, IN where I am pursuing a Master of Library Science (MLS) degree with a Rare Books and Manuscripts Librarianship Specialization at the Indiana University School of Library and Information Science and a PhD in Musicology at the Indiana University Jacobs School of Music. While at the Smithsonian this summer, I will be learning from Lowell Ashley, principal cataloger at the Smithsonian Institution Libraries.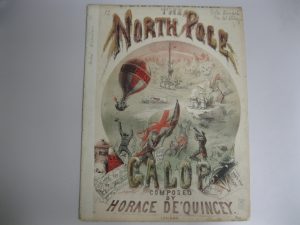 The Bella C. Landauer Collection of Aeronautical Sheet Music, housed in the DeWitt Clinton Ramsey Room in the National Air and Space Museum, consists of over a thousand pieces of sheet music that relate to flight, including many about hot air balloons, airships, and World War planes. Most of these pieces also have beautiful illustrated title pages depicting battles, love stories in the air, and even expeditions to the North Pole, offering both musicians and non-musicians a way to engage with the artifacts.  The Smithsonian catalog currently has only provisional, short records for these pieces.  During my internship, I am creating full-level cataloging for pieces in the collection published before 1923, providing access to the musical and graphic material.
Many fascinating pieces exist in this collection, most of them from the early twentieth century.  I was surprised this week to find an eighteenth-century piece titled "The Air Balloon" by George William Chard.  Dating from around 1784, it is one of the earliest pieces of music ever written about human air travel.  While I was lucky enough to interact with these primary source materials in person, many people depend on online availability of graphic content.  Fortunately, these pieces from the Landauer Collection will soon be digitized, and links to the items will be provided in the catalog records so anybody can investigate the music, lyrics, and illustrated title pages.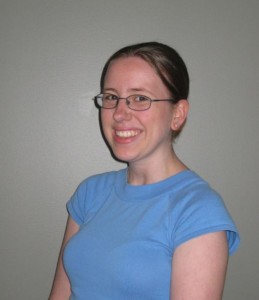 This summer I have not only been building skills in cataloging, but also learning about historical conceptions of air travel through examining this music.  I am honored to work with and learn from Lowell Ashley and the staff of the Smithsonian Institution Libraries.