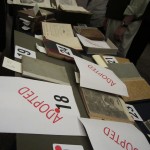 The Smithsonian Libraries would like to thank all who attended and supported our first Adopt-a-Book event held at the Smithsonian Castle on Thursday, September 13. Over 25 books were adopted from our Cooper-Hewitt National Design Library, Joseph F. Cullman 3rd Library for Natural History, and the Dibner Library of the History of Science and Technology.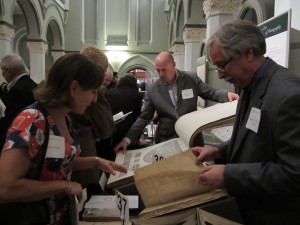 The books were laid out in Schermer Hall, which attendees had to walk through on the way to the food and drink in the Castle Commons. The ambiance was heightened by the presence of an actor portraying Galileo and a local high school teacher and his students portraying 17th century male and female scientists, in costume and complete with "cabinets of curiosity" plus experiments to demonstrate.  The Embassy of Italy, Italian Cultural Institute, and Italians in DC were sponsors of the event.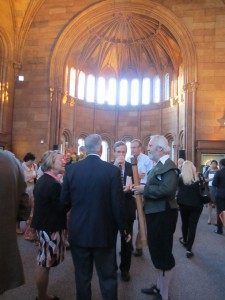 We had about 170 book lovers sign up for the event ahead of time and another 40 came to the door. They included Board members Hope Furth, Richard Choi, Kathryn Turner, and Gus Miller.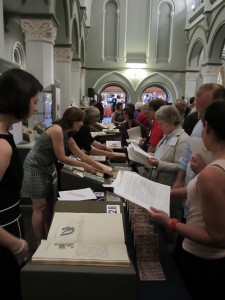 We hope to continue this tradition next year! If you would like to acquire or preserve a book for the Smithsonian Libraries, please visit this webpage: https://donate.sil.si.edu/v/Adopt-a-book.asp.