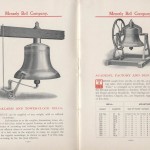 Did you know the 1876 Centennial Bell and the 1893 Columbian Liberty Bell both weighed thirteen thousand pounds? Do you know why? The Trade Literature Collection at the National Museum of American History Library includes a Meneely Bell Co. catalog which answers that question and more.
The Centennial Bell was manufactured in 1876 at the foundry of the Meneely Bell Co.  Weighing thirteen thousand pounds to represent each of the thirteen original states, it was set in the tower above Independence Hall in Philadelphia, PA. Just like the Liberty Bell, the Centennial Bell has the inscription:  "Proclaim Liberty throughout all the land unto all the inhabitants thereof."
Another bell cast by Meneely Bell Co. was the Columbian Liberty Bell.  It was manufactured in 1893 after the start of the World's Columbian Exposition, which meant it did not arrive in Chicago until a few weeks after the fair had begun. This bell also weighed thirteen thousand pounds, "each thousand pounds representing one of the original states of the Union."  The Columbian Liberty Bell "was conceived in the idea of peace and liberty, and its purpose is to help perpetuate peace the world over."
Those are just some of the interesting facts found in the second section of this 1906 trade catalog by Meneely Bell Co. The section has a simple title, "Bells," but goes on to give a brief history of bells from around the world and throughout time.
The beginning of the catalog includes descriptions and illustrations of bells manufactured by the company such as bells for churches, ships, courthouses, academies, factories, and farms. The Meneely Bell Co. also manufactured fire alarm bells. It gives information about the technical side of bells with sections describing rotary yokes, clapper springs, and tolling hammers as well as how to mount a bell in a tower.
This catalog and others by Meneely Bell Co. are located in the Trade Literature Collection at the National Museum of American History Library. Take a look at the Galaxy of Images to see more pages of bells from this catalog.