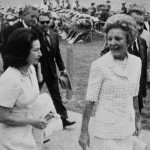 Americans, once they had elected a President, have always tended, barring catastrophes, to protect their investment. They choose him and consider that the question of their good judgment is involved in his standing. It is a personal and kindly attitude as distinguished from their obvious patriotic duty to uphold the presidency. Curiously, they are generally less kind to his wife. Human nature breaks out all over as she takes her prominent place in the White House goldfish bowl.  — Doris Fleeson, political columnist, Threshold of Tomorrow: the Great Society
The year 2012 celebrates the centennial birthdays of two American First Ladies who served consecutively: Lady Bird Johnson, the wife of President Lyndon B. Johnson (1963-1969), and Patricia Nixon, the wife of Richard M. Nixon (1969-1974). Claudia Alton Taylor, born on December 22, 1912 and nicknamed Lady Bird, and Thelma Catherine Ryan, born on March 16, 1912 and nicknamed Pat, had a surprising number of things in common: losing their mothers before reaching adulthood, always being referred to by nicknames, displaying precocious intellectual skills throughout their school years, procuring a BA at a time when few women completed university, a propensity for travel, receiving marriage proposals from their husbands on the first date, actively supporting their husbands from the onset of their political careers, bearing two daughters each, and finally, enduring abject criticism of their husbands' presidencies.
The Smithsonian's American Art Museum/National Portrait Gallery Library holds many books concerning the lives of American First Ladies, including Lady Bird Johnson: A White House Diary, which is dedicated "To Lyndon, with love." In her preface Lady Bird states that she started the diary a few days after the assassination of President John F. Kennedy because she wanted to show the events through her unique vantage point. The first entry describes that Friday, November 22, 1963, starting out as a beautiful sunny day while the motorcade drove through Dallas. The shots she heard were, she thought, firecrackers, until the car radio announced, "Let's get out of here!" She goes on to describe the hospital scenes, the flight back to Washington, DC with the coffin, and the oath of office taken by Lyndon Johnson while on the plane. One personal family moment she shares is her recollection of her husband saying in the hospital, "Tell the children to get a Secret Service man with them." In a later entry, she shares one of her happiest days while serving as First Lady – the annual luncheon for the Senate Ladies Red Cross unit on May 6, 1964, which featured twelve tables representing eighteen different presidential administrations with porcelain settings to match, and exquisite linen with flower arrangements enhancing the gourmet lunch.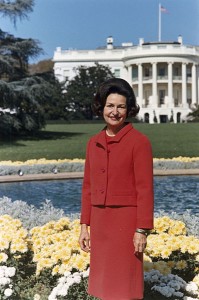 In another book of interest from the Smithsonian's National Museum of American History Library titled Lady Bird Johnson: Our Environmental First Lady, author Lewis Gould outlines the impact Mrs. Johnson had on the contemporary concept of the role of the First Lady, along with details about her early life. Born in Karnack, Texas, as the third child of Thomas Jefferson Taylor, a business man who ran a thriving cotton business, and Minnie Patillo Taylor, a genteel Alabama native, Mrs. Johnson lived a privileged life in a community where residents addressed her father as "Capt. Taylor." After her mother died when she was six, Lady Bird was raised by a maiden aunt. With her elder brothers off at boarding school, Lady Bird often sought refuge among the pine trees and wildflowers of the East Texas woods. She attended the University of Texas, Austin, earning a degree in journalism in 1934. That same year she met Lyndon Baines Johnson, who proposed to her on their first date, and within three months they were married in an Episcopal ceremony in San Antonio. Mrs. Johnson exhibited entrepreneurial skills when in 1943 she acquired the KTBC radio station in Austin, which she grew into a business empire. In 1944 she gave birth to Lynda Bird Johnson, and in 1947 she bore Lucy Baines Johnson. Mrs. Johnson redefined the modern role of a First Lady though her demands for an increased bureaucratic staff to further her duties in giving speeches, dealing with correspondence, and assisting in her personal causes. These causes included environmental issues, such as beautifying the nation's capitol and controlling the junkyards and billboards along the country's highways. In 1982 she donated $125,000 and sixty acres to the National Wildflower Research Center, which was later renamed the Lady Bird Johnson Wildflower Center, at the University of Texas, Austin. She was often photographed with her beloved Texas bluebells, and it is easy to picture her as a little girl remembering "…the daffodils in the yard. When the first one bloomed, I'd have a little ceremony, and name it the queen."
Edwin P. Hoyt writes in The Nixons an American Family that the backgrounds of Thelma Catherine Patricia Ryan and Richard Nixon were similar, excluding religion, as Richard was raised in the Religious Society of Friends (Quaker) tradition while Pat's mother adhered to Christian Science and her father was Catholic. They both came from farming traditions and worked hard for whatever they attained in life. William Ryan, Pat's father, was born into an Irish American family in Connecticut. Possessed of an adventurous spirit, he worked as a sailor, a surveyor in the Philippines, and a miner in Alaska and North Dakota. At forty-one he married a widow with two children, Katherina Halberstadt Bender, who was born in Germany but grew up in the United States from the age of ten. Mr. Ryan was working as a mining engineer in Ely, Nevada, when Pat was born, along with her two older brothers William and Thomas. In 1916 Katherina persuaded William to move to Artesia, California, a small farming community about twenty miles southeast of Los Angles, in order to buy an eleven-acre truck farm.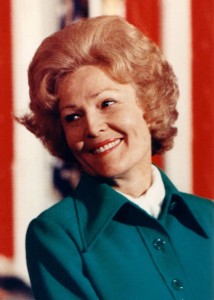 In a biography of her mother titled Pat Nixon: the Untold Story, Julie Nixon Eisenhower comments that, at the age of thirteen, Pat grew old before her time after her mother died. A typical day began with personal farm chores, fixing breakfast for her father and brothers, cleaning, and preparing for school, all the while studying in any spare moments. In high school she excelled even while nursing her father through his long battle with tuberculosis. After her father's death she continued to work at several jobs in order to pay for her classes at Fullerton Junior College. At the local bank she assisted with bookkeeping in the afternoon, where earlier, beginning at 6:00 a.m., she had served as that same bank's janitor. Most of the customers were farmers so the floor was smeared with mud and dung, making the clean-up hard physical labor. Her daughter Julie writes, "She still remembers with a sharp stab the morning when a carload of classmates from Fullerton drove past and hooted at her as she swept a pile of dust and refuse of the front door of the bank and down its steps." Throughout their lives the Ryan siblings Will, Tom and Pat maintained a tight-knit bond, with the brothers increasingly helping Pat, first with her chores, and later when they all lived together while she attended the University of Southern California. In 1937 she graduated cum laude with a degree in merchandizing and a certificate to teach at the high school level.
Richard Nixon met Pat in 1938 when they both were trying out for a community play in Whittier, California, where she was a high school teacher and he was a young lawyer. They were married in a quiet Quaker ceremony in Riverside, California. In 1946 their eldest daughter Patricia was born, followed by daughter Julie in 1948. During her tenure as a political helpmate to her husband, Pat was known as a tireless campaign worker with a serene diplomatic presence. Throughout her career she worked tirelessly: traveling as a good will ambassador to multiple countries, promoting volunteerism, and advocating the purchase of fine art and antiques for the White House. In reference to Pat's decorum, Julie Nixon Eisenhower writes, "Because the family had to struggle to make a living on the farm, the Ryan children learned early not to expect much and to be stoical in hiding their feelings." Perhaps this early self-control developed into the characteristic by which she will be most remembered – that of a steadfast wife always displaying grace under pressure.
One commonality for American First Ladies is their adherence to protocol in all matters of state. In modern American society the First Lady must balance her duties while setting boundaries to protect the privacy of the First Family. This must be accomplished even given the constant intrusions of the modern 24/7 news cycle. She serves as an ideal of self-discipline for the greater American community, one who is civil under the most testing situations, never displaying inner feelings in public, no matter how trying the circumstances. The job does have some support. Whatever the personality traits of each individual First Lady —  introvert or extrovert, extemporaneous or reserved — the Department of State, through the Office of Diplomacy and the White House Social Secretary, both work to ensure that social formalities are adhered to on all occasions, whether greeting visiting dignitaries or addressing the American citizenry. This scripted decorum has been followed since the First Continental Congress. However, it is a credit to the American First Ladies that no matter how exhausted and careworn they feel, or how put upon they are by photographers, journalists, or angry voices in a crowd, they still maintain their decorum. They are voted into this office by one person, the President, and they hold steadfast in protecting his legacy.
This post was written by Alice Clarke, American Art Museum/National Portrait Gallery Library.

Resources consulted:
Eisenhower, Julie Nixon. Pat Nixon: The Untold Story. New York: Simon and Schuster, c1986.
Gould, Lewis I. Lady Bird Johnson: Our Environmental First Lady. Lawrence: University Press of Kansas, 1999.
Hoyt, Edwin P. The Nixons: An American Family. New York: Random House, [1972].
The Inaugural Book, 1973; "The Spirit of '76". Washington, D.C.: Inaugural Committee, 1973.
Johnson, Lady Bird. A White House Diary. New York: Holt, Rinehart and Winston, [1970].
The Threshold of Tomorrow: The Great Society. Washington, D.C.: Program and Book Committee of the 1965 Presidential Inaugural Committee, 1965.