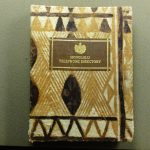 The Smithsonian Institution Libraries recently acquired a telephone book. Big deal, you say? Ah, but this is a telephone directory for the territory of Hawaii, issued for the winter of 1930. For that reason alone, it's fun to browse through, to see the old advertisements and daydream about living in the gorgeous Hawaiian Islands, back in the days when the entire list of businesses and households in the territory which owned telephones could be recorded in one slim volume.
But this isn't just any old phone book. This particular copy belonged to the Royal Hawaiian Hotel in Honolulu, which opened in February 1927 on the spectacular Waikiki beachfront. Known as "the Pink Palace of the Pacific," the Royal Hawaiian Hotel was one of the earliest luxury resorts established in this tropical paradise. The stylish décor featured at the Royal Hawaiian Hotel, inspired partly by the native crafts of the South Sea Islanders, exerted a lasting influence upon tourists from the mainland, who came to associate the good life in Hawaii with vivid patterns reminiscent of exotic plants, birds, marine life, sunshine, and ocean waves.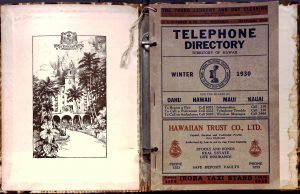 The elegance of the Royal Hawaiian Hotel's surroundings extended even to the little things, like this otherwise utterly utilitarian phone book which was issued by the Mutual Telephone Company for "inter-island & ship radio telegraph for the islands of Oahu, Hawaii, Maui, and Kauai."  The Hotel had a custom binder created from decorated Tapa cloth for its copy of the phone book, complete with a gilt-lettered leather cover label. Tapa cloth (also known simply as Tapa) is made traditionally by indigenous peoples in the Pacific islands from various kinds of tree bark. Tapa is often decorated with geometric patterns or various symbols that are stamped, stenciled, carved, or painted on the cloth, and each group of Islanders has its own distinctive designs and methods of manufacturing the Tapa.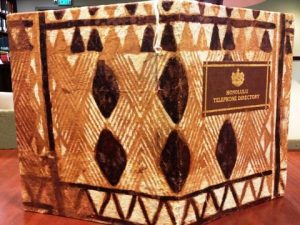 Although Tapa was a traditional craft in the Hawaiian Islands (where it is known by the term Kapa), the practice there had mostly died out by 1930, around the time when this binder was created. According to Dr. Adrienne L. Kaeppler, Curator of Oceanic Ethnology in the Department of Anthropology at the National Museum of Natural History, the Tapa used to cover the Royal Hawaiian Hotel's phone book was imported from Samoa (where Tapa is known as Siapo). The binder will be of interest to people who do research on bookbinding and book arts, as well as to anthropologists interested in the handicrafts and designs of the Pacific Islanders. For anyone in search of an artifact of lush Hawaiian resort living, the simple elegance of this custom-made Tapa cloth cover can inspire wistful daydreams.
Mutual Telephone Company. Telephone Directory, Territory of Hawaii, Winter 1930. Call number: DU621 .M88 1930 SCNHRB, Joseph F. Cullman 3rd Library of Natural History
–Diane Shaw, Special Collections Cataloger